Odds and ends, mostly stumblr
The last thing I want to do is hurt you. But it's still on the list.
12 bizarre real-life places that are stranger than science fiction | Blastr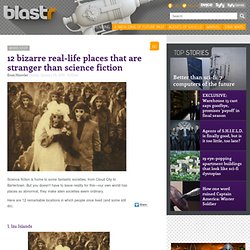 Science fiction is home to some fantastic societies, from Cloud City to Bartertown. But you doesn't have to leave reality for this—our own world has places so abnormal, they make alien societies seem ordinary. Here are 12 remarkable locations in which people once lived (and some still do). 1. Izu Islands
What are Antijokes? Anti Jokes (or Anti Humor) is a type of comedy in which the uses is set up to expect a typical joke setup however the joke ends with such anticlimax that it becomes funny in its own right. The lack of punchline is the punchline. We've just released huge update to the iOS app!
Anti Joke - Funny Anti Jokes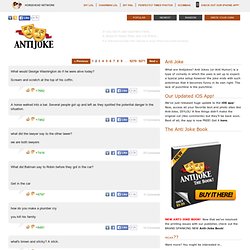 E-mails from an Asshole
Original ad: 55 gallon tank great condition.no scratches. comes with filter. $125. 484-***-****. CALL ME ONLY - NO EMAILS. 484-***-**** From Me to Felix *********: Hey, That fish tank is beautiful. I must have it!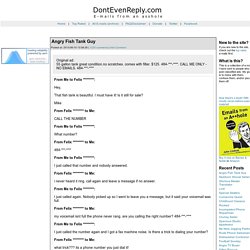 7 People Who Cheated Death (Then Kicked It In The Balls) | Cracked.com
We all like to think of ourselves as badasses. But what would you really do if faced with death? How would you react to being dropped out of a plane without a parachute, or buried alive? After crapping your pants, that is. Well these people survived all of that and more, slapping Death in the face and telling it to go make them a sandwich.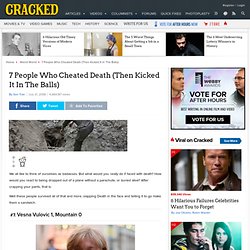 Alain is doing The Ugly Dance
Me and my egg: Chicks come out of their shells and pose next to their former...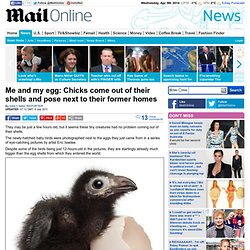 By Daily Mail Reporter Updated: 07:12 GMT, 6 July 2011 They may be just a few hours old, but it seems these tiny creatures had no problem coming out of their shells. The newly-hatched baby birds were photographed next to the eggs they just came from in a series of eye-catching pictures by artist Eric Isselee.