Action
Get flash to fully experience Pearltrees
Goofs In the opening shots of young Elizabeth singing at the front of the ship, the posts on either side of her have rope on them (wrapped around them).
Edit Storyline
Edit Storyline Maximus is a powerful Roman general, loved by the people and the aging Emperor, Marcus Aurelius. Before his death, the Emperor chooses Maximus to be his heir over his own son, Commodus, and a power struggle leaves Maximus and his family condemned to death. The powerful general is unable to save his family, and his loss of will allows him to get captured and put into the Gladiator games until he dies.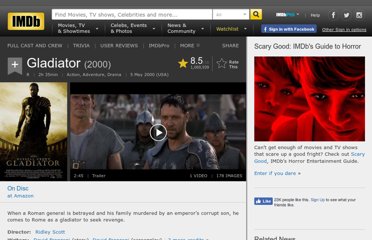 Edit Storyline Douglas Quaid is haunted by a recurring dream about a journey to Mars. He hopes to find out more about this dream and buys a holiday at Rekall Inc. where they sell implanted memories. But something goes wrong with the memory implantation and he remembers being a secret agent fighting against the evil Mars administrator Cohaagen.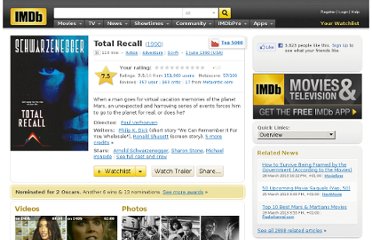 Edit Storyline A team of special force ops, led by a tough but fair soldier, Major "Dutch" Schaefer, are ordered in to assist CIA man, George Dillon, on a rescue mission for potential survivors of a Helicopter downed over remote South American jungle. Not long after they land, Dutch and his team discover that they have been sent in under false pretenses.
Goofs
Edit
Edit