Utilities
Search results
<form action="https://secure.booking.com/login.en-gb.html?
Regiunea Dubrovnik
Dubrovnik Dubrovnik (Ragusa în italiană) este situat la poalele Muntelui Srd (412 m), într-o vale închisă la sud-vest de platoul Lapad şi de un recif mai mic cu partea veche a oraşului. Datorita frumusetii arhitecturale cat si a posibilitatii relaxari sau distractiilor de pe plajele insorite artisti din intreaga lume vin aici anual. Orasul vechi are o frumusete aparte, cladirile, muzeele si bisericile atrag privirea vizitatorilor prin arhitectura lor.
se întinde pe o suprafaţă de 296.85 mp2, el fiind cel mai mare parc din cele 8 ale Croaţiei. În 1979 a fost înscris pe lista Patrimoniului Mondial UNESCO. Altitudinea în parc variază de la 367m la 1279m deasupra nivelului mării. Parcul reprezintă un fenomen carstic, el găzduind cascade, lacuri, păduri şi diverse specii de animale. Culorile lacurilor se schimbă in funcţie de cantitatea de minerale în apă şi unghiul de lumină al soarelui. 16 lacuri sunt unite prin cascade, baraje şi râul Plitvice, acestea putând fi văzute dacă mergeţi pe jos în jurul lor pe căile si traseele din lemn ce se întind pe 8 km.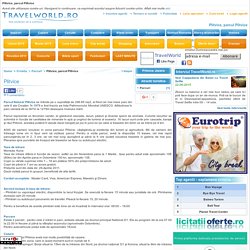 Plitvice, parcul Plitvice
Plitvice – o pledoarie pentru natură
Your park entrance fee are funds for maintenance, preservation of the park and for improving visitor services. Entrance tickets are required to get into the lake area and fees are payable at the entrances 1 and 2. The entrance fee includes bus service, the electric ferry boat ride, the hiking trail routes, the insurance and the taxes, and it cannot be refunded. Credit cards are accepted (Master card, Visa, American Express, Maestro and Diners). The park has two different types of entrance tickets: daily and two-day tickets .
Visiting Plitvice lakes National park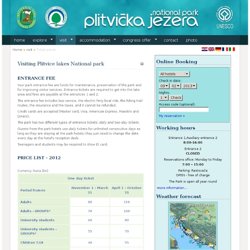 CCCP Download