Aquarium catalogs
Untitled. Freshwater aquarium plants provide many obvious and not so obvious benefits to any freshwater aquarium.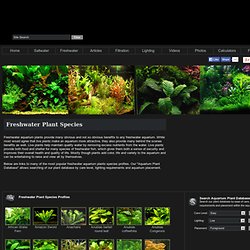 While most would agree that live plants make an aquarium more attractive, they also provide many behind the scenes benefits as well. Live plants help maintain quality water by removing excess nutrients from the water. Live plants provide both food and shelter for many species of freshwater fish, which gives them both a sense of security and improves their overall health and quality of life. Mostly though plants add color, life and variety to the aquarium and can be entertaining to raise and view all by themselves. Aquarium Plants. Bubbles Aquarium - Home page. AquaScaping World Plantpedia: An Aquarium Plant Guide. Plant Finder - Encyclopedia of Aquarium Plants. Welcome to Aquatic Plant Central's Plant Finder database.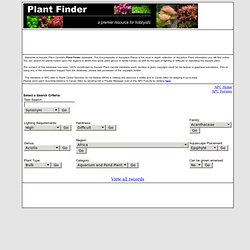 This Encyclopedia of Aquarium Plants is the most in depth collection of Aquarium Plant information you will find online. You can search for plants based upon the regions in which they grow, plant genus or family names, as well as the type of lighting or difficulty of maintaing the aquatic plant. The content of this database has been 100% contributed by Aquatic Plant Central members, each member is given copyright credit for his textual or graphical submission. Prior to using any of the information/ images from the database, please ask permission of the copyright holder. The members of APC wish to thank Carlos Sanchez for his tireless efforts in making this resource a reality and to Cavan Allen for keeping it up-to-date. Aquarium plants - Anubias barteri var.nana - Nana. The complete list of aquarium plants in our database.
Buy "All About Aquariums" ebook!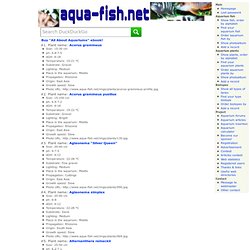 #1. Plant name: Acorus gramineus Size: 15-30 cm ph: 6.8-7.5 dGH: 4-18 Temperature: 15-21 °C Substrate: Gravel Lighting: Medium Place in the aquarium: Middle Propagation: Rhizome Origin: East Asia Growth speed: Slow Photo URL: #2. Phoenix Moss, Fissidens fontanus. - How to grow Aquatic Moss. Aquamoss -> List of Aquatic Moss -> Phoenix Moss - Fissidens fontanus A newly 'discovered' aquatic moss, Fissidens fontanus which originates from USA, is now available in Singapore.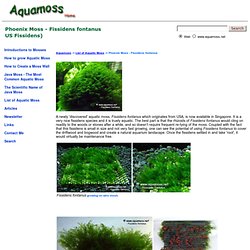 It is a very nice fissidens species and it is truely aquatic. The best part is that the rhizoids of Fissidens fontanus would cling on readily to the woods or stones after a while, and so doesn't require frequent re-tying of the moss. Coupled with the fact that this fissidens is small in size and not very fast growing, one can see the potential of using Fissidens fontanus to cover the driftwood and bogwood and create a natural aquarium landacape. Once the fissidens settled in and take 'root', it would virtually be maintenance free. Acquario, acquari, plantacquari,plantacquario, fondo, co2, potassio, ferro,KK GH PH, layout, pesci, piante acquatiche, fertilizzanti.
Tropical Fish Profiles, covering the care and upkeep of many aquarium tropical freshwater fish. Cat-eLog • Thumbnails of species. Colisa lalia - The Free Freshwater and Saltwater Aquarium Encyclopedia Anyone Can Edit - The Aquarium Wiki. Killifish - maintenance, breeding, conservation. Killiefish. Killiefish species are comparatively easy to keep in aquariums and also very beautiful, which have made them very popular among aquarists.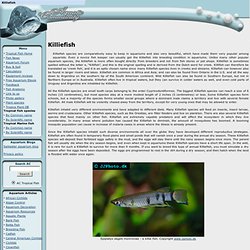 Even a novice fish keeper can usually get the Killiefish into breeding condition in aquariums. Unlike many other popular aquarium species, the Killiefish is more often bought directly from breeders and not from fish stores or pet shops. Killiefish is sometimes spelled without the letter e, "Killifish", and this is the original spelling and is derived from the Dutch word for creek. Killifish can therefore be translated as 'creek fish', and it is an aptly chosen name since many Killiefish species lives in creeks and streams. Killiefish can however also be found in larger rivers and lakes.
---