Technology and Gaming
What is Rolltop? Rolltop is a portable computer development concept for designer, architect and everyone, who would like to have a gadget, which, from an aesthetic standpoint alone, certainly hits the mark.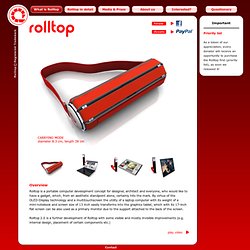 By virtue of the OLED-Display technology and a multitouchscreen the utility of a laptop computer with its weight of a mini-notebook and screen size of 13 inch easily transforms into the graphics tablet, which with its 17-inch flat screen can be also used as a primary monitor due to the support attached to the back of the screen. Rolltop 2.0 is a further development of Rolltop with some visible and mostly invisible improvements (e.g. internal design, placement of certain components etc.) play video.
The Best Of: Windows Software. On this page you will find the best Windows software for all your needs. Over 95% of listed apps are free. We've taken the effort to categorize the apps and picked only those we believe to be the best ones and which will most likely be useful to you. 30 Useful (and Unknown) Web Apps You Need to Bookmark - Page 2. FillAnyPDF FillAnyPDF is a fairly simple web app which allows you to upload a PDF file, then easily write on it wherever you want.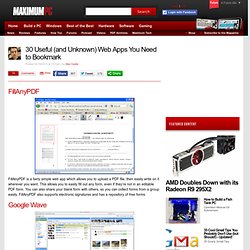 This allows you to easily fill out any form, even if they're not in an editable PDF form. You can also share your blank form with others, so you can collect forms from a group easily. FillAnyPDF also supports electronic signatures and has a repository of free forms. Google Wave. iTools - use the best tools. 15 Web Alternatives to Popular Desktop Software. Web applications have come a long way.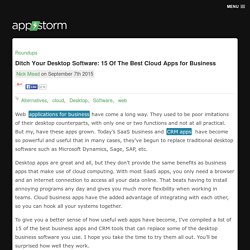 They used to be amateur imitations of their desktop counterparts, with only one or two functions and not at all practical. But my, have these web apps grown. SnapPages - Create a Website. 8pen. Chromebook. Decide.com: Online Shopping for TVs, Computers, Cameras & Electronics.
Product and software reviews, tech tips and gadgets. Bento Laptop Tablet Hybrid by René Woo-Ram Lee. Bento Box Kinda Like Voltron Bento is quite an exceptional and forward thinking concept by René Woo-Ram Lee.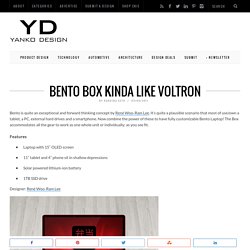 It's quite a plausible scenario that most of use/own a tablet, a PC, external hard drives and a smartphone. Now combine the power of these to have fully customizable Bento Laptop! The Box accommodates all the gear to work as one whole unit or individually; as you see fit.Features.
---