Sewing/Crafts
Scrabble Tile Pendant Tutorial. I'm excited to share this tutorial for Scrabble Tile Pendants from Mark and Stefani at HomeStudio.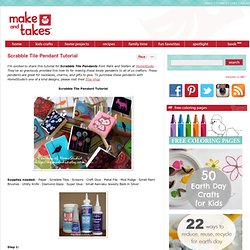 They've so graciously provided this how-to for making these lovely pendants to all of us crafters. These pendants are great for necklaces, charms, and gifts to give. To purchase these pendants with HomeStudio's one of a kind designs, please visit their Etsy shop. Joyful Ruffle Neck Top – Tutorial. Last week I showed you the top I made for my MIL's B-day, remember?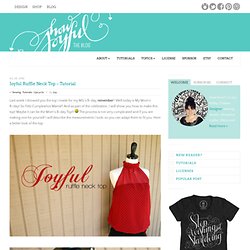 Well today is My Mom's B-day! So Feliz Cumpleaños Mamá!! DIY: Banana Republic Braided Neck Tee Shirt | her new leaf. You still have until tomorrow, July 22 to enter my first blogiversary giveaway!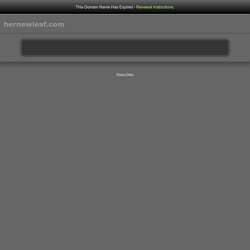 Get your entries in! Have you guys heard of Pinterest? Pinterest is a virtual "pinboard" that allows you to visually bookmark images from all over the internet. You can sort your images onto separate pinboards to share them with friends and other pinners. Quilting. This fun scrappy quilt is quick to put together and great for beginners.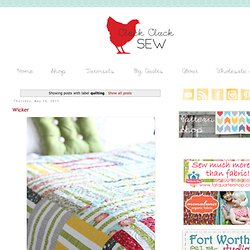 Use lots of different colors to keep it bright and fun…or just a few colors to keep it calm and simple. Finished Size: 36" x 41" 1. You'll need to cut 27 color strips 2" x width of the fabric (at least 36") and. Large T-Shirt to Fitted Tee Tutorial | a.steed's.life. I have these two t-shirts that I love.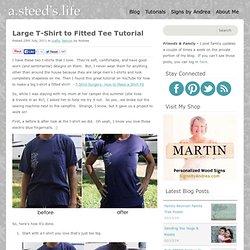 They're soft, comfortable, and have good worn (and sentimental) designs on them. But, I never wear them for anything other than around the house because they are large men's t-shirts and look completely shapeless on me. Then I found this great tutorial on YouTube for how to make a big t-shirt a fitted shirt! - T-Shirt Surgery: How to Make a Shirt Fit So, while I was staying with my mom at her camper this summer (she lives & travels in an RV), I asked her to help me try it out.
Most Popular Repurposing Tricks of 2011. The best trick of all is repairing broken stuff.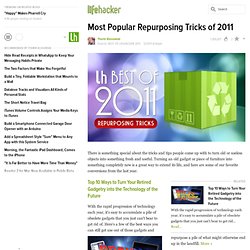 You would be amazed that in this throw away age so many things can be repaired easily. Invest your money in quality tools, and you will find the tool pays for itself in the first few repairs you make with it. There are wonderful adhesives and tapes that people aren't aware of that work wonders.
---