Water
Www.sei-international.org/mediamanager/documents/Publications/Climate-mitigation-adaptation/SEI-PB-2012-3C-Water-for-Energy.pdf. New Water Project Toolkit: a guide to sustainable water management - Headlines - JRC. The new Water Project Toolkit will support management of water resources for sustainable development and growth© EU, 2012 The JRC and EuropeAid (the European Commission's Directorate General for Development and Cooperation) have published a toolkit to improve water resources management in developing countries.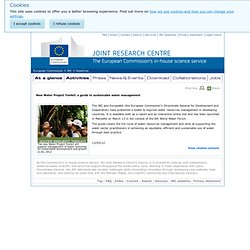 It is available both as a report and an interactive online tool and has been launched in Marseille on March 13 in the context of the 6th World Water Forum. JRC maps help match water supply and demand - Headlines - JRC. Average annual freshwater availability (1990-2010), determined with the hydrological simulation model LISFLOOD© EU, 2012 A new assessment of available water resources reveals that large areas in Spain and Eastern Europe have on average less than 200 mm freshwater available every year while the demand for water is three to ten times higher.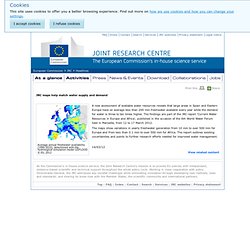 The findings are part of the JRC report 'Current Water Resources in Europe and Africa', published in the occasion of the 6th World Water Forum held in Marseille, from 12 to 17 March 2012. The maps show variations in yearly freshwater generation from 10 mm to over 500 mm for Europe and from less than 0.1 mm to over 500 mm for Africa. The report outlines existing uncertainties and points to further research efforts needed for improved water management. ECRINS map project pinpoints water information in Europe. The EEA Catchments and Rivers Network System (ECRINS) is a dynamic set of map layers displaying the location and characteristics of hydrological features such as lakes, dams, abstraction points as well as monitoring stations and sewage treatment plants.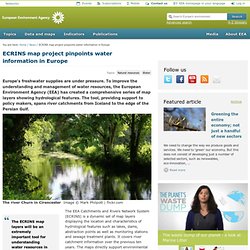 It covers river catchment information over the previous ten years. The maps directly support environmental analysis such as water accounts and policy-making. For example, one layer delineates all river catchments, which is useful for those working to implement the European Union's Water Framework Directive (WFD) at the river basin level. The ECRINS package is a public good, so is available to anyone, including European institutions, national water agencies, scientists, businesses, students and NGOs active in environmental assessments. Users need GIS (Geographic Information System) software to access the map layers. L'industrie face au traitement de l'eau. 05 juil. 2012 Le marché de l'eau a besoin de gros investissements Le marché de l'eau sera le thème de la troisième conférence d'Innov'Eco, le rendez-vous des professionnels des cleantech d'Ile-de-France dont Green Univers est partenaire fondateur, ce jeudi 24 septembre à la Cité de l'architecture et du patrimoine, à Paris.
L'eau souterraine surexploitée dans un quart de la planète. Près de 1,7 milliard de personnes, soit le quart de la population mondiale, vivent dans des régions où les ressources en eau souterraine (et/ou écosystémiques tributaires de ces eaux) sont surexploitées, selon une étude publiée mercredi 8 août dans la revue Nature.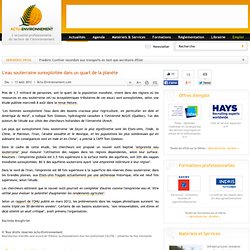 "Les hommes surexploitent l'eau dans des bassins cruciaux pour l'agriculture, en particulier en Asie et Amérique du Nord", a indiqué Tom Gleeson, hydrologiste canadien à l'Université McGill (Québec), l'un des auteurs de l'étude aux côtés des chercheurs hollandais de l'Université Utrech. Les pays qui surexploitent l'eau souterraine "de façon la plus significative sont les Etats-Unis, l'Inde, la Chine, le Pakistan, l'Iran, l'Arabie saoudite et le Mexique, et les populations les plus nombreuses qui en subissent les conséquences sont en Inde et en Chine", a précisé à l'AFP Tom Gleeson. Water: how can we account for our most vital resource? The report 'Measuring Water Use in a Green Economy' argues that while the world faces serious water problems, their causes are often economic, social and political in nature, rather than bio-physical.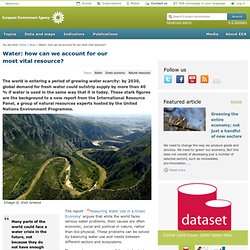 These problems can be solved by balancing water use and needs between different sectors and ecosystems. The report serves as a powerful reminder just weeks ahead of the Rio +20 global summit on sustainable development that the world needs to radically rethink the way it uses natural resources. The lead author of the report, Jacqueline McGlade, Executive Director of the European Environment Agency (EEA), said: "Many parts of the world could face a water crisis in the future, not because they do not have enough water, but because they are not using it smartly enough.
Géopolitique de l'eau : vingt propositions pour un meilleur partage de la ressource. Pour tenter de répondre aux besoins grandissants en eau, un rapport d'information préconise avant tout de favoriser la gestion locale de cette ressource, tout en améliorant la gouvernance internationale.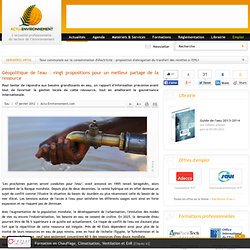 "Les prochaines guerres seront conduites pour l'eau", avait annoncé en 1995 Ismail Serageldin, alors président de la Banque mondiale. Depuis plus de deux décennies, la rareté hydrique est en effet devenue un sujet de conflit comme l'illustre la situation du bassin du Jourdain ou plus récemment celle du bassin de la mer d'Aral. Les tensions autour de l'accès à l'eau pour satisfaire les différents usages sont ainsi en forte expansion et ne risquent pas de diminuer. Avec l'augmentation de la population mondiale, le développement de l'urbanisation, l'évolution des modes de vies ou encore l'industrialisation, les besoins en eau ne cessent de croître. En 2025, la demande d'eau pourrait être de 56 % supérieure à ce qu'elle est actuellement.
Advance Concrete Tanks - Concrete Water Tanks for Safe, Hygienic Water Storage. Advance Concrete Tanks is an Australian company that constructs water tanks made out of solid concrete for water storage.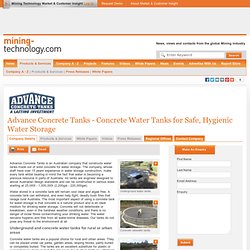 The company, whose staff have over 15 years' experience in water storage construction, make every tank whilst bearing in mind the fact that water is becoming a precious resource in parts of Australia. All tanks are engineer designed to above Australian design standards and can be constructed in various sizes starting at 25,000l - 1,000,000l (2,200gal - 220,000gal).
Water stored in a concrete tank will remain cool clear and algae free. A concrete tank can withstand, and even help fight, deadly bush fires that ravage rural Australia. The most important aspect of using a concrete tank for water storage is that concrete is a natural product and is an ideal medium for drinking water storage. Solar Cucumber Harvests Fresh Drinking Water From the Ocean. The 'Solar Cucumber' is an innovative desalination plant design with the potential to help water-starved communities in coastal environments.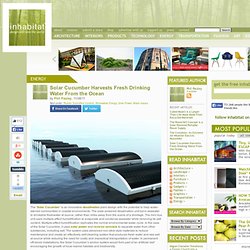 The solar-powered desalination unit turns seawater to drinkable freshwater at source, rather than miles away from the scene of a shortage. The mini bus unit uses multiple-effect humidification to evaporate and condense seawater while removing its salt content. Multiple-effect humidification replicates the normal environmental water cycle. In the case of the Solar Cucumber, it uses solar power and reverse osmosis to separate water from other substances, including salt. Water - Still Blue Gold. I was in Bangkok while the floods were raging.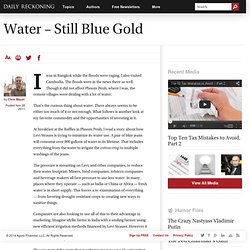 I also visited Cambodia. The floods were in the news there as well. Is the world ready for this jelly? You can't tell from the photo, but this jellyfish is huge. Nomura jellyfish, native to the waters off China and Japan, can grow to be the size of a refrigerator, and weigh up to 400 pounds. And, since the 1990s, there's a lot more of them. Swarms, 500 million jellies strong, have sunk ships, writes Brandon Keim in Wired. It's part of a global increase in jellyfish populations. How to flush your bottled water habit - Today Money.
Bottled water? That's so '80s. The $14.4 billion bottled-water market has come under fire for being environmentally incorrect as those discarded plastic containers keep piling up in landfills. Meanwhile, decades of marketing that touted costly bottled water as cleaner, healthier and better tasting than tap water turned out to be a lot of hype. Not only is most good-old-fashioned tap water safe and clean, experts say, but swearing off the bottle also saves you a bundle. BioSun, la borne solaire qui rend l'eau potable. Un milliard. C'est le nombre de personnes n'ayant pas accès à l'eau potable dans le monde. Face à cet indécent constat, la société héraultaise Bio-UV a décidé de mettre à profit son expérience dans le domaine de la filtration UV (piscines, stations d'épuration…) pour concevoir une borne solaire capable de filtrer et purifier l'eau à partir du soleil : BioSun. « Cette borne autonome a été développée pour pourvoir au besoin en eau potable dans les lieux isolés, les pays défavorisés et les townships des grandes villes » explique Benoît Gillmann, président de Bio-UV.
---