Video Games
Game Plan: Making 'Secrets of Raetikon,' a Flight Simulator Made of Triangles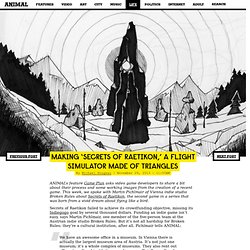 ANIMAL's feature Game Plan asks video game developers to share a bit about their process and some working images from the creation of a recent game.
SECRETS OF RÆTIKON
▶ What's in a game?: A discussion of gameplay and narrative
Making Good Things: Some Comments on Independent Games | MIT Game Lab
As a former lead game design for Magic: The Gathering, I was recently invited to serve as a featured curator for the analog side of Boston Festival of Independent Games.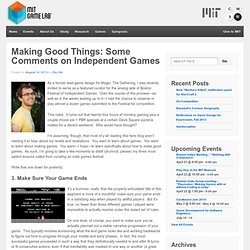 Your Worst Critic | MIT Game Lab
This past weekend I had the pleasure of attending the Magic: The Gathering Theros Prerelease in Roanoke, VA, hosted by the awesome Evan Erwin over at StarCityGames.com. A Prerelease is where a bunch of players gather together before the set is officially out, and play for the first time with the cards that have just been spoiled only a few days before.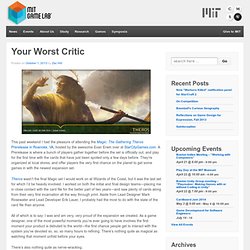 Pour faire un jeu vidéo indé, il suffit de savoir coder (et d'un peu d'argent)
Vous avez peut-être déjà entendu dire d'un jeu vidéo qu'il est «indépendant», avec parfois un soupçon de fierté, comme on dirait des chips de légumes qu'on offre à nos invités qu'elles sont bio ou des assiettes dépareillées dans lesquelles on les sert qu'elles sont artisanales? Vous risquez de l'entendre de plus en plus souvent (il arrive même à la presse du métro d'en parler) car le jeu indépendant continue son essor entamé il y a plus de dix ans.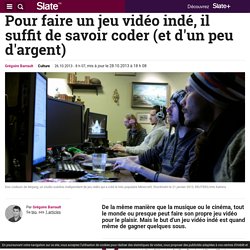 The OUYA Doesn't Actually Suck: How to Make the Indie Console Great
Breath of Fire: Dragon Quarter
Un article de Wikipédia, l'encyclopédie libre.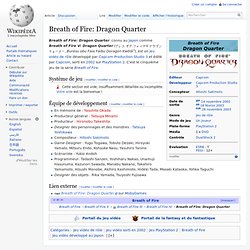 Coercive Monetization A coercive monetization model depends on the ability to "trick" a person into making a purchase with incomplete information, or by hiding that information such that while it is technically available, the brain of the consumer does not access that information.
Ramin Shokrizade's Blog - The Top F2P Monetization Tricks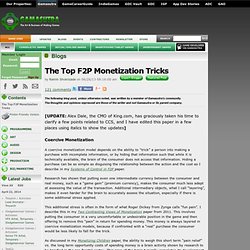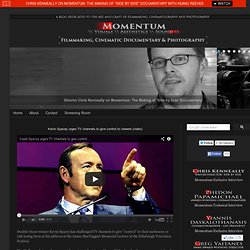 Kevin Spacey urges TV channels to give control to viewers (video)
Kevin Spacey Keynote Edinburgh Television Festival Kevin Spacey urges TV channels to give control to viewers Double Oscar-winner Kevin Spacey has challenged TV channels to give "control" to their audiences or risk losing them at his address at the James MacTaggart Memorial Lecture at the Edinburgh Television Festival.
"FUCKING INTERNET SPACESHIPS ARE ON BBC NEWS," I was urgently alerted earlier today by several people on the internet.
The Largest Space Battle Ever Just Took Place on the Internet: Why You Care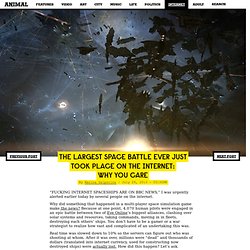 Not sure if your project is ready to launch?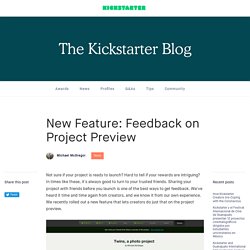 New Feature: Feedback on Project Preview » The Kickstarter Blog
Build an All-In-One Arcade Stick that Works on Multiple Consoles
Ludum Dare 26 - You Must Escape
Mobile gaming can be a finicky thing.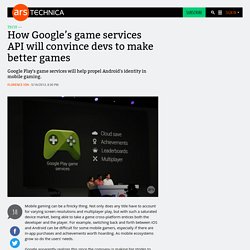 How Google's game services API will convince devs to make better games
Google hires a "Chief Game Designer" for its "Android Play Studio"
Google has hired Noah Falstein as its "Chief Game Designer," lending credence to the rumors that the company may be moving forward with its plans to further establish a native gaming presence on Android.
Welcome | Maia Members Portal
The Novelist | A game about life, family, and the choices we make.
By Alec Meer on April 23rd, 2013 at 1:00 pm.
Get A New Mouse: Redwall Game Is Go (Again)
So Get Your Ural Truck And Go
By Alec Meer on April 23rd, 2013 at 2:00 pm. By way of example, a recent specimen from the dark blue segment:
Kairo a game by Perrin | home
PhysXInfo.com - Projects using PhysX SDK
Valve's GDC slides on porting Source to Linux!
Editorial Valve's GDC slides on porting Source to Linux!
How to Get Your Headset to Work on Ventrilo Only
How to Set Up Ventrilo to Use Bluetooth How to Set Up Ventrilo to Use Bluetooth. ... Bluetooth headsets are great for an easy, wireless conversation with anyone on your... How to Use My Headset to Talk in "World of Warcraft" How to Activate My Bluetooth Headset for PS3; How Can I Get Into the World of Warcraft Register on My ...
Blurring The Lines Between Single Player And Multiplayer Is A Good Thing
The Secret Ingredient Needed to Make Anything a 'Real Game'
Nucleic acid analogue
Installing and Playing Zork Games on Modern Operating Systems
The 12 Best Mods For PC Games
Escape-IR
Features - Is Game Music All It Can Be?
Dear Esther's Dan Pinchbeck Talks Amnesia: A Machine For Pigs - Features - www.GameInformer.com
Guitar Hero co-creator sees mobile replacing consoles
Star Citizen's Chris Roberts discusses upping the ante on PC gaming
An Insider From One Of Those Cold, Calculating Mega-Publishers Is Answering Your Questions, Right Now [UPDATE: Interview Over]
Télécharger Magic Workstation 0.94f pour Windows
Bibliothque d'Yves :: Ebooks Extensions officielles de In Nomine Satanis et Magna Veritas page 01
Liste d'objets légendaires et sacrés