Video Games
TotalBiscuit's Q&A - GameVid Expo 2014. VASSAL. Indie smash hit 'Flappy Bird' racks up $50K per day in ad revenue. The enigmatic and oppressively difficult mobile game Flappy Bird has turned into quite the cash cow for Vietnamese developer Dong Nguyen.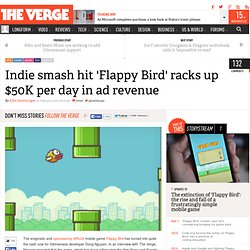 In an interview with The Verge, Nguyen revealed that the game, which has been sitting atop the App Store and Google Play Store charts for nearly a month, is earning on average $50,000 a day from in-app ads. If you're only now hearing of Flappy Bird, the game goes as follows: you tap the screen to propel a tiny, pixelated bird upwards. Notification : stratégie - filtrage des URL. The Console Living Room : Free Software. The Internet Archive Console Living Room harkens back to the revolution of the change in the hearth of the home, when the fireplace and later television were transformed by gaming consoles into a center of videogame entertainment.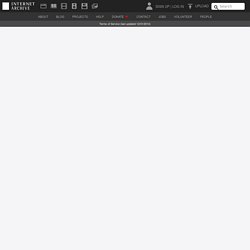 Connected via strange adapters and relying on the television's speaker to put out beeps and boops, these games were resplendent with simple graphics and simpler rules. The home console market is credited with slowly shifting attention from the arcade craze of the early 1980s and causing arcades to shrink in popularity, leaving a small percentage of what once were many. Through use of the JSMESS emulator system, which allows direct access to these programs in your browser with no additional plugins or settings, these games can be enjoyed again. Simply click on the screenshot or "Emulate This" button for each individual cartridge, and on modern browsers the games will just start to run.
OpenEmu Emulates Nearly Every Classic Console on Mac. Missile Command. Missile Command is a 1980 arcade game by Atari, Inc. that was also licensed to Sega for European release.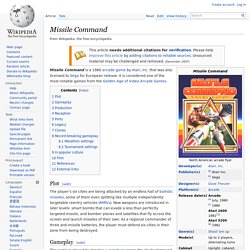 It is considered one of the most notable games from the Golden Age of Video Arcade Games. Plot[edit] The player's six cities are being attacked by an endless hail of ballistic missiles, some of them even splitting like multiple independently targetable reentry vehicles (MIRVs) and in later levels smart bombs which can evade a less than perfectly targeted missile. Top 10 Games of 2013. The Most Inventive New Video Games for Xbox, PlayStation, and Oculus Rift. The cliché is that technological innovation in video game development is the domain of the blockbuster studios.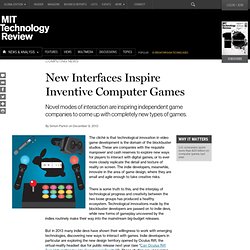 These are companies with the requisite manpower and cash reserves to explore new ways for players to interact with digital games, or to ever more closely replicate the detail and texture of reality on screen. The indie developers, meanwhile, innovate in the area of game design, where they are small and agile enough to take creative risks.
There is some truth to this, and the interplay of technological progress and creativity between the two loose groups has produced a healthy ecosystem. Technological innovations made by the blockbuster developers are passed on to indie devs, while new forms of gameplay uncovered by the indies routinely make their way into the mainstream big-budget releases. L'empire des jeux vidéo. NSA documents on games and virtual worlds. ProPublica Journalism in the public interest.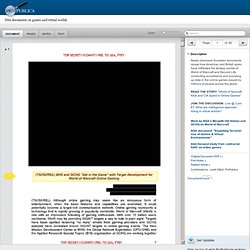 NSA documents on games and virtual worlds Get Updates Stay on top of what ProPublica's working on by subscribing to our e-mail digest. Game Plan: Making 'Secrets of Raetikon,' a Flight Simulator Made of Triangles. ANIMAL's feature Game Plan asks video game developers to share a bit about their process and some working images from the creation of a recent game.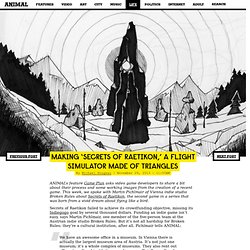 This week, we spoke with Martin Pichlmair of Vienna indie studio Broken Rules about Secrets of Raetikon, the second game in a series that was born from a vivid dream about flying like a bird. Secrets of Raetikon failed to achieve its crowdfunding objective, missing its Indiegogo goal by several thousand dollars. Funding an indie game isn't easy, says Martin Pichlmair, one member of the five-person team at the Austrian indie studio Broken Rules.
SECRETS OF RÆTIKON. What's in a game?: A discussion of gameplay and narrative. Making Good Things: Some Comments on Independent Games. As a former lead game design for Magic: The Gathering, I was recently invited to serve as a featured curator for the analog side of Boston Festival of Independent Games.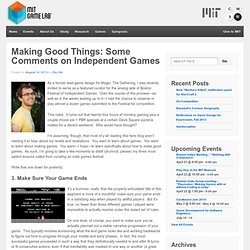 Over the course of this process—as well as in the weeks leading up to it—I had the chance to observe or play almost a dozen games submitted to the Festival for competition. This ruled. It turns out that twenty-four hours of nonstop gaming plus a couple choice pie + PBR specials at a certain Davis Square pizzeria makes for a decent weekend. Who would have thought? Your Worst Critic. This past weekend I had the pleasure of attending the Magic: The Gathering Theros Prerelease in Roanoke, VA, hosted by the awesome Evan Erwin over at StarCityGames.com.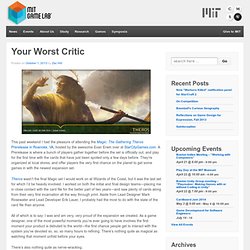 A Prerelease is where a bunch of players gather together before the set is officially out, and play for the first time with the cards that have just been spoiled only a few days before. They're organized at local stores, and offer players the very first chance on the planet to get some games in with the newest expansion set. Theros wasn't the final Magic set I would work on at Wizards of the Coast, but it was the last set for which I'd be heavily involved. I worked on both the initial and final design teams—placing me in close contact with the card file for the better part of two years—and saw plenty of cards along from their very first incarnation all the way through print. Aside from Lead Designer Mark Rosewater and Lead Developer Erik Lauer, I probably had the most to do with the state of the card file than anyone. Pour faire un jeu vidéo indé, il suffit de savoir coder (et d'un peu d'argent) Vous avez peut-être déjà entendu dire d'un jeu vidéo qu'il est «indépendant», avec parfois un soupçon de fierté, comme on dirait des chips de légumes qu'on offre à nos invités qu'elles sont bio ou des assiettes dépareillées dans lesquelles on les sert qu'elles sont artisanales?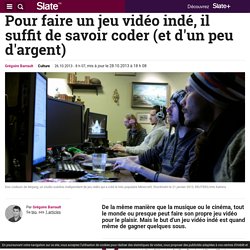 Vous risquez de l'entendre de plus en plus souvent (il arrive même à la presse du métro d'en parler) car le jeu indépendant continue son essor entamé il y a plus de dix ans. publicité Mais comment est-ce seulement possible, économiquement parlant? Pour faire un jeu, avec toute cette 3D et ces images de synthèse si chères au cinéma, il faut assurément faire appel à des moyens techniques considérables, une équipe de 50 personnes et un budget pharaonique… Raté. The OUYA Doesn't Actually Suck: How to Make the Indie Console Great. Breath of Fire: Dragon Quarter. Un article de Wikipédia, l'encyclopédie libre.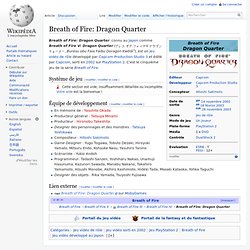 Breath of Fire: Dragon Quarter, connu au Japon comme Breath of Fire V: Dragon Quarter (ブレス オブ ファイアV ドラゴンクォーター, Buresu obu Faia Faibu Doragon Kwōtā?) , est un jeu vidéo de rôle développé par Capcom Production Studio 3 et édité par Capcom, sorti en 2002 sur PlayStation 2. C'est le cinquième jeu de la série Breath of Fire. Système de jeu[modifier | modifier le code] Ramin Shokrizade's Blog - The Top F2P Monetization Tricks. The following blog post, unless otherwise noted, was written by a member of Gamasutra's community. The thoughts and opinions expressed are those of the writer and not Gamasutra or its parent company. [UPDATE: Alex Dale, the CMO of King.com, has graciously taken his time to clarify a few points related to CCS, and I have edited this paper in a few places using italics to show the updates] Coercive Monetization A coercive monetization model depends on the ability to "trick" a person into making a purchase with incomplete information, or by hiding that information such that while it is technically available, the brain of the consumer does not access that information.
Hiding a purchase can be as simple as disguising the relationship between the action and the cost as I describe in my Systems of Control in F2P paper. Kevin Spacey urges TV channels to give control to viewers (video) Double Oscar-winner Kevin Spacey has challenged TV channels to give "control" to their audiences or risk losing them at his address at the James MacTaggart Memorial Lecture at the Edinburgh Television Festival. The Hollywood star, whose recent foray into television -- House Of Cards -- has been a commercial and critical hit after it was released on streaming service Netflix, said there was a danger of "thinking that something which is working now will necessarily work a year from now". Spacey, who gave the keynote James MacTaggart Memorial Lecture at the Edinburgh Television Festival this evening, said: "Clearly the success of the Netflix model -- releasing the entire season of House Of Cards at once -- has proved one thing: the audience wants control.
The Largest Space Battle Ever Just Took Place on the Internet: Why You Care. "FUCKING INTERNET SPACESHIPS ARE ON BBC NEWS," I was urgently alerted earlier today by several people on the internet. Why did something that happened in a multi-player space simulation game make the news? Because at one point, 4,070 human pilots were engaged in an epic battle between two of Eve Online's biggest alliances, clashing over solar systems and resources, taking commands, moving in in fleets, destroying each others' ships.
You don't have to be a gamer or a war strategist to realize how vast and complicated of an undertaking this was. New Feature: Feedback on Project Preview » The Kickstarter Blog. Not sure if your project is ready to launch? Hard to tell if your rewards are intriguing? In times like these, it's always good to turn to your trusted friends. Sharing your project with friends before you launch is one of the best ways to get feedback. Build an All-In-One Arcade Stick that Works on Multiple Consoles. Ludum Dare 26 - You Must Escape. How Google's game services API will convince devs to make better games.
Mobile gaming can be a finicky thing. Not only does any title have to account for varying screen resolutions and multiplayer play, but with such a saturated device market, being able to take a game cross-platform entices both the developer and the player. For example, switching back and forth between iOS and Android can be difficult for some mobile gamers, especially if there are in-app purchases and achievements worth hoarding. As mobile ecosystems grow so do the users' needs. Google hires a "Chief Game Designer" for its "Android Play Studio" Welcome | Maia Members Portal. The Novelist | A game about life, family, and the choices we make.
Get A New Mouse: Redwall Game Is Go (Again) So Get Your Ural Truck And Go. Kairo a game by Perrin | home. PhysXInfo.com - Projects using PhysX SDK. Valve's GDC slides on porting Source to Linux! How to Get Your Headset to Work on Ventrilo Only. Blurring The Lines Between Single Player And Multiplayer Is A Good Thing.
The Secret Ingredient Needed to Make Anything a 'Real Game' Nucleic acid analogue. Installing and Playing Zork Games on Modern Operating Systems. CGI Studios. The 12 Best Mods For PC Games. Escape-IR. Features - Is Game Music All It Can Be? Dear Esther's Dan Pinchbeck Talks Amnesia: A Machine For Pigs - Features - www.GameInformer.com. Guitar Hero co-creator sees mobile replacing consoles. Star Citizen's Chris Roberts discusses upping the ante on PC gaming.
An Insider From One Of Those Cold, Calculating Mega-Publishers Is Answering Your Questions, Right Now [UPDATE: Interview Over] Télécharger Magic Workstation 0.94f pour Windows.
Gaming world. Bibliothque d'Yves :: Ebooks Extensions officielles de In Nomine Satanis et Magna Veritas page 01. Liste d'objets légendaires et sacrés.
---