Tips & Tools
Seven Things I Wish I Knew When I Was Still in College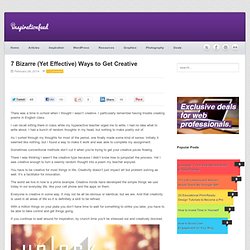 7 Bizarre (Yet Effective) Ways to Get Creative
There was a time in school when I thought I wasn't creative.
Contracts and Documents: Free Legal Resources for Freelancers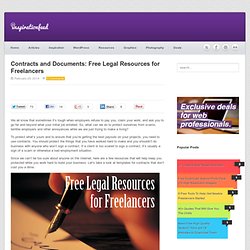 We all know that sometimes it's tough when employers refuse to pay you, claim your work, and ask you to go far and beyond what your initial job entailed.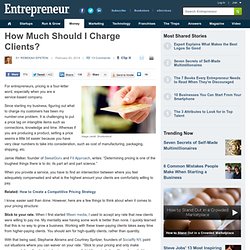 How Much Should I Charge Clients?
Image credit: Shutterstock
If you've been working for awhile and feel the need for a change, you should considering taking a shot at freelancing. Almost everyone that I know has thought, at one time or another, about working independently.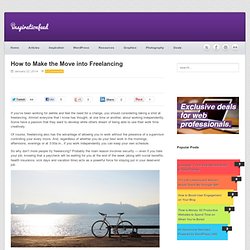 How to Make the Move into Freelancing
Top 10 DIY Office Upgrades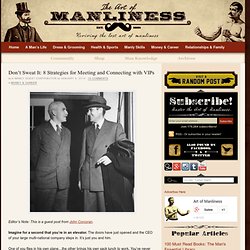 Don't Sweat It: 8 Strategies for Meeting and Connecting with VIPs
Editor's Note: This is a guest post from John Corcoran. Imagine for a second that you're in an elevator.
The Difference Between Knowledge and Experience
Negotiation Tips that Surprisingly Work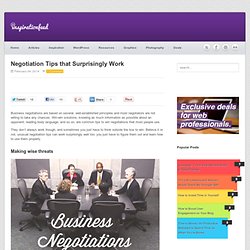 Business negotiations are based on several, well-established principles and most negotiators are not willing to take any chances. Win-win solutions, knowing as much information as possible about an opponent, reading body language, and so on, are common tips to win negotiations that most people use.
How I Tackled Three Skills I Never Thought I'd Learn
Gender Inequality: Map Shows Places With the Least Equality for Women
Based on stats culled from a report from the United Nations Development Programme, the below map highlights each country's Gender Inequality Index, a figure calculated by analyzing factors such as the maternal mortality rate, number of seats women hold in government bodies and the labor force participation rate.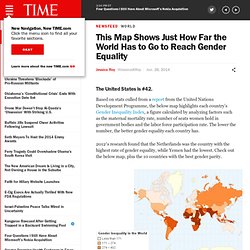 30 Days of Getting Results: The List of 30 Lessons
One of my personal goals for the first quarter of 2014 is to "Do 100 consults for 100 different people." I'm up to number 33 right now. I price tested the consults from $250/hour to $350/hour.
konsults | Neville's Financial Blog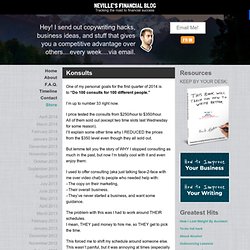 5 Writing Tips: How to Organize your Research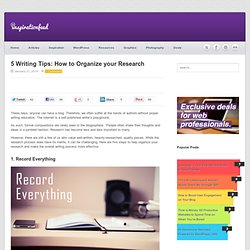 These days, anyone can have a blog.
How to Make the Move into Freelancing
How Can I Improve My Listening Skills?
Why Empathy Is Your Most Important Skill (and How to Practice It)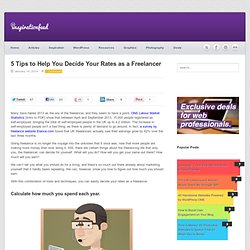 5 Tips to Help You Decide Your Rates as a Freelancer
Many have hailed 2013 as the era of the freelancer, and they seem to have a point. ONS Labour Market Statistics [links to PDF] show that between April and September 2013, 15,000 people registered as self-employed, bringing the total of self-employed people in the UK up to 4.2 million. The increase in self-employed people isn't a bad thing, as there is plenty of demand to go around.
Practical Math Shortcuts For Everyday Life
We all encounter large sums of stress on a daily basis. This is probably having an adverse side effect on your health, to say the least. Stressing over things like bills, remodeling, your job, the commute to your job, your daily responsibilities, all while trying to find a way to fit exercise into your routine and managing to find some relaxation time is putting years on your body as a whole.
You're 4 Steps from Stress-Free Living
No human wants to live in a routine. We all want to be challenged and wish for more creative, fulfilling lives. No matter how contradictory it seems, living creatively is more of habit, and you can make your life more challenging if you follow some guidelines.
10 Rules to Follow for a Creative Life
Why Angels Should Keep Their Distance from Crowdfunding in 2014
Jeff Draa12/30/13
Legendary game designer Chris Crawford uses colored beans as a memento mori.
Using colored beads to remind yourself that you will die soon
The Financial Advice I'm Glad I Ignored When I Was Broke
3 Questions to Ask at Dinner to Make Your Family Stronger
Treat Your Kids Like a Team of Agile Software Developers and Lower Your Family Stress
Raising a family can often feel like unfettered chaos .
Use a Plagiarism Checker to Get References for a Research Paper
10 Ways to Be a Student of Life
Everything I've Learned About Personal Finance in 10 Sentences
Great Gear for Hosting Parties | The Sweethome
So, You Want To Quit Your Job? (Fantasy Versus Reality)
How to Use the Secrets of Master Influencers to Get What You Want
How to Find Evidence to Support Any Argument
How to crash a party | Neville's Financial Blog
How to Convince Someone You Work in Their Building
Be Assertive, Not Aggressive, to Get What You Need at Work
How to Get Into Exclusive Parties and Clubs Without an Invitation
20 Amazing Life Hacks To Make Parenting More Fun
10 Things I Wish I Had Known Before Becoming a Parent
7 Things I Wish I Had Known Before Getting Married
How to Travel with a Group of Friends (and Not Lose Your Mind)
▶ Louis C.K. and Bill Simmons Full Podcast | B.S. Report
How to Beat Procrastination in 5 Tiny Steps
How To Be The Best Public Speaker on the Planet Altucher Confidential
Faking Powerful Body Language Reduces Stress and Makes You More Confident
Faking Powerful Body Language Reduces Stress and Makes You More Confident
Why Confidence Is So Important (and How to Improve Yours)
10 Ways to Earn Frequent Flyer Miles Without Boarding a Flight
How I Left My Corporate Job to Work for Myself
Not Just for VIPs: Everything You Need to Know About Airport Lounges
Classic Leadership Skills You Should Apply to Your Social Life
51927adf0874a6047200d650f2aacb3e.jpg 725 × 2 861 pixels
FUCKING HOMEPAGE - Useful Websites
How To Set Up Your Own Ebay Store - Infographic | Downgraf.com
How to Get Flat Abs, Have Amazing Sex and Rule the World in 8 Easy Steps | Kate Bartolotta
How Your Memory Works (and Three Ways to Improve It)
Bullet Journal: An analog note-taking system for the digital age
▶ Bullet Journal
How To: Stage Your Home To Sell Fast With These 5 Tips
Snake oil Superfoods? | Information Is Beautiful
If You're a Billionaire You Probably Have One of these Six Diseases Altucher Confidential
Top 10 Tricks to Get Discounts on Almost Anything
Five Things You NEED to Know Before Buying a House Altucher Confidential
Create a Personal Renewal Program to Protect Yourself from a Toxic, Life-Sucking Job
Remove Yourself from All Background Check Web Sites: A Master List