Tips & Tools
How to Organize Your Family Chaos with the Help of Technology. The Ultimate Guide for Becoming an Idea Machine Altucher Confidential. Posted by James Altucher The way to have good ideas is to get close to killing yourself.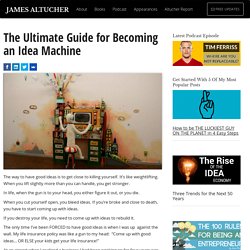 It's like weightlifting. When you lift slightly more than you can handle, you get stronger. The Only Rules You Need to Know Altucher Confidential. Posted by James Altucher It really sucked to be Moses.
The guy was abandoned as a baby. Then he stuttered (must have been hard to pick up girls with that). 10 Powerful Tools To Spy On Your Competitors. Knowledge is power and in the internet age, knowledge is easily accessible.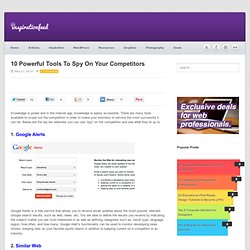 There are many tools available to scope out the competition in order to make your business or service the most successful it can be. Below are the top ten websites you can use "spy" on the competition and see what they're up to. 1. Google Alerts Google Alerts is a free service that allows you to receive email updates about the most popular, relevant Google search results, such as web, news, etc. 10 Powerful Tools To Spy On Your Competitors.
How to Talk About Sensitive Topics so That People Will Listen. Why Motivating Others Starts With Using The Right Language. The seven members of the offers team gathered for their weekly standup at the New York-based technology startup.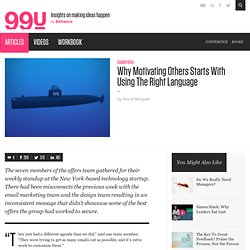 There had been misconnects the previous week with the email marketing team and the design team resulting in an inconsistent message that didn't showcase some of the best offers the group had worked to secure. "They just had a different agenda than we did," said one team member. "They were trying to get as many emails out as possible, and it's extra work to customize them." "Design wasn't on board either," another member chimed in. "They couldn't change the page in the middle of the week—too much work." Help: My manager wants to measure my team's productivity by velocity. This Q&A is part of a weekly series of posts highlighting common questions encountered by technophiles and answered by users at Stack Exchange, a free, community-powered network of 100+ Q&A sites.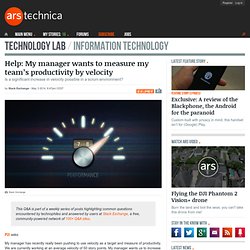 P2l asks: My manager has recently really been pushing to use velocity as a target and measure of productivity. We are currently working at an average velocity of 50 story points. Learn to Speak or Teach Better in 30 Minutes. Social Hacking For Introverts. Don't overextend— when I studied psychology in college, I read a lot of articles in scientific journals about differences between introverts and extroverts.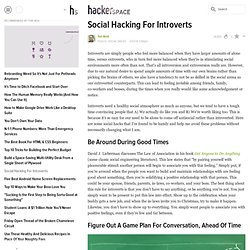 Everything in this article is accurate. In addition, introverts "recharge" by being alone or in smaller social situations, and feel worn out or stressed in large social situations, and especially for an extended period of time. Sell More on Etsy: Top Methods for Maximizing Your Profits. Etsy is an online platform where people just like you sell their handmade products and crafts.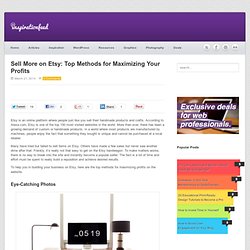 According to Alexa.com, Etsy is one of the top 150 most visited websites in the world. More than ever, there has been a growing demand of custom or handmade products. In a world where most products are manufactured by machines, people enjoy the fact that something they bought is unique and cannot be purchased at a local retailer. Sell More on Etsy: Top Methods for Maximizing Your Profits.
How to Find New Clients as a Freelancer. Whether you're brand new to freelancing, or you're just trying to build your clientele, the most difficult problem is finding clients.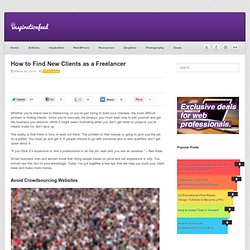 Since you're basically the product, you must learn how to sell yourself and get the business you deserve. While it might seem frustrating when you don't get hired on projects you're clearly made for, don't give up. Crucial Personal Branding Strategies for Beginners. If you're a freelancer, then you know how important it is to build your brand.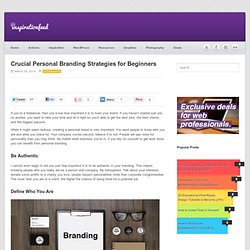 If you haven't started just yet, no worries, you want to take your time and do it right so you'll able to get the best jobs, the best clients, and the biggest payouts. While it might seem tedious, creating a personal brand is very important. Don't Let Your Ego Get In The Way of Productivity. Superhero designed by Moriah Rich from the Noun Project Being in the zone means that you've become so absorbed in the activity at hand that it's impossible to concentrate on anything else.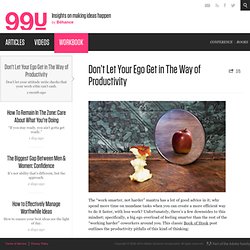 It's when code seems to flow from your fingertips, when words seem to fly out of your pen, and when your stylus seems to take on a life of its own. But a common misconception about the zone is that it's some some elusive, magical place. Scared Of Failing? Ask Yourself These 6 Fear-Killing Questions. [Editor's note: The following is the first in a three-part series of posts adapted from Warren Berger's new book, A More Beautiful Question (Bloomsbury), for which he spoke with top designers, tech innovators, entrepreneurs, and leading creative thinkers to explore the art (and innovative potential) of asking the right questions.] *** Here's a question: What would you attempt to do if you knew you could not fail?
If that question seems familiar, it should. One of the hallmarks of a powerful question is that it gets passed around, and among innovators I spoke with in the tech industry, this one has been making the rounds perhaps more than any other--quoted by everyone from Google's Regina Dugan to Sebastian Thrun at Udacity and Airbnb co-founder Joe Gebbia. How to Grow Your Audience as a Designer. There is so much competition on the Internet, that it might be a little harder than it seems to find people to follow your work. That's okay though, there are steps you can take to turn your business around and build a following that will increase your sales and get people talking, sharing, and absolutely loving your work. Today we will take a look at how you can grow your audience as a designer. You know your work is good, so should everyone else.
Be Confident In any business, to be the best, you need to think you're the best. Black Swan Avoidance | Dr. McGuff's "Dirty Dozen" Black Swan Avoidance | Dr. McGuff's "Dirty Dozen" Seven Things I Wish I Knew When I Was Still in College. 7 Bizarre (Yet Effective) Ways to Get Creative. There was a time in school when I thought I wasn't creative. I particularly remember having trouble creating poems in English class. I can recall sitting there in class while my hyperactive teacher urged me to write.
I had no idea what to write about. I had a bunch of random thoughts in my head, but nothing to make poetry out of. Contracts and Documents: Free Legal Resources for Freelancers. We all know that sometimes it's tough when employers refuse to pay you, claim your work, and ask you to go far and beyond what your initial job entailed. So, what can we do to protect ourselves from scams, terrible employers and other annoyances while we are just trying to make a living? To protect what's yours and to ensure that you're getting the best payouts on your projects, you need to use contracts. You should protect the things that you have worked hard to make and you shouldn't do business with anyone who won't sign a contract.
If a client is too scared to sign a contract, it's usually a sign of a scam or otherwise a bad employment situation. How Much Should I Charge Clients? Image credit: Shutterstock For entrepreneurs, pricing is a four-letter word, especially when you are a service-based company. Since starting my business, figuring out what to charge my customers has been my number-one problem. It is challenging to put a price tag on intangible items such as connections, knowledge and time. Whereas if you are producing a product, setting a price seems a little bit easier because you have very clear numbers to take into consideration, such as cost of manufacturing, packaging, shipping, etc. How to Make the Move into Freelancing. Top 10 DIY Office Upgrades. Don't Sweat It: 8 Strategies for Meeting and Connecting with VIPs. The Difference Between Knowledge and Experience. Negotiation Tips that Surprisingly Work.
How I Tackled Three Skills I Never Thought I'd Learn. Gender Inequality: Map Shows Places With the Least Equality for Women. 30 Days of Getting Results: The List of 30 Lessons. Konsults. 5 Writing Tips: How to Organize your Research. How to Make the Move into Freelancing. How Can I Improve My Listening Skills? Why Empathy Is Your Most Important Skill (and How to Practice It) 5 Tips to Help You Decide Your Rates as a Freelancer. Practical Math Shortcuts For Everyday Life. You're 4 Steps from Stress-Free Living. 10 Rules to Follow for a Creative Life. Why Angels Should Keep Their Distance from Crowdfunding in 2014. Using colored beads to remind yourself that you will die soon. The Financial Advice I'm Glad I Ignored When I Was Broke. 3 Questions to Ask at Dinner to Make Your Family Stronger. Treat Your Kids Like a Team of Agile Software Developers and Lower Your Family Stress. Use a Plagiarism Checker to Get References for a Research Paper.
10 Ways to Be a Student of Life. Everything I've Learned About Personal Finance in 10 Sentences. Great Gear for Hosting Parties. So, You Want To Quit Your Job? (Fantasy Versus Reality) How to Use the Secrets of Master Influencers to Get What You Want. How to Find Evidence to Support Any Argument. How to crash a party. How to Convince Someone You Work in Their Building. Be Assertive, Not Aggressive, to Get What You Need at Work. How to Get Into Exclusive Parties and Clubs Without an Invitation. 20 Amazing Life Hacks To Make Parenting More Fun. 10 Things I Wish I Had Known Before Becoming a Parent. 7 Things I Wish I Had Known Before Getting Married. How to Travel with a Group of Friends (and Not Lose Your Mind)
Louis C.K. and Bill Simmons Full Podcast | B.S. Report. How to Beat Procrastination in 5 Tiny Steps. How To Be The Best Public Speaker on the Planet Altucher Confidential. Faking Powerful Body Language Reduces Stress and Makes You More Confident. Faking Powerful Body Language Reduces Stress and Makes You More Confident. Why Confidence Is So Important (and How to Improve Yours) 10 Ways to Earn Frequent Flyer Miles Without Boarding a Flight. How I Left My Corporate Job to Work for Myself. Not Just for VIPs: Everything You Need to Know About Airport Lounges. Classic Leadership Skills You Should Apply to Your Social Life. 51927adf0874a6047200d650f2aacb3e.jpg 725 × 2 861 pixels. FUCKING HOMEPAGE - Useful Websites. How To Set Up Your Own Ebay Store - Infographic. How to Get Flat Abs, Have Amazing Sex and Rule the World in 8 Easy Steps | Kate Bartolotta.
How Your Memory Works (and Three Ways to Improve It) Bullet Journal: An analog note-taking system for the digital age. Bullet Journal. How To: Stage Your Home To Sell Fast With These 5 Tips. Snake oil Superfoods? If You're a Billionaire You Probably Have One of these Six Diseases Altucher Confidential. Top 10 Tricks to Get Discounts on Almost Anything. Five Things You NEED to Know Before Buying a House Altucher Confidential.
Personal Finance
Communication Tips. Work tips. General ressources. Self Management. Tools. Create a Personal Renewal Program to Protect Yourself from a Toxic, Life-Sucking Job.
Remove Yourself from All Background Check Web Sites: A Master List.
---