Techno
Geoweb3d - 3D GIS Visualization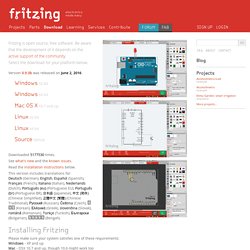 We're very happy that you are interested in evaluating Fritzing. Please be aware that while you can already do serious stuff with it, we make no guarantees about anything.
Download
About
Just Delete Me | A directory of direct links to delete your account from web services.
dotcloud/docker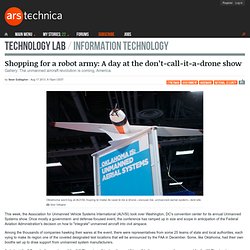 This week, the Association for Unmanned Vehicle Systems International (AUVSI) took over Washington, DC's convention center for its annual Unmanned Systems show. Once mostly a government- and defense-focused event, the conference has ramped up in size and scope in anticipation of the Federal Aviation Administration's decision on how to "integrate" unmanned aircraft into civil airspace. Among the thousands of companies hawking their wares at the event, there were representatives from some 25 teams of state and local authorities, each vying to make its region one of the coveted designated test locations that will be announced by the FAA in December. Some, like Oklahoma, had their own booths set up to draw support from unmanned system manufacturers.
Shopping for a robot army: A day at the don't-call-it-a-drone show
Cyberdéfense : les systèmes d'armes sont-ils vulnérables à des cyber-attaques ?
La guerre dans la guerre. La montée en puissance des dispositifs de cyberdéfense oblige toutes les armées du monde à réfléchir sur les nouvelles menaces et de trouver comment les contrer et les maîtriser. Comme par exemple comment protéger un système d'arme bourré de technologies reliées à un ou plusieurs systèmes de communications. C'est d'ailleurs l'une des craintes actuelles du ministère de la Défense.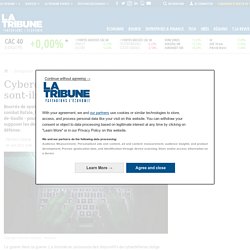 Mathematical and Generative Graphics • subblue
Object-relational mapping ( ORM , O/RM , and O/R mapping ) in computer software is a programming technique for converting data between incompatible type systems in object-oriented programming languages.
Object-relational mapping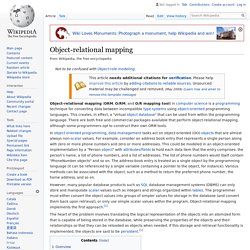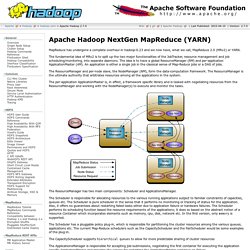 MapReduce has undergone a complete overhaul in hadoop-0.23 and we now have, what we call, MapReduce 2.0 (MRv2) or YARN. The fundamental idea of MRv2 is to split up the two major functionalities of the JobTracker, resource management and job scheduling/monitoring, into separate daemons. The idea is to have a global ResourceManager ( RM ) and per-application ApplicationMaster ( AM ).
YARN
Tutoriel en cours de modification ! RAPPEL : Il s'agit ici d'une installation sur une machine virtuelle ! Le dual-Boot Windows / Mac OS est en cours de tests – Merci de votre compréhension
Installer Mac OS X sur un PC - IDEALOGEEK
How to Clean Out Your Overflowing Hard Drive and Get Your Space Back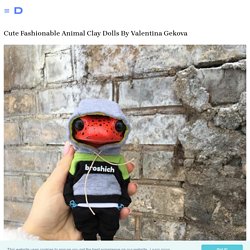 Blogging For Web 3.0
Web 2.0 has become well established and infiltrated business, education, and the general public. The concept of interactive webbing is seen in social media, searching within websites, and collaborative work tools.
static.googleusercontent.com/external_content/untrusted_dlcp/www.google.com/fr//insidesearch/howsearchworks/assets/searchqualityevaluatorguidelines
How Search Works - The Story – Inside Search – Google
Stocker 10 GB de données dans une vidéo Youtube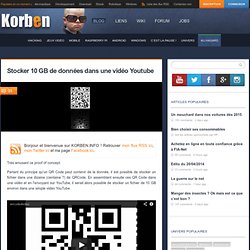 Par Korben
Los Alamos has been running a demo quantum key distribution system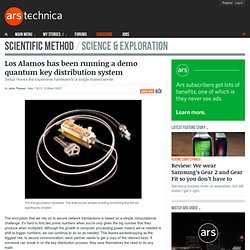 The encryption that we rely on to secure network transactions is based on a simple computational challenge: it's hard to find two prime numbers when you're only given the big number that they produce when multiplied.
Cray brings top supercomputer tech to businesses for a mere $500,000
Cray, the company that built the world's fastest supercomputer, is bringing its next generation of supercomputer technology to regular ol' business customers with systems starting at just $500,000. The new XC30-AC systems announced today range in price from $500,000 to roughly $3 million, providing speeds of 22 to 176 teraflops.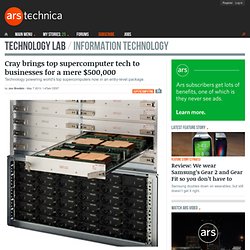 Thank you for not viewing: "Hidden" display ads hurt Web ad networks
There's more than one way to fleece people using Web advertising. Botnets have been harnessed to generate fake clicks by injecting fake links into search results and to click randomly on webpages the infected computer's user never sees.
Kinect Hack Turns Any Surface Into a Remote Control
It's about time this insanely powerful new technology was employed in the service of helping lazy people be lazy.
You don't need expensive software or a new camera to keep an eye on things at home.
How to Turn Your Webcam Into a Streaming, Motion-Detecting Surveillance System
This post was made with another stylesheet and it might be messed up!
Gnome & Wayland
Welcome to the Anthropocene on Vimeo
Modèle OSI
Un article de Wikipédia, l'encyclopédie libre. Le modèle OSI (de l' anglais Open Systems Interconnection ) est un standard de communication, en réseau , de tous les systèmes informatiques .
tid=080812desk
Fuzzy Logic
[nytlabs] Project Cascade
Querying DBpedia
Tweet ping
Tweetping, pour voir la twittosphère s'agiter en temps réel
Save Publishing trouve la phrase à tweeter sur une page web
Pure Data — PD Community Site
Navigate Wikipedia By Charted Connections - There's An App For That