Technics
PlaceRaider, un malware pour smartphone vraiment effrayant
Avec l'explosion du marché des smartphones, les malwares et autres virus se sont, eux aussi, développés.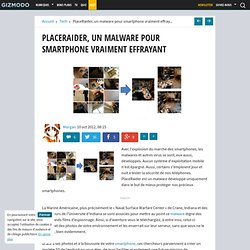 You can use various Google services as proxies to access web pages, documents and other files that are other blocked at your workplace. If you have trouble accessing a web page either because the website is blocked at your workplace, or because that page happens to be behind a paywall, there are a couple of undocumented Google proxy servers that may help you read that page. When you access any page via one of these Google proxies, the content of that page gets downloaded on Google servers and then served to you. The lesser-known gmodules.com proxy, discussed later, will even allow you to download documents, videos and other web files that are otherwise blocked. 1.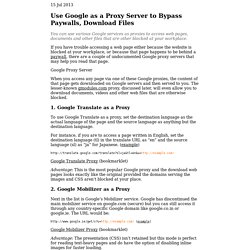 How to Use Google as a Proxy Server
DEF CON® Hacking Conference - The Hacker Community's Foremost Social Network.
No Starch Press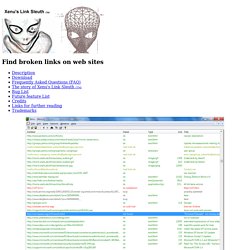 Find broken links on web sites Wikipedia article about Xenu's Link Sleuth
Find broken links on your site with Xenu's Link Sleuth (TM)
iOS apps can be hijacked to show fraudulent content and intercept data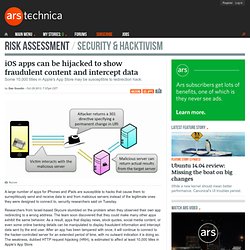 A large number of apps for iPhones and iPads are susceptible to hacks that cause them to surreptitiously send and receive data to and from malicious servers instead of the legitimate ones they were designed to connect to, security researchers said on Tuesday. Researchers from Israel-based Skycure stumbled on the problem when they observed their own app redirecting to a wrong address. The team soon discovered that they could make many other apps exhibit the same behavior. As a result, apps that display news, stock quotes, social media content, or even some online banking details can be manipulated to display fraudulent information and intercept data sent by the end user. After an app has been tampered with once, it will continue to connect to the hacker-controlled server for an extended period of time, with no outward indication it is doing so. The weakness, dubbed HTTP request hijacking (HRH), is estimated to affect at least 10,000 titles in Apple's App Store.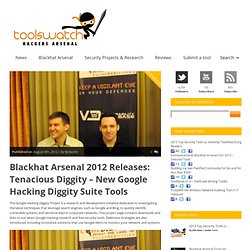 The Google Hacking Diggity Project is a research and development initiative dedicated to investigating the latest techniques that leverage search engines, such as Google and Bing, to quickly identify vulnerable systems and sensitive data in corporate networks. This project page contains downloads and links to our latest Google Hacking research and free security tools. Defensive strategies are also introduced, including innovative solutions that use Google Alerts to monitor your network and systems. The awesome Google Diggity Project Duo during the Interview Session New tools released at Arsenal: AlertDiggityDB – For several years, we've collected vulnerability details and sensitive information disclosures from thousands of real-time RSS feeds setup to monitor Google, Bing, SHODAN, and various other search engines.
Blackhat Arsenal 2012 Releases: Tenacious Diggity – New Google Hacking Diggity Suite Tools
▶ DEF CON 20 (2012) - Tenacious Diggity (Full Video) - 29July2012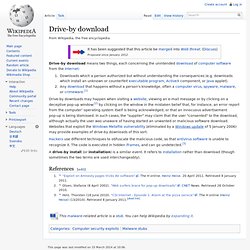 Drive-by download means two things, each concerning the unintended download of computer software from the Internet: Drive-by downloads may happen when visiting a website, viewing an e-mail message or by clicking on a deceptive pop-up window:[2] by clicking on the window in the mistaken belief that, for instance, an error report from the computer' operating system itself is being acknowledged, or that an innocuous advertisement pop-up is being dismissed. In such cases, the "supplier" may claim that the user "consented" to the download, although actually the user was unaware of having started an unwanted or malicious software download. Websites that exploit the Windows Metafile vulnerability (eliminated by a Windows update of 5 January 2006) may provide examples of drive-by downloads of this sort.
Drive-by download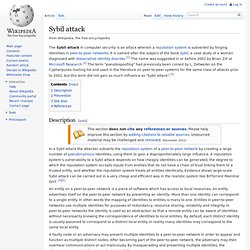 Sybil attack
The Sybil attack in computer security is an attack wherein a reputation system is subverted by forging identities in peer-to-peer networks. It is named after the subject of the book Sybil, a case study of a woman diagnosed with dissociative identity disorder.[1] The name was suggested in or before 2002 by Brian Zill at Microsoft Research.[2] The term "pseudospoofing" had previously been coined by L. Detweiler on the Cypherpunks mailing list and used in the literature on peer-to-peer systems for the same class of attacks prior to 2002, but this term did not gain as much influence as "Sybil attack".[3] Description[edit]
Steghide
brico-wifi
NoScript :: Modules pour Firefox
JonDoFox – Surfez l'esprit tranquille ! Bonjour et bienvenue ! Si vous aimez cet article, n'hésitez pas à vous abonner au site via son flux RSS suivre Korben.info.
JonDoFox – Surfez l'esprit tranquille !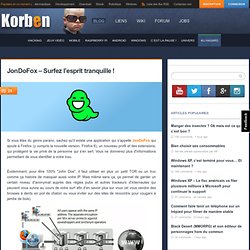 Bugmenot.com - login with these free web passwords to bypass compulsory registration
1. nmap – Nmap ("Network Mapper") is a free open source utility for network exploration or security auditing.
Top 10 Linux Security Tools. | Arrow Webzine
Top 100 Network Security Tools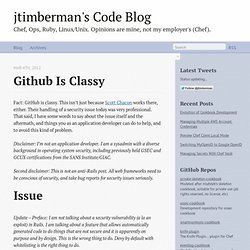 Fact: GitHub is classy. This isn't just because Scott Chacon works there, either. Their handling of a security issue today was very professional. That said, I have some words to say about the issue itself and the aftermath, and things you as an application developer can do to help, and to avoid this kind of problem.
Is Classy - jtimberman's Code Blog
Authentication
Cheat Sheets
So where are they lurking nowadays? They are still using the SEO-poisoning method, of course.
A Tumblr of Rogues
InSync – Une copie de sauvegarde
InSync est un petit soft dispo sous Mac, Windows et Linux qui permet de synchroniser avec un répertoire sur votre disque dur, tous vos Google Documents. En gros, vous associez votre compte Google à Insync, puis tous vos documents Gdocs seront automatiquement téléchargés (et mis à jour) sur votre ordinateur, de quoi avoir une copie de sauvegarde locale permanente. Et inversement, si dans ce dossier, vous placez un document, celui-ci sera automatiquement envoyé sur Google Docs.
Ophcrack
This tutorial is for information purposes only, and I do not endorse any of the activities discussed within this guide.
Hacking Basics | Arrow Webzine
Fiabee
DroidSheep – Le vol de sessions non chiffrée est désormais possible sur Android
How to Unlock a Computer Without a Password Reset Disk
How to use Google for Hacking. | Arrow Webzine
HakTip - DEFCON 19: Android Botnets
Prime – Un outil pour modéliser votre réseau local
Artillery – Un nouvel outil pour protéger vos serveurs
NoScript Anywhere pour Firefox Mobile