Skills & Tips
Rope Skills To Learn Before Your Next Climbing Trip
Whether you're a mountaineer or a canyoneer, chances are you live and die by your rope and your ability to use it. Possessing a handful of basic climbing rope skills can you get out of serious jams, and it might even save your life. Here are five climbing rope skills for the mountains, canyons and hills that can allow you to rescue yourself or others and turn a nightmare into an adventure. Rappel on a Munter Hitch It happens to the best of us: You go on a climbing or spelunking adventure and remember to bring all of your numerous pieces of gear, except perhaps the most essential: a rappel device.
Editor's note: This is a guest post from Creek Stewart of Willow Haven Outdoor. The term 'Bugging Out' refers to the decision to abandon your home due to an unexpected emergency situation–whether a natural disaster or one caused by man. A 'Bug Out Bag' is a pre-prepared survival kit designed to sustain you through the journey to your destination once you've decided to 'Bug Out' in the event of an emergency evacuation. Typically, the Bug Out Bag (BOB) is a self-contained kit designed to get you through at least 72 hours. This kit is also referred to as a 72-Hour Bag, a Get Out Of Dodge Bag (GOOD Bag), an EVAC Bag, and a Battle Box.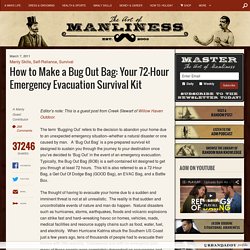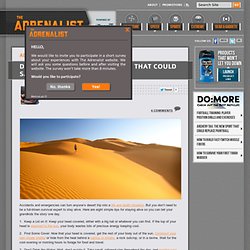 Accidents and emergencies can turn anyone's desert trip into a life and death situation.
Desert Survival: 8 Simple Tips That Could Save Your Life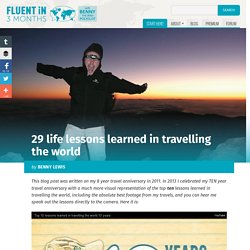 EDIT: This blog post was written on my 8 year travel anniversary in 2011. THIS year (2013) I celebrated my TEN year travel anniversary with a much more visual representation of the top ten lessons learned in travelling the world, including the absolute best footage from my travels, and you can hear me speak out the lessons directly to the camera. Here it is:
Ever wondered how to forecast the weather without actually using instruments?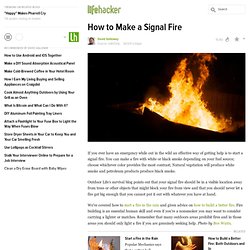 If you ever have an emergency while out in the wild an effective way of getting help is to start a signal fire. You can make a fire with white or black smoke depending on your fuel source; choose whichever color provides the most contrast; Natural vegetation will produce white smoke and petroleum products produce black smoke.
How to Make a Signal Fire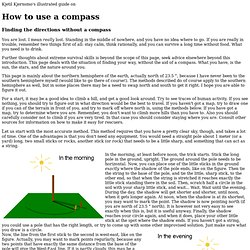 Kjetil Kjernsmo's illustrated guide on
How to sail an America's Cup Yacht
10 Wilderness Survival Skills From Hatchet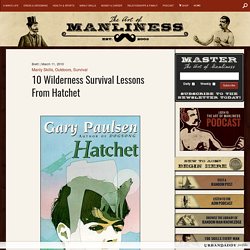 The other day I was sorting through some old books and stumbled upon a childhood favorite, Hatchet by Gary Paulsen. The last time I read it was nearly 15 years ago, so I decided to read it again for old times sake. For those of you who haven't read Hatchet, the basic plot is this: A teenage city boy named Brian Robeson crashes in the middle of the Canadian wilderness while flying in a bush plane.
Survival Guides - Survival-Tube
Survivalism: Fall Hiking Wish List