Presentations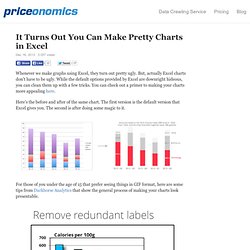 It Turns Out You Can Make Pretty Charts in Excel
Whenever we make graphs using Excel, they turn out pretty ugly.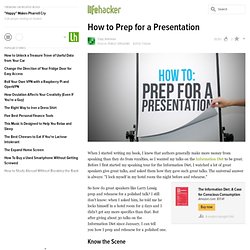 How to Prep for a Presentation
When I started writing my book, I knew that authors generally make more money from speaking than they do from royalties, so I wanted my talks on the Information Diet to be great. Before I first started my speaking tour for the Information Diet, I watched a lot of great speakers give great talks, and asked them how they gave such great talks. The universal answer is always: "I lock myself in my hotel room the night before and rehearse." So how do great speakers like Larry Lessig prep and rehearse for a polished talk?
One of the most common questions in PowerPoint training is "how can I see something different on my screen to the audience?"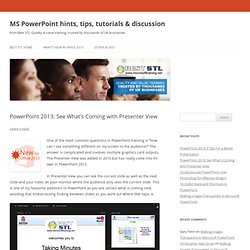 PowerPoint 2013: See What's Coming with Presenter View | MS PowerPoint hints, tips, tutorials & discussion
In this article: Overview of sections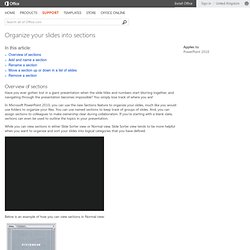 Organize your slides into sections - PowerPoint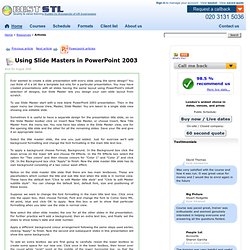 Using Slide Masters in PowerPoint 2003
Previous article Next article Powerpoint articles Wed 5th August 2009
7 Steps to Giving a Killer PowerPoint Presentation
Widely accepted as the most useful and accessible way to create visual aids ready to share with an audience, PowerPoint presentations are often poorly constructed making them boring and arduous to sit through. With so many uses and tools to help you give a fantastic presentation every time, it's frustrating to see so many bad examples. Some sources claim that up to 50% of presentations are ineffective.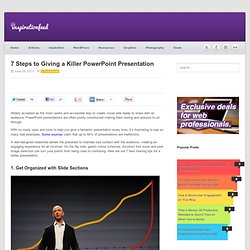 Over the last few years I've created a few popular visualizations, a lot of duds, and I've learned a few lessons along the way.
How to create a visualization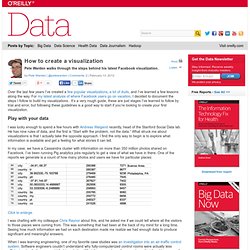 How to Avoid Death by PowerPoint
How GitHub Uses GitHub to Build GitHub
How GitHub Uses GitHub to Build GitHub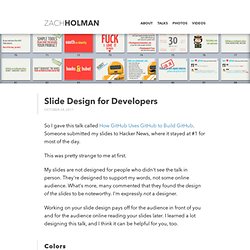 October 24, 2011 So I gave this talk called How GitHub Uses GitHub to Build GitHub. Someone submitted my slides to Hacker News, where it stayed at #1 for most of the day. This was pretty strange to me at first. My slides are not designed for people who didn't see the talk in person.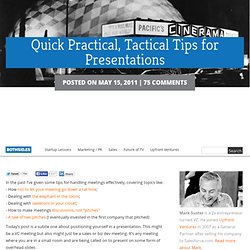 In the past I've given some tips for handling meetings effectively, covering topics like: - How not to let your meeting go down a rat hole; - Dealing with the elephant in the room; - Dealing with skeletons in your closet; - How to make meetings discussions, not "pitches" - A tale of two pitches (I eventually invested in the first company that pitched) Today's post is a subtle one about positioning yourself in a presentation. This might be a VC meeting but also might just be a sales or biz dev meeting.
Seth Godin: How To Do PowerPoint [Headlines]
Self-Description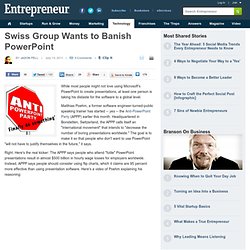 Swiss Group Wants to Banish PowerPoint
While most people might not love using Microsoft's PowerPoint to create presentations, at least one person is taking his distaste for the software to a global level. Matthias Poehm, a former software engineer-turned-public speaking trainer has started -- yes -- the Anti-PowerPoint Party (APPP) earlier this month. Headquartered in Bonstetten, Switzerland, the APPP calls itself an "international movement" that intends to "decrease the number of boring presentations worldwide." The goal is to make it so that people who don't want to use PowerPoint "will not have to justify themselves in the future," it says. Right. Here's the real kicker: The APPP says people who attend "futile" PowerPoint presentations result in almost $500 billion in hourly wage losses for employers worldwide.
Yeah. I do loads of slide decks each year for several companies and there are two types of decks I do a lot. One is the presentation. One is the infodeck, which is really intended more as a document for distribution than as a presentation. The trouble is when I run into people who I can't convince there should be a difference.
Do's and Dont's of Making Awesome Diagrams for Slides
Impress dual monitor operation