Places to be
10 Best Places to Live for Escaping World Conflict. Where would you be the safest if World War 3 broke out tomorrow?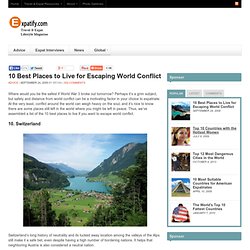 Perhaps it's a grim subject, but safety and distance from world conflict can be a motivating factor in your choice to expatriate. At the very least, conflict around the world can weigh heavy on the soul, and it's nice to know there are some places still left in the world where you might be left in peace. Thus, we've assembled a list of the 10 best places to live if you want to escape world conflict.
Most Fascinating Geological Wonders On Earth. Mar 08, 2011 / Category : Misc / 37 Comments This planet we live on offers us beauty beyond words.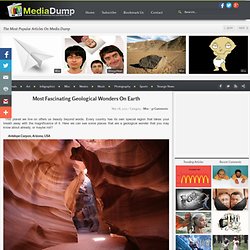 Every country has its own special region that takes your breath away with the magnificence of it. Here we can see some places that are a geological wonder that you may know about already, or maybe not? Antelope Canyon, Arizona, USA. 22 Incredible Photos of Faraway Places. Thailand Chances are you already know Steve McCurry as the man who took one of the most iconic photos of our time.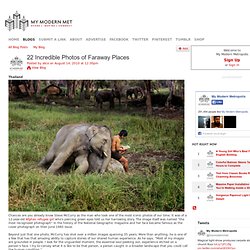 It was of a 12-year-old Afghan refugee girl who's piercing green eyes told us her harrowing story. The image itself was named "the most recognized photograph" in the history of the National Geographic magazine and her face became famous as the cover photograph on their June 1985 issue. Europe's Top 25 Castles – The Best Castles in Europe. There is something about castles that inspires awe and at the same time touches a gentler, more romantic side in each of us.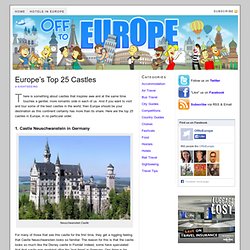 And if you want to visit and tour some of the best castles in the world, then Europe should be your destination as this continent certainly has more than its share. Here are the top 25 castles in Europe, in no particular order. 1. Castle Neuschwanstein in Germany. 12 of the World's Most Fascinating Cemeteries. Human beings have honored their dead since the dawn of time – even Neanderthals buried the fallen.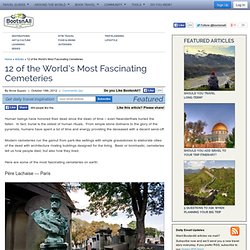 In fact, burial is the oldest of human rituals. From simple stone dolmens to the glory of the pyramids, humans have spent a lot of time and energy providing the deceased with a decent send-off. Modern cemeteries run the gamut from park-like settings with simple gravestones to elaborate cities of the dead with architecture rivaling buildings designed for the living.
Basic or bombastic, cemeteries tell us how people died, but also how they lived. Amazing Places To Experience Around The Globe (Part 1) Preachers Rock, Preikestolen, Norway Blue Caves - Zakynthos Island, Greece Skaftafeli - Iceland Plitvice Lakes – Croatia Crystalline Turquoise Lake, Jiuzhaigou National Park, China.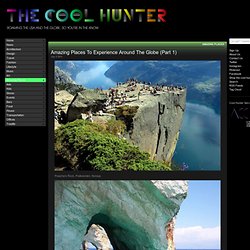 Most amazing places I want to visit. Amazing Places To Experience Around the Globe (Part 3) Devetashkata Cave - Bulgaria Ben Bulben at County Sligo, Ireland Shark Island - Sydney.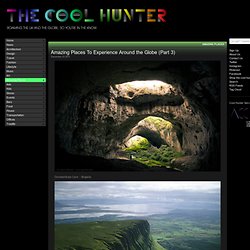 Amazing Places To Experience Around The Globe (Part 1) Preachers Rock, Preikestolen, Norway Blue Caves - Zakynthos Island, Greece Skaftafeli - Iceland Plitvice Lakes – Croatia.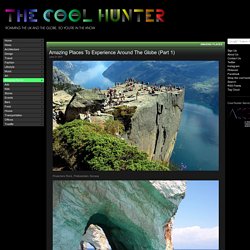 Amazing Places To Experience Around The Globe (Part 2) Tian Tan Buddha on Lantau Island, Hong Kong Fernando De Noronha - Brazil Spirit Island, Magligne Lake, Alberta, Canada Rice Field Terraces in Yunnan, China Bern, Switzerland.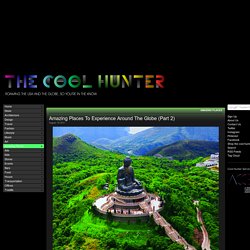 15 Amazing Castles from Around the Globe. Although designed and built for the prominent purpose of defense, today the castles seem like somewhat unrealistic constructions straight from the fairytale world.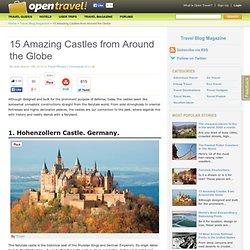 From solid strongholds to oriental fortresses and highly decorative palaces, the castles are our connection to the past, where legends mix with history and reality blends with a fairyland. This fairytale castle is the historical seat of the Prussian Kings and German Emperors. Its origin dates back to the Middle Ages - it was built in the 11th century, then completely destroyed in 1423 and reconstructed in 1461. The view from the castle that stands on top of Mount Hohenzollern (855 m) is as stunning as the complex itself. 50 of the Most Important Landmarks of the World (Part 1)
Originally, a landmark literally meant a geographic feature used by explorers and others to find their way back or through an area. Now, a landmark includes anything that is easily recognizable, such as a monument or a building, or any other spot to designate places that might be of interest to tourists. A few examples are the Statue of Liberty, Uluru, the Taj Mahal, Mount Everest, and the Eiffel Tower.
---