Outdoor
Amazing jellyfish lake | Zack Travel. Jellyfish Lake is a marine lake located on Eil Malk island in Palau.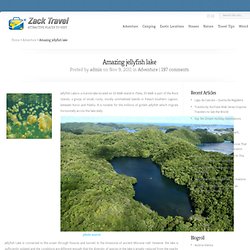 Eil Malk is part of the Rock Islands, a group of small, rocky, mostly uninhabited islands in Palau's Southern Lagoon, between Koror and Peleliu. It is notable for the millions of golden jellyfish which migrate horizontally across the lake daily. photo source Jellyfish Lake is connected to the ocean through fissures and tunnels in the limestone of ancient Miocene reef. However the lake is sufficiently isolated and the conditions are different enough that the diversity of species in the lake is greatly reduced from the nearby lagoon. Bolivia salt desert after the rain by Guy Nesher.
The world's best secret islands. Looking for a romantic spot that's (almost) all yours?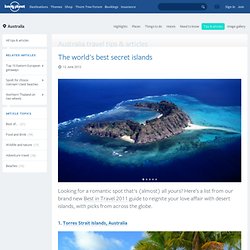 Here's a list from our brand new Best in Travel 2011 guide to reignite your love affair with desert islands, with picks from across the globe. 1. The Seven Wonders of the World. Plitvice Lakes National Park, Croatia. The stunning Plitvice Lakes National Park lies in the Lika region of Croatia.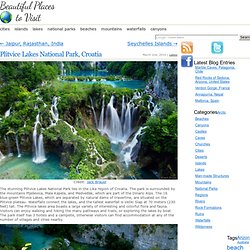 The park is surrounded by the mountains Plješevica, Mala Kapela, and Medveđak, which are part of the Dinaric Alps. The 16 blue-green Plitvice Lakes, which are separated by natural dams of travertine, are situated on the Plitvice plateau. Still Looking For Paradise? Maldives - justpaste.it. Double chain of twenty-six atolls… The Republic of Maldives, or simply the Maldives, is an island nation in the Indian Ocean.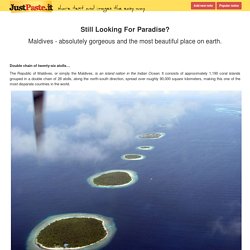 It consists of approximately 1,190 coral islands grouped in a double chain of 26 atolls, along the north-south direction, spread over roughly 90,000 square kilometers, making this one of the most disparate countries in the world. The 40 Most Spectacular and Mindblowing Photos of Nature. A lifetime is not enough to see what nature has to offer and all its beauties, along with its weirdness at times.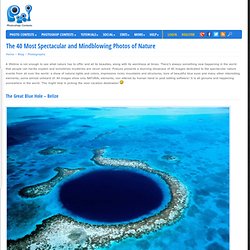 There's always something new happening in the world that people can hardly explain and sometimes mysteries are never solved. Pxleyes presents a stunning showcase of 40 images dedicated to the spectacular nature events from all over the world: a show of natural lights and colors, impressive rocky mountains and structures, tons of beautiful blue eyes and many other interesting elements, some almost unheard of. All images show only NATURAL elements, non altered by human hand or post editing software! It is all genuine and happening somewhere in the world.
The Hamilton Pool Nature Preserve in Texas. Oct 3, 2011 Located approximately 30 miles (48 km) southwest of Austin, Texas, the Hamilton Pool Preserve is a historic swimming hole which was designated a preserve by the Travis County Commissioner's Court in 1990.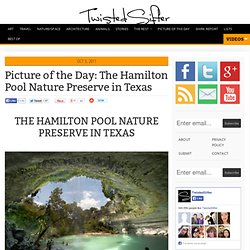 Located 3/4 mile upstream from its confluence with the Pedernales River, Hamilton Creek spills out over limestone outcroppings to create a 50 foot waterfall as it plunges into the head of a steep box canyon. Marvel at the Magnificent Marble Caves [35 PICS] Can you imagine something happening that would endanger these exquisite azure caverns?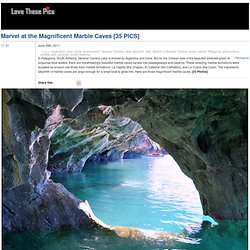 It might if Chile continues with plans to build five hydro-power dams in Patagonia. Photo #7 by © Jorge Leon Cabello The water has eroded the marble to create cavities and marble caves. There are different color shades, depending on the contents' impurities. There are white banks of great purity, but it is also possible to find blue and pink marble banks due to the presence of other minerals. Islands | Beautiful Places to Visit - Part 2. The island nation known as the Seychelles can be found in the Indian Ocean off the East coast of Africa, North of Madagascar.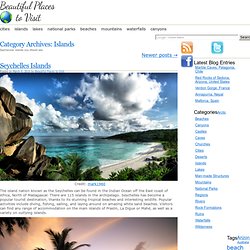 There are 115 islands in the archipelago. Seychelles has become a popular tourist destination, thanks to its stunning tropical beaches and interesting wildlife. Popular activities include diving, fishing, sailing, and laying around on amazing white sand beaches.
---