Objects
Rédigé par John Smith Jeudi, 08 décembre 2011 Dreaming , Miniatures Véritable travail d'orfèvre et de mécanique de précision, une mention toute particulière pour cette impressionnante réalisation de ce passionné espagnol qui a entièrement imaginé, conçu et réalisé pièce par pièce un moteur V12 miniature d'une cylindrée de 12 cm3 absolument fonctionnel. Découvrez tous les détails de la fabrication, de l'assemblage et du fonctionnement de cette petite merveille en vidéo dans la suite ! <img class="alignnone size-full wp-image-176292" title="mini-moteur-v12" src="http://supercharged.fr/cms/uploads/2011/12/mini-moteur-v12.jpg" alt="" width="673" height="458" />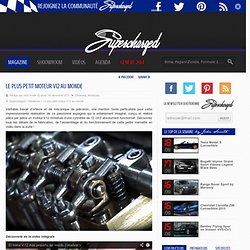 Luxury Issues | Le plus petit moteur V12 au monde
RoundTail bike frame cuts vibrations 50-fold and
Rozetkus power strip by Art. Lebedev Studio
Black Fiberglass Sailing Canoe « FAN THE FIRE – Youth culture magazine.
An ultra-limited edition of just five pieces, Caillou 's Black Fiberglass Sailing Canoe is quite simply one of the finest and most stylish ways to get around on flat waters. Offering easy of function and handling, with or without the stowable sailing rig, the beautiful kayak is perfect to set upon a deserted coastine, romantic dinner in town; even moor her up and return home the next morning. It's light too, so you can transport your Caillou atop a car, without the need for a trailer. The Black Fiberglass Sailing Canoe is yours for £5,580, exclusively for sale on 20ltd .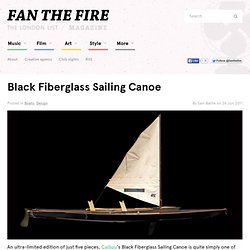 Glass Microbiologie
Très belles réalisations de l'artiste souffleur de verre Luke Jerram sur une thématique des plus contemporaine, un petit coup de projecteur sur « Glass Microbiologie », une impressionnante série de créations entièrement réalisées en verre soufflé représentant les virus, maladies et bactéries les plus connues actuellement comme le VIH, la Malaria, le SRAS ou encore E.coli dans les moindres détails de leur structure. La galerie photos complète et le process de création détaillé à découvrir en vidéo dans la suite ! Plus de détails en images dans la galerie HIV Sculpture by Luke Jerram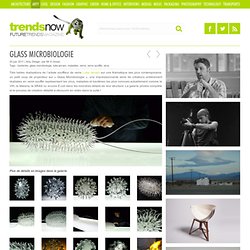 World's smallest Klein bottle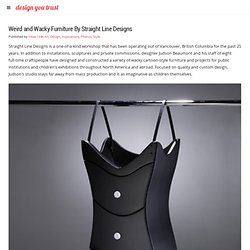 Weird and Wacky Furniture By Straight Line Designs » Design You Trust – Social design inspiration!
Straight Line Designs is a one-of-a-kind workshop that has been operating out of Vancouver, British Columbia for the past 25 years. In addition to installations, sculptures and private commissions, designer Judson Beaumont and his staff of eight full-time craftspeople have designed and constructed a variety of wacky cartoon-style furniture and projects for public institutions and children's exhibitions throughout North America and abroad. Focused on quality and custom design, Judson's studio stays far away from mass production and is as imaginative as children themselves. More weird furniture here!
Paper Pinhole Camera Looks Just Like a Leica
The film camera is becoming more and more of a retro novelty as digital cameras quickly snap up the masses. To pay homage to the well-loved Leica camera, London designer and photographer Matthew Nicholson has made his own 35mm camera using only paper. The life size Leica even works, but more simply as a pinhole camera. <a href="http://ad.doubleclick.net/jump/Inhabitat/Architecture;article=articlename;kw=content1;sz=300x250;ord=123456789?" target="_blank" ><img src="http://ad.doubleclick.net/ad/Inhabitat/Architecture;article=articlename;kw=content1;sz=300x250;ord=123456789?"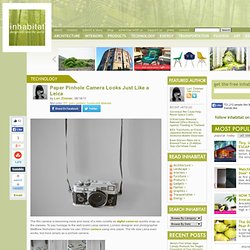 Collection of the most creative and interesting cell phone concepts designed by talented people from all over the globe. Weather Cell Phone Concept Beautiful cell phone concept design by Seunghan Song accurately detects and illustrates present weather conditions. [ link ] Mobile Script Cell Phone Concept
10 Futuristic Cell Phone Concepts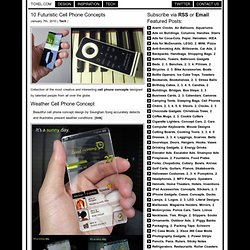 Collection of Cool Umbrella Designs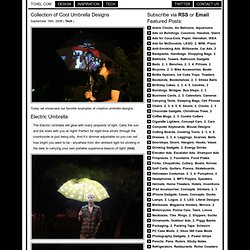 Today we showcase our favorite examples of creative umbrella designs. Electric Umbrella The Electric Umbrella will glow with many pinpoints of light. Carry the sun and the stars with you at night! Perfect for night-time strolls through the countryside or just being silly.
N'avez-vous jamais reproduit les plus grandes scènes de duels, de combats de pirates et autres films de capes d'épée en ne vous servant que d'une simple branche comme épée de fortune lorsque vous étiez petit ? Partant d'une idée simple et efficace, on a totalement craqué sur l'excellent concept « Branch Holder », une petite garde en plastique à fixer sur n'importe quelle branche pour la transformer en un clin d'oeil en un sabre imaginaire. Imaginé par le jeune étudiant israélien en Product Design au Holon Institute of Technology Naama Agassi basé à Tel Aviv, découvrez tous les détails en images dans la suite ! Plus de détails en images dans la galerie
Branch Holder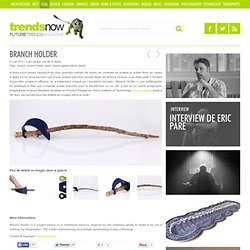 Transparent Kayak » Design You Trust – Social design inspiration!