Matos
How to Make a Bug Out Bag. Editor's note: This is a guest post from Creek Stewart of Willow Haven Outdoor.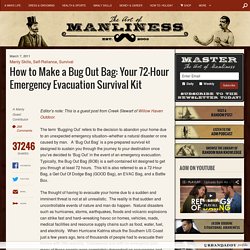 The term 'Bugging Out' refers to the decision to abandon your home due to an unexpected emergency situation–whether a natural disaster or one caused by man. A 'Bug Out Bag' is a pre-prepared survival kit designed to sustain you through the journey to your destination once you've decided to 'Bug Out' in the event of an emergency evacuation. Typically, the Bug Out Bag (BOB) is a self-contained kit designed to get you through at least 72 hours. This kit is also referred to as a 72-Hour Bag, a Get Out Of Dodge Bag (GOOD Bag), an EVAC Bag, and a Battle Box.
Adrenalist - REI Marmot CWM EQ. You're going to need a serious sleeping bag if you're going to be sleeping outdoors, surrounded by snow in the dead of winter.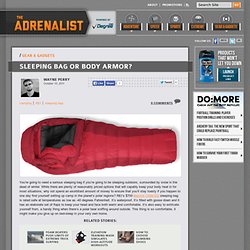 While there are plenty of reasonably priced options that will capably keep your body heat in for most situations, why not spend an exorbitant amount of money to ensure that you'll stay toasty if you happen to one day find yourself setting up camp in the planet's polar regions? REI's $700 Marmot CWM EQ sleeping bag is rated safe at temperatures as low as -40 degrees Fahrenheit. It's waterproof, it's filled with goose down and it has an elaborate set of flaps to keep your head and face both warm and comfortable. It's also easy to extricate yourself from, a handy thing when there's a polar bear sniffing around outside. Wildernet - Hiking, Camping, Fishing and Many Other Activities Throughout America's Public Lands. USMC. Re-Live That 200-MPH Drop In 1080p.
It's hard to convey the feeling of hurtling down a mountain at speeds faster than most cars travel on the highway to those who haven't tried it.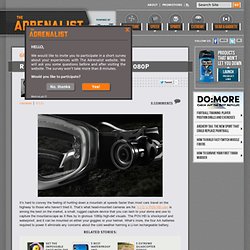 That's what head-mounted cameras are for. V.I.O.'s POV.HD cam is among the best on the market, a small, rugged capture device that you can lash to your dome and use to capture the mountainscape as it flies by in glorious 1080p high-def visuals. The POV.HD is shockproof and waterproof, and it can be mounted on either your goggles or your helmet. 10 Outdoor Gear Essentials. Every man has a different idea of what constitutes a "necessity" when venturing out into the wilderness.
For one man, a fire source and a good blade may be all that is required, while for the next, GPS and a full outdoor kitchen setup might be considered indispensable. While experienced hikers, climbers, and other adventurous sorts most likely have their packing list down to a science, those who are just beginning to branch out into the wilderness can certainly benefit from a standard, universal checklist. Cue the Ten Essentials. The Ten Essentials and the Ten Essentials (Systems Approach) Originally published by The Mountaineers (a Seattle-based outdoor recreation group) in the 1930s, the Ten Essentials is a list of necessities that every hiker, climber, camper, and adventurer should have on hand while in the wilds.
Survival Cache — The Gear Site for Survival. Gerber's Gator Machete Pro For Any Adventures. Whether you need to cut your way through a thick underbrush or a thick crowd of shambling zombies, you're going to want a versatile blade.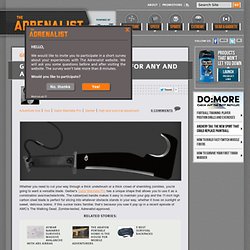 Gerber's Gator Machete Pro has a unique shape that allows you to use it as a combination axe/machete/knife. The rubberized handle makes it easy to maintain your grip and the 11-inch high carbon steel blade is perfect for slicing into whatever obstacle stands in your way, whether it lives on sunlight or sweet, delicious brains. If this sucker looks familiar, that's because you saw it pop up in a recent episode of AMC's The Walking Dead. Vision-nocturne.com: Monoculaires, binoculaires, lunettes de chasse.
---