Matos
Editor's note: This is a guest post from Creek Stewart of Willow Haven Outdoor. The term 'Bugging Out' refers to the decision to abandon your home due to an unexpected emergency situation–whether a natural disaster or one caused by man. A 'Bug Out Bag' is a pre-prepared survival kit designed to sustain you through the journey to your destination once you've decided to 'Bug Out' in the event of an emergency evacuation. Typically, the Bug Out Bag (BOB) is a self-contained kit designed to get you through at least 72 hours. This kit is also referred to as a 72-Hour Bag, a Get Out Of Dodge Bag (GOOD Bag), an EVAC Bag, and a Battle Box.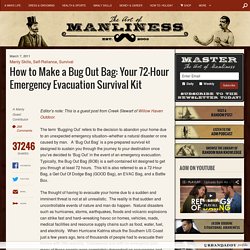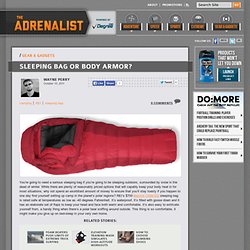 You're going to need a serious sleeping bag if you're going to be sleeping outdoors, surrounded by snow in the dead of winter.
Adrenalist - REI Marmot CWM EQ
Re-Live That 200-MPH Drop In 1080p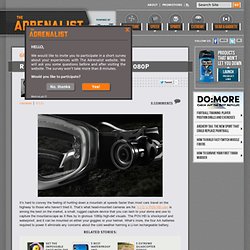 It's hard to convey the feeling of hurtling down a mountain at speeds faster than most cars travel on the highway to those who haven't tried it. That's what head-mounted cameras are for. V.I.O.'s POV.HD cam is among the best on the market, a small, rugged capture device that you can lash to your dome and use to capture the mountainscape as it flies by in glorious 1080p high-def visuals. The POV.HD is shockproof and waterproof, and it can be mounted on either your goggles or your helmet.
10 Outdoor Gear Essentials
Every man has a different idea of what constitutes a "necessity" when venturing out into the wilderness. For one man, a fire source and a good blade may be all that is required, while for the next, GPS and a full outdoor kitchen setup might be considered indispensable. While experienced hikers, climbers, and other adventurous sorts most likely have their packing list down to a science, those who are just beginning to branch out into the wilderness can certainly benefit from a standard, universal checklist. Cue the Ten Essentials. The Ten Essentials and the Ten Essentials (Systems Approach) Originally published by The Mountaineers (a Seattle-based outdoor recreation group) in the 1930s, the Ten Essentials is a list of necessities that every hiker, climber, camper, and adventurer should have on hand while in the wilds.
Gerber's Gator Machete Pro For Any Adventures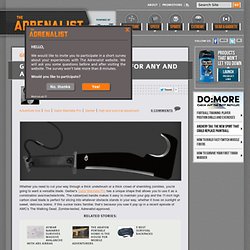 Whether you need to cut your way through a thick underbrush or a thick crowd of shambling zombies, you're going to want a versatile blade.
Vision-nocturne.com: Monoculaires, binoculaires, lunettes de chasse