Marketing
Five Ways You Can Get Started With QR Code Marketing. Quick response codes are getting a lot of positive buzz these days.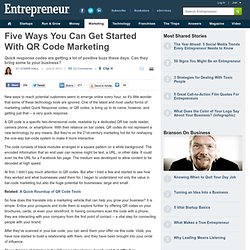 Can they bring some to your business? New ways to reach potential customers seem to emerge online every hour, so it's little wonder that some of these technology tools are ignored. One of the latest and most useful forms of marketing called Quick Response codes, or QR codes, is living up to its name, however, and getting just that -- a very quick response. Three Ways to Find an Edge in a Crowded Market. Whether you're a pioneer or a latecomer in a competitive industry, here are strategies to stay ahead of the pack.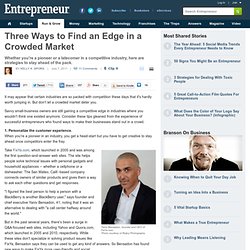 It may appear that certain industries are so packed with competition these days that it's hardly worth jumping in. But don't let a crowded market deter you. Savvy small-business owners are still gaining a competitive edge in industries where you wouldn't think one existed anymore. Why Tracking Marketing Metrics Can Pay Off. Use these tips to help generate a better response from your marketing and improve your return on investment.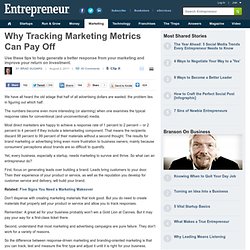 We have all heard the old adage that half of all advertising dollars are wasted; the problem lies in figuring out which half. The numbers become even more interesting (or alarming) when one examines the typical response rates for conventional (and unconventional) media. Most direct marketers are happy to achieve a response rate of 1 percent to 2 percent -- or 2 percent to 4 percent if they include a telemarketing component.
---