Jeux
Guides - XCOM Wiki
How To Make a Long Board Game Bearable
Jeu Diplomacy en ligne -- Diplomatie-online
How to Play Strategy in Rugby
Après la première partie présentant l'esprit de cette série d'articles, nous apprendrons aujourd'hui la différence entre la stratégie et la tactique. J'espère que la partie 3 fera la distinction entre un marron et une châtaigne. Rugby et stratégie (2) Essai d'élucidation du rugby par la stratégie
Rugby & Strategy : Part deuz'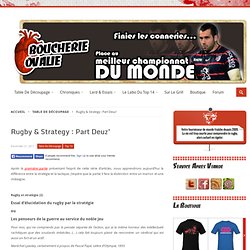 faculty-gsb.stanford.edu/mcmillan/personal_page/documents/rugby economics Nov 26 03.pdf
Better Rugby Coaching | Strategies, Tactics and Tips | Rugby Strategies | Rugby Tactics | Rugby Tips | Rugby Training Drills
Welcome to the Othello/Reversi Website!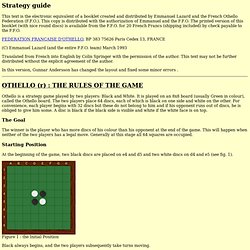 Strategy guide This text is the electronic equivalent of a booklet created and distributed by Emmanuel Lazard and the French Othello Federation (F.F.O.). This copy is distributed with the authorization of Emmanuel and the F.F.O. The printed version of this booklet (with nice round discs) is available from the F.F.O. for 20 French Francs (shipping included) by check payable to the F.F.O.
Strategy guide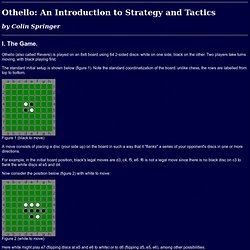 by Colin Springer I. The Game.
Colin Springers short strategy guide
Jeu de guerre
Un article de Wikipédia, l'encyclopédie libre. Le jeu de guerre , encore appelé jeu d'histoire , wargame , simulation de conflit ou jeu de stratégie , est un outil de réflexion stratégique ou un loisir selon les personnes qui l'utilisent. Le jeu de guerre en tant qu'outil de simulation [ modifier ] Leur origine se perd dans le temps, mais ont la fait souvent remonter au VII e siècle av.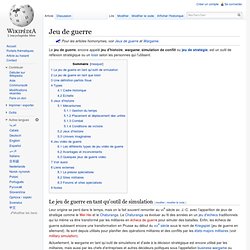 Un article de Wikipédia, l'encyclopédie libre. Le xiangqi ( chinois :象棋 ; pinyin : xiàngqí , Wade-Giles : hsiang-ch'i ), aussi appelé « échecs chinois » (par opposition aux échecs occidentaux) ou littéralement « échecs des éléphants », est un jeu de société combinatoire abstrait qui se joue sur un tableau rectangulaire de 9 lignes de large sur 10 lignes de long. Le jeu est également connu au Japon sous le nom de kawanakajima shōgi (le shōgi est un autre jeu d'échecs traditionnel au Japon, dont il existe aussi de nombreuses variantes).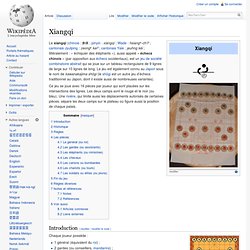 Xiangqi
Pai gow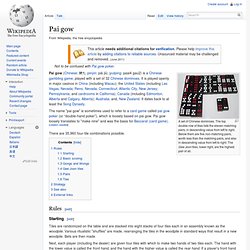 A set of Chinese dominoes. The top double-row of tiles lists the eleven matching pairs, in descending value from left to right. Below them are five non-matching pairs, worth less than the matching pairs, and also in descending value from left to right. The Gee Joon tiles, lower right, are the highest pair of all.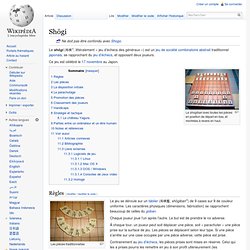 Shōgi
Un article de Wikipédia, l'encyclopédie libre. Le shōgi ( 将棋 , shōgi ? , littéralement « jeu d'échecs des généraux » ) est un jeu de société combinatoire abstrait traditionnel japonais , se rapprochant du jeu d'échecs , et opposant deux joueurs. Ce jeu est célébré le 17 novembre au Japon. Le shogiban avec toutes les pièces en position de départ en bas, et montrées à revers en haut. Règles [ modifier ]
Abstract Games