Illustrations
The Illustration & Design World of Zach Johnsen. Painting computer surprises viewers with its artwork. Sandrine Ceurstemont, editor, New Scientist TV What if you were told that your favourite painting was created by a machine?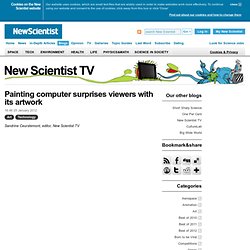 Can a computer produce an artistic masterpiece? Computer scientist Simon Colton has created software called the Painting Fool, which he claims possesses creative talents. A u d r e y * k a w a s a k i. RobbVision on deviantART.
Sakiroo Choi. Digital Paintings by Marta Nael. Digital Paintings by Spanish digital artist Marta Nael.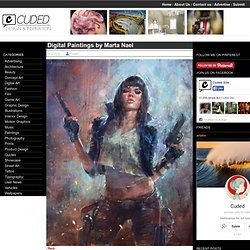 From a very young age, Marta Nael showed extraordinary aptitudes regarding drawing and painting. Marta has a love for all artistic disciplines but after completing her Fine Arts degree she discovered her passion: matte painting and concept art. Heroes for Hire Covers on the Behance Network. Les meilleurs posters FanArts StarWars. Poster un commentaire Quelques règles à respecter pour poster un commentaire sur olybop.info : On reste courtois et poli envers les autres auteurs de commentaires.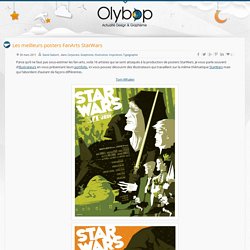 On fait attention à l'orthographe. Les navigateurs disposent d'un correcteur. Jim Toomey: Learning from Sherman the shark. Goni Montes. Noah Bradley · Environment Concept Artist & Illustrator. Фото и рисунки, арт и креативная реклама. Yuta Onoda. What children's drawings would look like if it were painted realistically.
By Rian on 4 December 2011 The Monster Engine is one of those projects that make me love the Internet for its ability to expose amazing creative talent to a worldwide audience.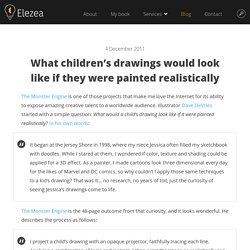 Illustrator Dave DeVries started with a simple question: What would a child's drawing look like if it were painted realistically? In his own words: Illustrations by RUSS MILLS. Illustrations by UK based artist RUSS MILLS.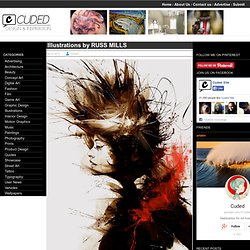 Russ' work is an clash of styles from classical to pop surrealism, focusing predominantly on the human form, though also abstracting elements from nature and the animal kingdom. Covering subjects such as superficiality and isolation progressing into more socio-political expressions. Robert McCall, art of ... : un album sur Flickr. Anjo Bolarda. Illustrations by Anjo Bolarda: 30 New Examples Of Fantastic Photo Manipulation. Creative Illustrations by Veronique Meignaud. Veronique Meignaud (b.1984) is a french illustrator living in Montreal since 2010.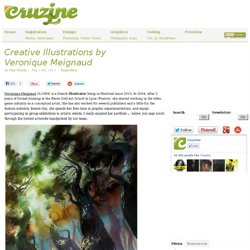 In 2004, after 2 years of formal training at the Emile Cohl Art School in Lyon (France), she started working in the video game industry as a conceptual artist. She has also worked for several publishers and a little for the fashion industry. Le GIF artistique. Si pour vous, GIF est synonyme de lolcats et consort, sachez que ceux-ci, d'une part, n'avaient pas été conçus pour ça, bien évidemment !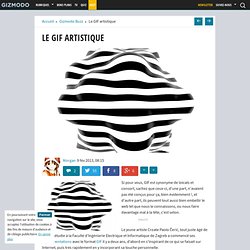 , et d'autre part, ils peuvent tout aussi bien embellir le web tel que nous le connaissons, ou nous faire davantage mal à la tête, c'est selon. Le jeune artiste Croate Paolo Čerić, tout juste âgé de 22 ans, étudie à la Faculté d'Ingénierie Electrique et Informatique de Zagreb a commencé ses expérimentations avec le format GIF il y a deux ans, d'abord en s'inspirant de ce qui se faisait sur Internet, puis très rapidement en y incorporant sa touche personnelle. Résultat: des GIFs de toute beauté, une véritable identité visuelle, des formes géométriques qui ondulent et vibrent inlassablement. Ses créations sont toutes rassemblées sur son Tumblr, de l'abstrait aux influences pop. Cette époque où Matt Groening dessinait pour Apple. L'anecdote est peu connue, mais en 1989, Matt Groening avait été mandaté par Apple pour réaliser quelques illustrations, à découvrir ici !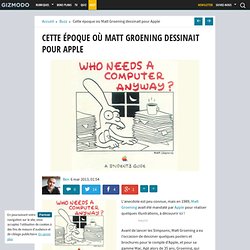 Avant de lancer les Simpsons, Matt Groening a eu l'occasion de dessiner quelques posters et brochures pour le compte d'Apple, et pour sa gamme Mac. Agé alors de 35 ans, Groening, qui travaillait également sur le projet Life in Hell, a donné un petit coup de pouce à un Apple sur le déclin. Bien qu'il n'était pas franchement connu à cette époque ! Beautiful Illustrations by Goro Fujita. Goro Fujita is a Visual Development Artist and Animator born in Japan, currently living and working in Redwood City.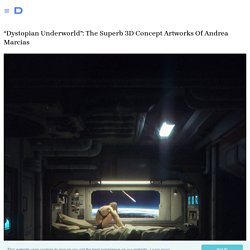 His artworks are fascinating. If you guys love digital cartoon illustrations, make sure to scroll through the best of Goro below. Enjoy! More Images Author. Hot Illustrations by Jean-Baptiste Monge. How to Make Manga: 10 Steps. Found Math. Sketchy Stories - Doodle Art of Kerby Rosanes. The Visitors on Behance. Legends of the Blues by William Stout. CGPortfolio - Corrado Ficarelli. 387352_1303402509_large.jpg (Image JPEG, 1480x984 pixels) - Redimensionnée (64.
Organized-Crime.gif (Image GIF, 668x438 pixels) Great 3D illustrations » Design You Trust – Social design inspiration! Yosuke Goda. Les posters de super-heros de Danny Haas. Concept Art by Stefan Morrell. 12 illustrations étonnantes utilisant l'espace négatif. The Incredible Digital Artwork of Matei Apostolescu » Design You Trust – Social design inspiration!
Luka Skalabrin » Design You Trust – Social design inspiration! Urban legends » Design You Trust – Social design inspiration! I Seek Images That Don't Exist » Design You Trust – Social design inspiration! Reader (1000+) Paintings by Ayami Kawashima. Amazing illustrations » Design You Trust – Social design inspiration! My home mermaid – The fat mermaid by Sasha Gorec. Mashup of the day – Portal VS. Pink Floyd : "Dark Side of the Portal" – by David Schwen. "WHY MUST I FEEL LIKE THAT" BY MR.FRIVOLOUS » Design You Trust – Social design inspiration! DAILY INSPIRATIONS FOR DYT #92 » Design You Trust – Social design inspiration!
Unique illustrations by colpetto » Design You Trust – Social design inspiration! 190. The Art of Collin van der Sluijs » Design You Trust – Social design inspiration! Graphic design. Futuristic harry potter » Design You Trust – Social design inspiration! Collection Of Mind Blowing Surreal Art » Design You Trust – Social design inspiration! _lm0ur8X5FS1qeb7lco1_500.jpg (Image JPEG, 500x669 pixels)
---