Hardware
What is it like to hear color?
This floating black ball is the creepiest thing you'll see all day
How to Pick a Lock With Hairpins
Soon our roads could be made of smart solar panels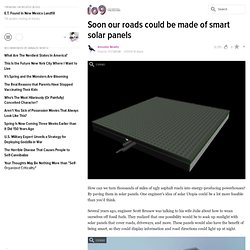 Road Surface Layer - translucent and high-strength, it is rough enough to provide great traction, yet still passes sunlight through to the solar collector cells embedded within
Forget Stopping Bullets – Vest Warms You While Stopping Taser
Arguably, taking that first step out of the shower is one of the lowest points of the day.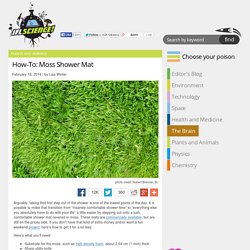 How-To: Moss Shower Mat
Make Your Own GPS Pet Tracker with TinyDuino
precious plastic | a project by dave hakkens
littleBits
Together, Kids Learning Code, Maker Kids, TIFF and Toronto Public Library, have developed comprehensive, maker curriculum for educators who work in formal and informal learning environments with the objective of increasing Toronto youth access and engagement with advanced technology and digital tools! Our workshops and activities allow youth to create something with purpose, driven by their own vision and also empower teachers to be makers.
Making Makers | Learning Labs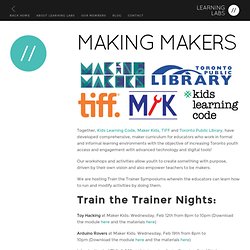 Yet Another DIY Camera Slider
3D Printed Netduino Remote Controlled Car
Body of a Trinket, Soul of a Digispark
Surplus d'inventaire - Accès Électronique
Home
surplus-electronique
Apex Electronics
Introduction | Introducing Trinket
Trinket may be small, but do not be fooled by its size!
Project Novena—an open source laptop About a year and a half ago, I engaged on an admittedly quixotic project to build my own laptop. By I, I mean we, namely Sean "xobs" Cross and me, bunnie.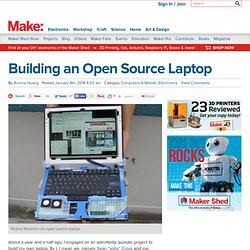 Building an Open Source Laptop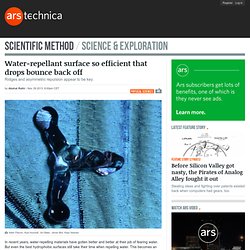 In recent years, water-repelling materials have gotten better and better at their job of fearing water.
Water-repellant surface so efficient that drops bounce back off
▶ DEFCON 19: Kinectasploit: Metasploit Meets Kinect
▶ DEFCON 19: Kinectasploit: Metasploit Meets Kinect
▶ DEFCON 19: Kinectasploit: Metasploit Meets Kinect
The Always Up-to-Date Guide to Building a Hackintosh (OS X 10.9)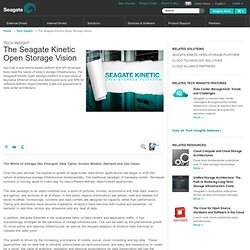 The Seagate Kinetic Open Storage Vision
The World of Storage Has Changed: Data Types, Access Models, Demand and Use Cases Over the past decade, the explosive growth of large-scale, data-driven applications has begun to shift the nature of enterprise storage infrastructure fundamentally.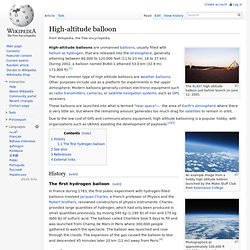 High-altitude balloon
High-altitude balloons are unmanned balloons, usually filled with helium or hydrogen, that are released into the stratosphere, generally attaining between 60,000 to 120,000 feet (18 to 37 km). During 2002, a balloon named BU60-1 attained 53.0 km (173,900 ft).[1] The most common type of high altitude balloons are weather balloons. Other purposes include use as a platform for experiments in the upper atmosphere. Modern balloons generally contain electronic equipment such as radio transmitters, cameras, or satellite navigation systems, such as GPS receivers. These balloons are launched into what is termed "near space"—- the area of Earth's atmosphere where there is very little air, but where the remaining amount generates too much drag for satellites to remain in orbit.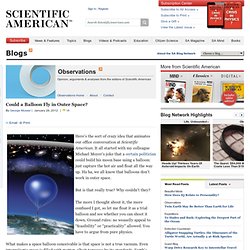 Here's the sort of crazy idea that animates our office conversation at Scientific American. It all started with my colleague Michael Moyer's joke that a certain politician could build his moon base using a balloon: just capture the hot air and float all the way up. Ha ha, we all know that balloons don't work in outer space. But is that really true? Why couldn't they? The more I thought about it, the more confused I got, so let me float it as a trial balloon and see whether you can shoot it down.
Could a Balloon Fly in Outer Space?
Home - ASGARD: Scientific balloons for space education
Soon, Rich People Will Be Ballooning Through the Stratosphere
A new "space tourism" company by the name of World View has announced plans to whisk away wealthy patrons by offering exclusive balloon tours of the stratosphere that can begin as early as sometime in 2015.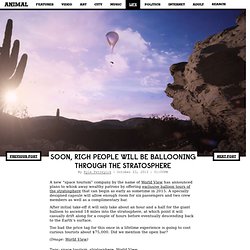 Move over Google Glass, here comes $300 competition from France
SAN FRANCISCO—If French startup Optinvent is right, what we all really want is a bigger screen directly in front of our eyes. Sure, Google Glass may be the best-known example of a heads-up display, but Kayvan Mirza says that Glass simply doesn't cut it. Over breakfast at Blue Bottle Coffee on Wednesday, Optinvent's CEO demonstrated a mockup of the company's new ORA-S for Ars.
▶ How Intelligent is Artificial Intelligence? - Computerphile
These Self-Assembling Blocks Will Make Real-Life Transformers Possible | Co.Design | business + design
The M-Blocks, created by John Romanishin at MIT Computer Science and Artificial Intelligence Laboratory, are self-assembling robots that move themselves around like magnetic Mexican jumping beans.
At a certain level of complexity and obligation, sets of blocks can easily go from fun to tiresome to assemble.
Someday, your Ikea furniture might assemble itself
How to Make a Battery-Powered, Gadget-Charging Go Bag
Hotwiring the future of in-car tech with a smartphone and Raspberry Pi
Most current in-car infotainment and "telematics" systems follow a common theme in their design.
DatasheetLib.com - The Ultimate Datasheet Library
L'électronique en pratique : 36 expériences ludiques: Amazon.fr: Charles Adams Platt, Xavier Guesnu, Eric Bernauer, Antoine Derouin
DatasheetLib.com - The Ultimate Datasheet Library
DealeXtreme - Cool Gadgets at the Right Price - DX Free Shipping Worldwide
A new Kickstarter project aims to give Raspberry Pi and Arduino boards Internet access throughout the world with an add-on that allows integration with a SIM card. SparqEE Cellv1.0 would need to raise $70,000 to get the technology to backers, with donors pledging at least $69 to get the device. SparqEE CEO Christopher Higgins, an engineer, said he plans to take the Kickstarter page live on August 20. For now, it's viewable in a draft form so that people can provide feedback. Cellv1.0 consists of a board with a cellular chip, a power supply, and a SIM holder, as well as a "jumper board" that "includes level shifters for whatever voltage levels you're using (ex. 3.3V, 5V, or other)." As for getting a SIM card, the Kickstarter suggests taking one out of your phone, purchasing a pre-paid SIM from a retailer, or buying them directly from SparqEE.
Raspberry Pi and Arduino to get cellular access with SIM card add-on
Build Your Own Crossover Cable, USB to Ethernet Extender, and More
Build Your Own GameBoy-Sized Handheld with a BeagleBone
The Science Behind the Perfect Workspace
Creating a $99 parallel computing machine is just as hard as it sounds
HomeServer/FacilityServer Apps für iPhone, iPod touch und iPad
Emotiv | EEG System | Electroencephalography
Programmer en javascript directement sur votre Raspberry Pi
Parallella
Réaliser un test VIH avec un lecteur DVD
Wireless Energy & Communication
Communauté: The Ben Heck Show
Nanotechnologies dans le textile
TR35: Eben Upton, 34
Une nouvelle méthode permettant de collecter les empreintes digitales !
How Cryonics Works"