Hardware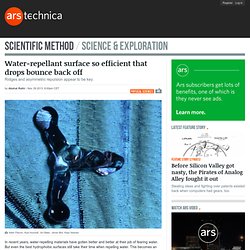 In recent years, water-repelling materials have gotten better and better at their job of fearing water.
Water-repellant surface so efficient that drops bounce back off
▶ DEFCON 19: Kinectasploit: Metasploit Meets Kinect
▶ DEFCON 19: Kinectasploit: Metasploit Meets Kinect
▶ DEFCON 19: Kinectasploit: Metasploit Meets Kinect
The Always Up-to-Date Guide to Building a Hackintosh (OS X 10.9)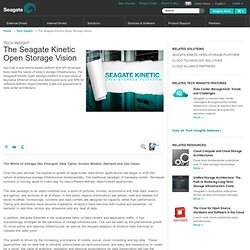 The Seagate Kinetic Open Storage Vision
The World of Storage Has Changed: Data Types, Access Models, Demand and Use Cases Over the past decade, the explosive growth of large-scale, data-driven applications has begun to shift the nature of enterprise storage infrastructure fundamentally.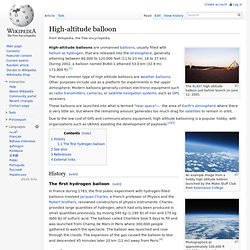 High-altitude balloon
The BLAST high altitude balloon just before launch on June 12, 2005 High-altitude balloons are unmanned balloons , usually filled with helium or hydrogen , that are released into the stratosphere , generally reaching between 60,000 to 120,000 feet (18 to 37 km). In 2002, a balloon named BU60-1 reached 53.0 km (173,900 ft). [ 1 ] The most common type of high altitude balloons are weather balloons . Other purposes include use as a platform for experiments in the upper atmosphere. Modern balloons generally contain electronic equipment such as radio transmitters , cameras , or satellite navigation systems , such as GPS receivers.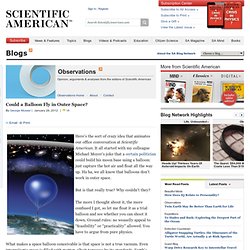 Here's the sort of crazy idea that animates our office conversation at Scientific American. It all started with my colleague Michael Moyer's joke that a certain politician could build his moon base using a balloon: just capture the hot air and float all the way up. Ha ha, we all know that balloons don't work in outer space. But is that really true? Why couldn't they? The more I thought about it, the more confused I got, so let me float it as a trial balloon and see whether you can shoot it down.
Could a Balloon Fly in Outer Space?
Home - ASGARD: Scientific balloons for space education
Soon, Rich People Will Be Ballooning Through the Stratosphere
A new "space tourism" company by the name of World View has announced plans to whisk away wealthy patrons by offering exclusive balloon tours of the stratosphere that can begin as early as sometime in 2015.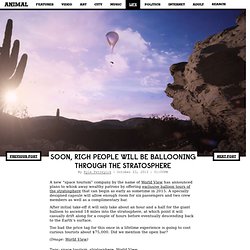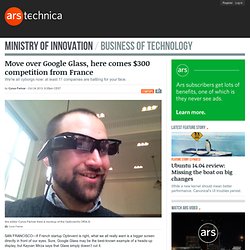 Move over Google Glass, here comes $300 competition from France
SAN FRANCISCO—If French startup Optinvent is right, what we all really want is a bigger screen directly in front of our eyes. Sure, Google Glass may be the best-known example of a heads-up display, but Kayvan Mirza says that Glass simply doesn't cut it. Over breakfast at Blue Bottle Coffee on Wednesday, Optinvent's CEO demonstrated a mockup of the company's new ORA-S for Ars.
▶ How Intelligent is Artificial Intelligence? - Computerphile
These Self-Assembling Blocks Will Make Real-Life Transformers Possible | Co.Design | business + design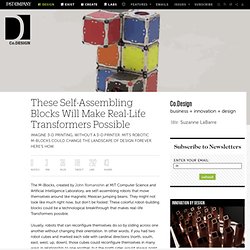 The M-Blocks, created by John Romanishin at MIT Computer Science and Artificial Intelligence Laboratory, are self-assembling robots that move themselves around like magnetic Mexican jumping beans.
At a certain level of complexity and obligation, sets of blocks can easily go from fun to tiresome to assemble.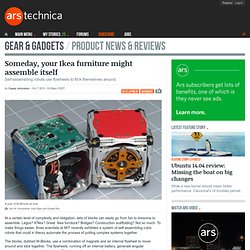 Someday, your Ikea furniture might assemble itself
How to Make a Battery-Powered, Gadget-Charging Go Bag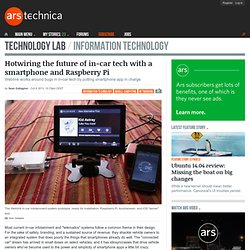 Hotwiring the future of in-car tech with a smartphone and Raspberry Pi
Most current in-car infotainment and "telematics" systems follow a common theme in their design.
L'électronique en pratique : 36 expériences ludiques: Amazon.fr: Charles Adams Platt, Xavier Guesnu, Eric Bernauer, Antoine Derouin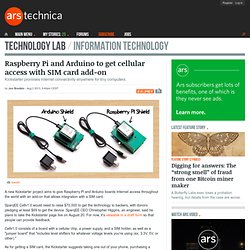 A new Kickstarter project aims to give Raspberry Pi and Arduino boards Internet access throughout the world with an add-on that allows integration with a SIM card. SparqEE Cellv1.0 would need to raise $70,000 to get the technology to backers, with donors pledging at least $69 to get the device. SparqEE CEO Christopher Higgins, an engineer, said he plans to take the Kickstarter page live on August 20. For now, it's viewable in a draft form so that people can provide feedback. Cellv1.0 consists of a board with a cellular chip, a power supply, and a SIM holder, as well as a "jumper board" that "includes level shifters for whatever voltage levels you're using (ex. 3.3V, 5V, or other)." As for getting a SIM card, the Kickstarter suggests taking one out of your phone, purchasing a pre-paid SIM from a retailer, or buying them directly from SparqEE.
Raspberry Pi and Arduino to get cellular access with SIM card add-on
Build Your Own Crossover Cable, USB to Ethernet Extender, and More
Build Your Own GameBoy-Sized Handheld with a BeagleBone
The Science Behind the Perfect Workspace
Ten months ago, the chipmaker Adapteva unveiled a bold quest —to create a Raspberry Pi-sized computer that can perform the same types of tasks typically reserved for supercomputers. And... they wanted to sell it for only $99. A successful Kickstarter project raised nearly $900,000 for the so-called "Parallella," and the company got to work with a goal of shipping the first devices by February 2013 and the rest by May 2013.
Creating a $99 parallel computing machine is just as hard as it sounds
Die Darstellung erfolgt horizontal oder vertikal und lässt sich einfach durch Drehen des Gerätes ändern. Über die Userverwaltung lassen sich beispielsweise zwei unterschiedliche Profile generieren: innen und außen. Maximal stehen vier Profile zur Verfügung. Die Applikationen sind ausschließlich im App Store von Apple erhältlich. Eine kostenfreie Demoversion der Gira HomeServer/FacilityServer App bietet die Gira App Intelligente Gebäudetechnik von Gira.
HomeServer/FacilityServer Apps für iPhone, iPod touch und iPad
Par Korben Si vous aimez votre Raspberry Pi, vous avez peut-être décidé de vous lancer dans le développement d'applications pour ce mini ordinateur. Mais avant de faire tourner un programme sur le Pi, il faut d'abord le développer sur son propre ordinateur, mettre les sources sur le Rasberry, puis compiler les sources, puis tester, puis corriger les bugs sur l'ordinateur, puis envoyer à nouveau les sources sur le Raspberry Pi, les recompiler, voir ce que ça donne, recorriger...et ainsi de suite.
Programmer en javascript directement sur votre Raspberry Pi
Par Korben On pourrait croire que c'est une blague et pourtant, c'est bien réel... Une équipe de chercheurs vient de mettre au point une technique baptisée " Lab on a DVD " qui permet de modifier un bête lecteur DVD vendu dans le commerce pour en faire un outil d'analyse de prélèvements sanguins. Grosso modo, en remplaçant le capteur de lumière par un capteur capable de déchiffrer les échantillons de sang (apparemment pas très cher et pas compliqué à faire techniquement), en utilisant un disque spécial semi-translucide (différent selon les pathologies à tester) pour contenir l'échantillon et en utilisant un firmware capable de lire et envoyer les infos, il est possible d'obtenir le même résultat qu'avec un analyseur sanguin professionnel de 25 000 $.
Réaliser un test VIH avec un lecteur DVD
Wireless Energy & Communication
Communauté: The Ben Heck Show
Résumé : Les nanotechnologies ont permis de générer toutes sortes de nanomatériaux aux propriétés singulières, qu'il est opportun de marier aux fonctionnalités intrinsèques des textiles. Ainsi nanoparticules d'argent aux effets antibactériens, membranes à base de nanofibres et revêtements nanostructurés imitant la feuille de lotus se retrouvent déjà dans des produits textiles de grande consommation. Pour réaliser ces nanotextiles, les entreprises du secteur ont deux choix : incorporer des nanomatériaux préfabriqués avec les outils traditionnels ou faire évoluer cet outil industriel vers la production de nanocomposés (nanocouches, nanofibres principalement) directement intégrés aux textiles. Quelle que soit la stratégie adoptée, elle doit s'accompagner des précautions nécessaires à la manipulation de ces nouveaux produits, en particulier aujourd'hui dans un cadre règlementaire toujours en cours de définition. Abstract :
Nanotechnologies dans le textile
TR35: Eben Upton, 34
Une nouvelle méthode permettant de collecter les empreintes digitales !
How Cryonics Works"