Google
Infographie : les mises à jour de l'algorithme de Google depuis 2003 - Le blog Abondance : Référencement et moteurs de recherche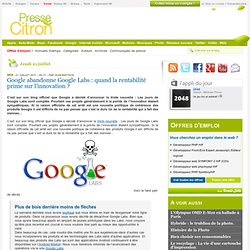 Google abandonne Google Labs : quand la rentabilité prime sur l'innovation ?
Jeudi 21 juillet
Lundi 18 juillet Web - 18 juillet 2011 :: 13:18 :: Par Jean-Baptiste
Les conséquences d'Internet sur la mémoire humaine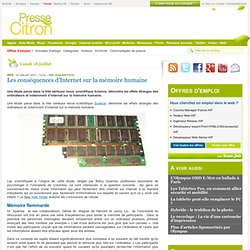 Toujours plus con ?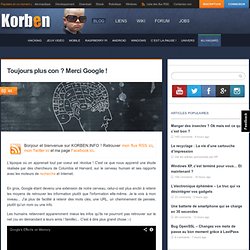 Toujours plus con ? Merci Google !
The advent of the Internet, with sophisticated algorithmic search engines, has made accessing information as easy as lifting a finger.
Google Effects on Memory: Cognitive Consequences of Having Information at Our Fingertips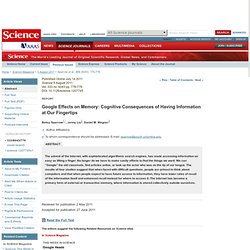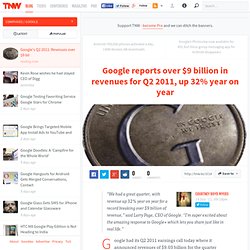 Google reports over $9 billion in revenues for Q2 2011, up 32% year on year - TNW Google
"We had a great quarter, with revenue up 32% year on year for a record breaking over $9 billion of revenue," said Larry Page, CEO of Google.
Over 10 million people have joined Google+ with 1 billion items shared per day - TNW Apps
Today, during the company's Q2 Earnings announcement, Larry Page took the stage to discuss Google's epic growth- over $9 billion in revenues, up 32% year on year.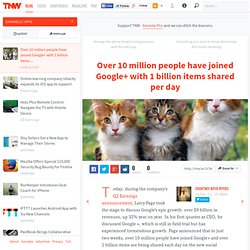 Over 36,000 businesses may have already signed up for Google+
Google's open invitation for businesses, brands, organisations and education establishments to apply for a dedicated Google+ business profile, may have already attracted over 36,000 signups in one week, The Next Web can reveal. Last week, Google said it was planning to introduce Google+ for businesses before the year is out, allowing brands to create profiles on the site without using workarounds. Businesses were told to hold off on creating consumer profiles as the search giant would begin testing "non-user entities" soon. To apply for the a business profile, interested parties were asked to submit their details via a dedicated Google form which fed information into a private spreadsheet.
Google faces second fine over Taiwanese Android app refunds
Google has yet to issue a formal response to the Taipei City Government after officials requested that the search giant amend its app refund policy, meaning Google could be issued with a fine of NT$1 million (US$34,480), its second within three weeks. Google was warned it could face a fine of at least NT$300,000 (S$12810) from the Taipei City Government back in June, after Smartphone users in the city had complained that they were unable to claim a refund if they deemed an app download as unsatisfactory. Taipei's Law and Regulation Commission informed Google Taiwan, as well as Apple Asia, of the complaints in a formal letter, demanding an explanation and an outline of improvements by a June 23 deadline.