Fun & Inspiring stuff
10 Unanswered Science Questions - Explained by the greatest minds on YouTube. Ruined By Its Fans. Ruined By Its Fans. John Seely Brown: Accelerating the Pace of Collaborative Learning. Dl.dropbox.com/u/4458028/sshlpe.pdf. Le casse-tête de logique le plus dur jamais conçu. Étrange période que celle qui se trouve entre Noël et le Nouvel An.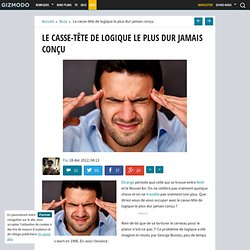 On ne célèbre pas vraiment quelque chose et on ne travaille pas vraiment non plus. Que diriez-vous de vous occuper avec le casse-tête de logique le plus dur jamais conçu ? Advancing Peace Through the Power of Aloha. Amazing and Interesting Facts Generator – Mental Floss. Des champignons qui se nourrissent de pétrole > Pétrole. Prenez une boite de Pétri contenant du pétrole brut; à peine entrouverte, elle laisse échapper la forte odeur caractéristique du combustible fossile formé d'un grand nombre de composés toxiques.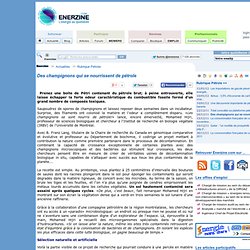 Saupoudrez de spores de champignons et laissez reposer deux semaines dans un incubateur. Surprise, des filaments ont colonisé la matière et l'odeur a complètement disparu. TED Quotes: Facts, insight and humor from TEDTalks — in shareable bites. TED Quotes are made possible by Allianz SE Facts, insight and humor —in shareable bites TED Quotes brings you salient bits of TEDTalks, on everything from activism to storytelling, from chemistry to curiosity.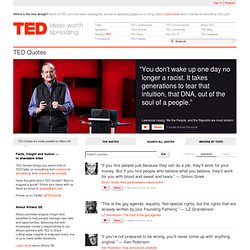 Have thoughts about TED Quotes? 12 Events That Will Change Everything, Made Interactive: Scientific American. T: 10 Things You Didn't Know About Testosterone. Look at your hands.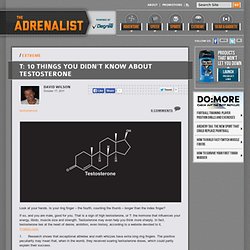 Is your ring finger – the fourth, counting the thumb – longer than the index finger? If so, and you are male, good for you. That is a sign of high testosterone, or T: the hormone that influences your energy, libido, muscle size and strength. Testosterone may even help you think more sharply. In fact, testosterone lies at the heart of desire, ambition, even history, according to a website devoted to it, T-nation.com.
Science - io9. HOWTO make tame lightning and possibly kill yourself. Here's a delightfully dangerous HOWTO from the July, 1937 issue of Modern Mechanix giving directions for making your own tame lightning wiht a giant Oudin Coil.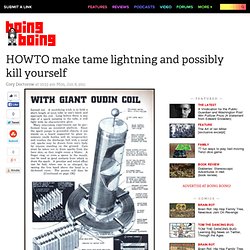 As Charlie Shopsin notes, "When even a DIY article from 1937 peppers its instructions with warnings, it's probably best to be very careful. " THE apparatus about to be described is capable of throwing a spark four and a half feet long. In spite of its deadly appearance, this spark is quite harmless. The operator may hold a metal rod in his hand and let it jump to the end of the rod and run through his body to ground, not only without harm, but without any sensation of shock.
A rather spectacular stunt is to hold one wire leading to an incandescent light, and bring the other end near the coil.
---