Fun & Inspiring stuff
Get flash to fully experience Pearltrees
Étrange période que celle qui se trouve entre Noël et le Nouvel An. On ne célèbre pas vraiment quelque chose et on ne travaille pas vraiment non plus. Que diriez-vous de vous occuper avec le casse-tête de logique le plus dur jamais conçu ?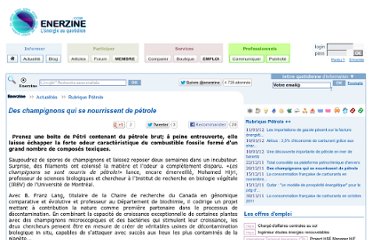 Prenez une boite de Pétri contenant du pétrole brut; à peine entrouverte, elle laisse échapper la forte odeur caractéristique du combustible fossile formé d'un grand nombre de composés toxiques. Saupoudrez de spores de champignons et laissez reposer deux semaines dans un incubateur. Surprise, des filaments ont colonisé la matière et l'odeur a complètement disparu. « Les champignons se sont nourris de pétrole!
TED Quotes are made possible by Allianz SE
Look at your hands. Is your ring finger – the fourth, counting the thumb – longer than the index finger? If so, and you are male, good for you.
Here's a delightfully dangerous HOWTO from the July, 1937 issue of Modern Mechanix giving directions for making your own tame lightning wiht a giant Oudin Coil. As Charlie Shopsin notes, "When even a DIY article from 1937 peppers its instructions with warnings, it's probably best to be very careful."