Economie Mat. Prem.
L'Indonésie décolle grâce au charbon. L'Indonésie est un pays émergent invisible.
Invisible parce que trop gros pour que l'on puisse parler de "comète", trop petit pour parler de "titan". Mais le pays a fait de cet entre-deux une force. Le pays joue à la fois sur la valeur de ses exportations de charbon, en plein boom, et sur le potentiel de sa population gigantesque, de 240 millions d'habitants. Belle opportunité pour l'éthanol brésilien. Non, ils ne réduiront pas leur dette, ils n'aboliront pas la National Rifle Association… Washington va arrêter de subventionner la production d'éthanol américain !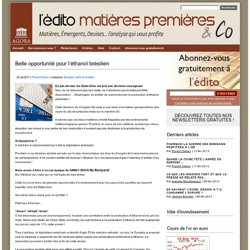 Cette décision du Congrès fait suite à une série d'envolées spectaculaires des cours du blé et surtout du maïs sur le marché US. Il est vrai que ces deux matières ont été frappées par des événements météorologiques graves. Pourtant, le cours de ces matières auraient pu mieux absorber ces chocs si une partie de leur production n'avaient pas été destinées à la production de biocarburant. Quand les ordinateurs s'emballent, le pétrole coule. Désormais, le pétrole est sur haute fréquence.
Le 7 juillet, le baril de brut a perdu 30 cents en moins d'une seconde, avant de rebondir immédiatement. Début mai, il avait perdu 9% en une séance, la plus importante chute depuis deux ans, pour passer sous la barre des cents dollars. L'Egypte suspend ses achats de blé. Le premier importateur mondial de blé devrait rester à l'écart du marché mondial ces prochaines semaines à cause de la flambée des prix.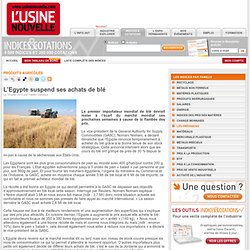 Le vice-président de la General Authority for Supply Commodities (GASC), Nomani Nomani, a déclaré dimanche que l'Egypte renonce temporairement à acheter du blé grâce à la bonne tenue de son stock stratégique. Cette annonce intervient alors que les cours du blé ont grimpé de près de 30 % depuis la mi-juin à cause de la sécheresse aux Etats-Unis. Les Egyptiens sont les plus gros consommateurs de pain au monde avec 400 g/hab/jour contre 200 g pour les Français. Food Price Watch (Full Report) - November 2011.
Global Price Trends Global food prices remain high even though the World Bank global Food Price Index remained unchanged between July and September.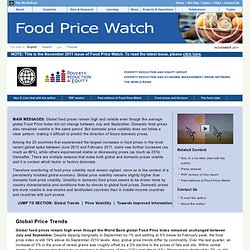 Despite dipping marginally in September by 1% and settling at 5% below its February peak, the food price index is still 19% above its September 2010 levels. Also, global price trends differ by commodity. Over the last quarter, an increase of 3% in the price of cereal grains was roughly offset by a 3% decline in the prices of fats and oils. Within cereal grains, the increase was driven by an increase in the price of rice (11%) and wheat (4%). Limits to growth: a report to the club of rome. Loop p. 12, HOW MANY AMERICANS?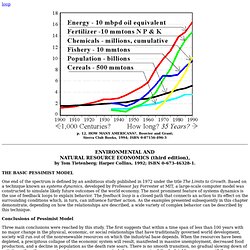 , Bouvier and Grant; Sierra Club Books, 1994; ISBN 0-87156-496-3 ENVIRONMENTAL AND NATURAL RESOURCE ECONOMICS (third edition),by Tom Tietenberg; Harper Collins, 1992; ISBN 0-673-46328-1. One end of the spectrum is defined by an ambitious study published in 1972 under the title The Limits to Growth. Www.rmg.se/images/articles/the_psychiatrist_at_the_gates_of_heaven_20110423.pdf. Bernanke porte les métaux à leur point de fusion.
Les Etats-Unis laissent les vannes ouvertes.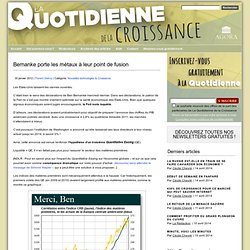 C'était bien le sens des déclarations de Ben Bernanke mercredi dernier. Dans ses déclarations, le patron de la Fed ne s'est pas montré vraiment optimiste sur la santé économique des Etats-Unis. Bien que quelques signaux économiques soient jugés encourageants, la Fed reste inquiète. Www.cftc.gov/ucm/groups/public/@newsroom/documents/file/plstudy_22_iosco.pdf. Consultation publique sur l'initiative «matières premières» - Matières premières - Entreprises et industrie. Domaines d'action Industrie, matières premières, environnement, commerce, développement, recherche, innovation Groupes cibles Pouvoirs publics, organismes privés, associations professionnelles, PME, citoyens, associations de consommateurs, syndicats, ONG, associations de défense de l'environnement.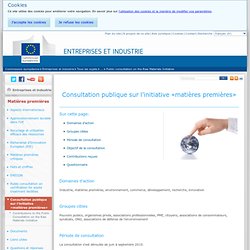 Les frères Hunt et le grand "corner" sur l'argent. Corner (finance) Un article de Wikipédia, l'encyclopédie libre.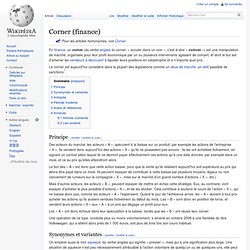 Pour les articles homonymes, voir Corner. En finance, un corner (du verbe anglais to corner, « acculer dans un coin », c'est-à-dire « coincer ») est une manipulation de marché, organisée pour leur profit économique par un ou plusieurs intervenants agissant de concert, et dont le but est d'amener les vendeurs à découvert à liquider leurs positions en catastrophe et à n'importe quel prix. Le corner est aujourd'hui considéré dans la plupart des législations comme un abus de marché, un délit passible de sanctions[1]. Des acteurs du marché, les acteurs « A », spéculent à la baisse sur un produit, par exemple les actions de l'entreprise « X ».
Ils vendent donc aujourd'hui des actions « X » qu'ils ne possèdent pas encore : ils les ont achetées fictivement, en signant un contrat selon lequel ils ne devront payer effectivement ces actions qu'à une date donnée, par exemple dans un mois, et ce au prix qu'elles atteindront alors. Index of /esa/dsd/dsd_aofw_ni/ni_pdfs/NationalReports.
Resource curse. The resource curse, also known as the paradox of plenty, refers to the paradox that countries and regions with an abundance of natural resources, specifically point-source non-renewable resources like minerals and fuels, tend to have less economic growth and worse development outcomes than countries with fewer natural resources.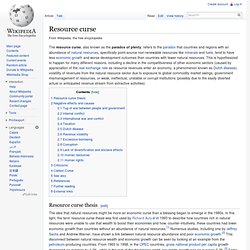 This is hypothesized to happen for many different reasons, including a decline in the competitiveness of other economic sectors (caused by appreciation of the real exchange rate as resource revenues enter an economy, a phenomenon known as Dutch disease), volatility of revenues from the natural resource sector due to exposure to global commodity market swings, government mismanagement of resources, or weak, ineffectual, unstable or corrupt institutions (possibly due to the easily diverted actual or anticipated revenue stream from extractive activities).
Resource curse thesis[edit] Normbook. Primary sector of the economy. Product's lifecycle The primary sector of the economy is the sector of an economy making direct use of natural resources. This includes agriculture, forestry, fishing, mining, and extraction of oil and gas. This is contrasted with the secondary sector, producing manufactured goods, and the tertiary sector, producing services. The primary sector is usually most important in less developed countries, and typically less important in industrial countries. The manufacturing industries that aggregate, pack, package, purify or process the raw materials close to the primary producers are normally considered part of this sector, especially if the raw material is unsuitable for sale or difficult to transport long distances.[1] The Birth of Raw Material Economics.
The Birth of Raw Material Economics by Charles Walters The birth of raw material economics -- while ancient in origin -- has been credited to Benjamin Franklin, the Philadelphia philosopher, printer, and statesman, and to Thomas Jefferson, who as a historian once wrote "invented the United States." Although Jefferson gave a published expression to the concept of raw material economics, it was Franklin who sat down the general proposition in concise and understandable terms.
---