Cryptography
Get flash to fully experience Pearltrees
Technologies de l'information et des Communications Une clé de cryptage palpitante http://www.bulletins-electroniques.com/actualites/70689.htm Une équipe du département de génie électrique de l'Université Nationale Chung Hsing vient de démontrer que les battements cardiaques d'une personne pouvaient être utilisés pour le cryptage et le décryptage de données.
Recently, cryptoparties have "gone viral" the world over.
Notions élémentaires de cryptographie Lorsque Jules César envoyait des messages à ses généraux, il ne faisait pas confiance à ses messagers. Il remplaçait donc tous les A contenus dans ses messages par des D, les B par des E, et ainsi de suite pour tout l'alphabet. Seule la personne connaissant la règle du « décalage par trois » pouvait déchiffrer ses messages. Et voilà comment tout a commencé.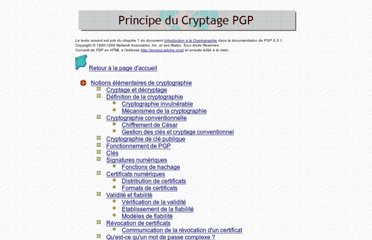 Quelques aides pour obtenir un cryptage plutôt efficace. Lorsque vous avez en projet de réaliser un algorithme de cryptage, définissez correctement son objectif : - cryptage pour texte (ascii) - cryptage pour fichier (binaire) La différence entre un cryptage de texte et un cryptage de fichier est importante. Le cryptage de texte doit être lisible après le cryptage : il s'agit de l'imprimer sur papier ou d'envoyer en tant que texte simple le message codé. Le cryptage de fichier se contente de changer des octets.
Alfred J.