Recommended iPad Apps for Education
Reflection.app - AirPlay Mirroring to your Mac. String™ Augmented Reality Showcase for iPhone, iPod touch (4th generation), iPad 2 Wi-Fi, iPad 2 Wi-Fi + 3G, iPad (3rd generation) and iPad Wi-Fi + 4G on the iTunes App Store. Description NOTE: This app will not work unless you download and print the image targets from: www.poweredbystring.com To celebrate the launch of our super-fast Augmented Reality technology, we are proud to announce the release of our showcase app.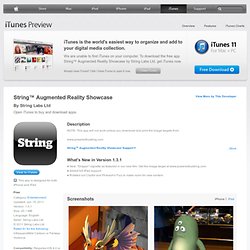 Over the coming months, we will be featuring more String™ powered projects, games and demo pieces from around the world. Toontastic. Description iTunes - App Store Hall of FameNY Times - "Top 10 iPad Apps" Lights, Camera, Play!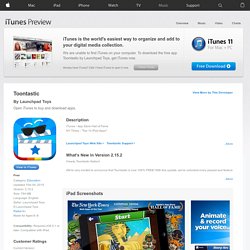 Toontastic is a creative storytelling app that enables kids to draw, animate, and share their own cartoons with friends and family around the world. With over 7 million cartoons created in 200+ countries, parents and teachers rave about the app... and kids can't stop creating! Making cartoons with Toontastic is as easy as putting on a puppet show - simply press the record button, move your characters onscreen, and tell your story. Storyrobe. Description Live, Create, Share.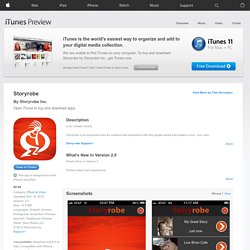 Storyrobe is an innovative tool for creative self expression with the digital media that matters most - your own. Coach's Eye. Description Coach's Eye is the performance-enhancing video app for serious competitors.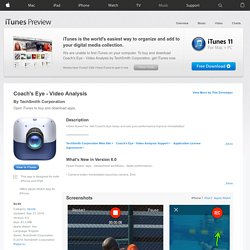 Evaluate performance on the field or on the go using powerful instant replay tools. Record amazing HD videos and instantly review them in slow motion. Create and share coaching videos that help you train smarter and see results faster. • Record SD or HD videos. • Capture videos at 60 or 120 FPS with newer Apple devices. • Import video from your device's Camera Roll, email, or apps like Dropbox. • Instant import of videos shared from other Coach's Eye users. • Keep videos organized with tagging.
Rover - The Browser for Education. Description ***Can't access Flash on your iPad?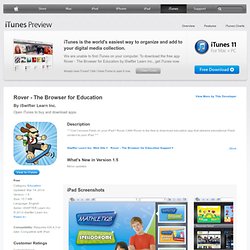 Rover CAN! Rover is the free to download education app that streams educational Flash content to your iPad.
---