Presentations, Videos, Etc.
Narrable | Home. PixiClip. Adobe Voice - Show Your Story. Description Voice helps you create stunning animated videos in minutes.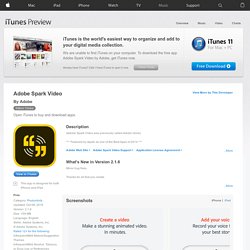 No filming — just talk to tell your story. Pick from over 25,000 beautiful iconic images to show your ideas and Voice automatically adds cinematic motion and a soundtrack. Canva – Amazingly simple graphic design for blogs, presentations, Facebook covers, flyers and so much more. Vocaroo | Online voice recorder. Wideo - Make animated online videos free. Activities - Login. Bubble Ply. Trading Card Creator. The Trading Card tool gives students an alternative way to demonstrate their literacy knowledge and skill when writing about popular culture texts or real world examples.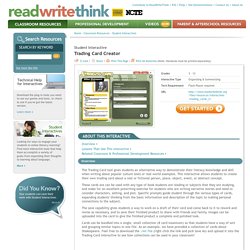 This interactive allows students to create their own trading card about a real or fictional person, place, object, event, or abstract concept. These cards are can be used with any type of book students are reading or subjects that they are studying, and make for an excellent prewriting exercise for students who are writing narrative stories and need to consider characters, setting, and plot. Specific prompts guide student through the various types of cards, expanding students' thinking from the basic information and description of the topic to making personal connections to the subject.
The save capability gives students a way to work on a draft of their card and come back to it to rework and revise as necessary, and to save their finished product to share with friends and family. Student Reporting Labs Curriculum | PBS NewsHour Student Reporting Labs. Here at PBS NewsHour, we believe that journalism and storytelling are "killer apps" that use the best practices of project-based learning to build engaged and digitally-literate young citizens.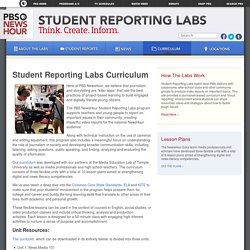 The PBS NewsHour Student Reporting Labs program supports teachers and young people to report on important issues in their community, creating impactful video reports for the national NewsHour audience. Along with technical instruction on the use of cameras and editing equipment, this program also includes a meaningful focus on understanding the role of journalism in society and developing broader communication skills, including listening, asking questions, public speaking, and finding, analyzing and evaluating the quality of information. Popcorn Maker. Three Free Tools for Creating Stopmotion and Timelapse Videos. Creating stopmotion and timelapse videos can be a good way for students to tell a story that they have developed.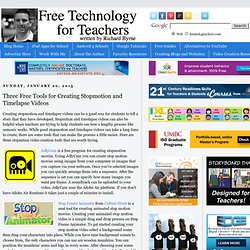 Stopmtion and timelapse videos can also be helpful when teachers are trying to help students see how a lengthy process like osmosis works. While good stopmotion and timelapse videos can take a long time to create, there are some tools that can make the process a little easier. Here are three stopmtion video creation tools that are worth trying. JellyCam is a free program for creating stopmotion movies.
Using JellyCam you can create stop motion movies using images from your computer or images that you capture via your webcam. Empressr - The Best Online Rich Media Presentation Application. Education Video Slideshows. Presentations ETC Homepage. Use these free backgrounds, templates, letters, frames, and buttons for school presentations, websites, class newsletters, digital scrapbooking, and student portfolios.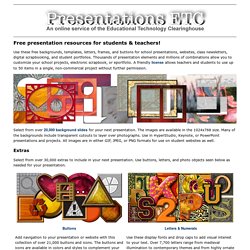 Thousands of presentation elements and millions of combinations allow you to customize your school projects, electronic scrapbook, or eportfolio. A friendly license allows teachers and students to use up to 50 items in a single, non-commercial project without further permission. Select from over 20,000 background slides for your next presentation. The images are available in the 1024x768 size.
WeVideo. Available anywhere, any time, across your devices WeVideo makes video creation accessible to everyone, using cloud-based technologies to make it easier, faster and more convenient.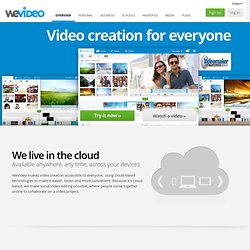 Because it's cloud-based, we make social video editing possible, where people come together online to collaborate on a video project. Tools and Resources for Remarkable Explanations. Sometimes, words are not enough.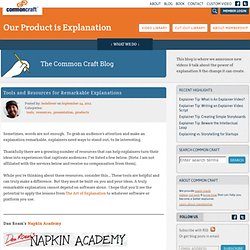 To grab an audience's attention and make an explanation remarkable, explainers need ways to stand-out, to be interesting. Thankfully there are a growing number of resources that can help explainers turn their ideas into experiences that captivate audiences. I've listed a few below. (Note: I am not affiliated with the services below and receive no compensation from them). While you're thinking about these resources, consider this... Sound Clips & Effects | SoundCli.ps. Know the News. Masher - create free online video, photo and music mashups. HelloSlide - Bring your slides to life.
Online Video Presentations – Powerpoint to video| Brainshark. Brainshark enables companies to improve productivity with cloud-based business presentation solutions for sales, marketing and training.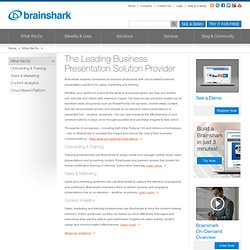 Whether your audience is across the table or across the globe, we help you market, sell, educate and inform with maximum impact. Our easy-to-use solutions enable you to transform static documents such as PowerPoints into dynamic, mobile-ready content that can be accessed quickly, and viewed as on-demand video presentations or presented live – anytime, anywhere. You can also measure the effectiveness of your communications in ways never thought possible and use these insights to take action. Squidoo : Welcome to Squidoo. Speaker Deck - Share Presentations without the Mess. Presentation Tools. Home - Creaza Education. Create Cool Things on Creaza Education.
Creaza Education is a great suite of tools that I've shared in many of my workshops, but I've never written a blog post about it until now.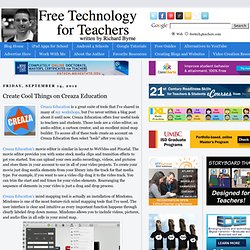 Creaza Education offers four useful tools to teachers and students. Those tools are a video editor, an audio editor, a cartoon creator, and an excellent mind map builder. WeVideo - Collaborative Online Video Editor in the Cloud. Home. GoAnimate for Schools and Educators. Create Animations, Make Friends. Storytelling. Welcome! | ePortfolio.org. Prezi - The Zooming Presentation Editor. Moviemaker. Make digital movies online. Formerly Dfilm. Make.
---