Foreign Language Resources
Nabbber - Let's learn foreign words together! Spanish MOOC | The first open online Spanish course for everyone. Student Materials: Crossword Puzzles. Bow Wow Meow - Animal Sounds in Different Languages.
Languages - Quick Fix - Essential phrases in 40 languages. Duolingo | Learn Spanish, French, German, Portuguese and English for free. Free Audio Tours AudioViator. Visuals for Foreign Language Instruction. The illustrations were created as part of the Visuals for Developing Communication Skills in Foreign Language Classes project, initated by Paul Toth, former Director of the Less-Commonly-Taught Languages Center.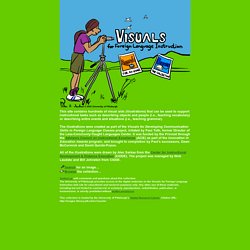 It was funded by the Provost through the Advisory Council on Instructional Excellence (ACIE) as part of the Innovation in Education Awards program, and brought to completion by Paul's successors, Dawn McCormick and David Quinto-Pozos. All of the illustrations were drawn by Alec Sarkas from the Center for Instructional Development & Distance Education (CIDDE). The project was managed by Nick Laudato and Bill Johnston from CIDDE. Search for an image… Browse the collection… English For Your Future - Login. PenPal News. Pictolang. CAPL: Culturally Authentic Pictorial Lexicon. 11 Ways to Find and View Panoramic Images.
Thanks to developments in camera and web technology it has become quite easy to capture panoramic imagery.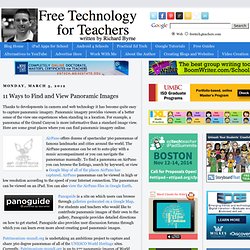 Panoramic imagery provides viewers of a better sense of the view one experiences when standing in a location. For example, a panorama of the Grand Canyon is more informative than a standard image view. Google Chrome-Language Immersion. Free ESL Learning Resources-English as a Second Language. Learn a word every day!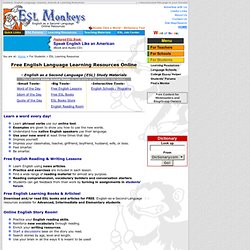 Learn phrasal verbs use our online tool.Examples are given to show you how to use the new words.Understand how native English speakers use their language.Use your new word at least three times that day! Impress yourself.Impress your classmates, teacher, girlfriend, boyfriend, husband, wife, or boss.Feel smarter.Be smarter. Free English Reading & Writing Lessons Learn English using news articles.
Practice and exercises are included in each lesson. The OOPS ESL Foreign Language Page. ESL Teacher Resources, Job Boards, and Worksheets. The Internet Picture Dictionary. Vocaroo | Online voice recorder. Voxopop - a voice based eLearning tool.
Apprenez une langue plus rapidement ! Clear.msu. About Rich Internet Applications (RIA) The goal of the Rich Internet Applications project is to create tools that are informed by language acquisition research, and engage language learners in active learning.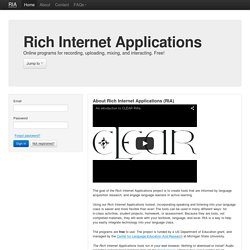 Using our Rich Internet Applications toolset, incorporating speaking and listening into your language class is easier and more flexible than ever! The tools can be used in many different ways: for in-class activities, student projects, homework, or assessment. Learn Languages Online For Free Through Music Videos and Song Lyrics: English, Spanish, French, German, Italian, Portuguese and Dutch. Www.spanishisyouramigo.com/Hola/Videos.html. Global Language Online Support System. ePals Global Community. The Online Teleprompter. Lingt Classroom | Speak more. Give your students online voice based assignments.
---