jQuery
Formly - The form glamorizer for jQuery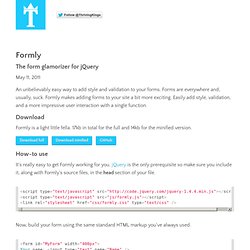 The form glamorizer for jQuery May 11, 2011 An unbelievably easy way to add style and validation to your forms. Forms are everywhere and, usually, suck.
Vegas Background jQuery Plugin
Download git clone git://github.com/stephband/jparallax.git
jQuery Plugin Boilerplate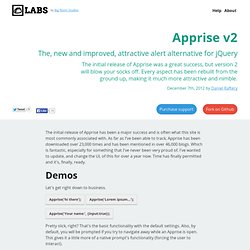 The initial release of Apprise has been a major success and is often what this site is most commonly associated with. As far as I've been able to track, Apprise has been downloaded over 23,000 times and has been mentioned in over 46,000 blogs. Which is fantastic, especially for something that I've never been very proud of. I've wanted to update, and change the UI, of this for over a year now. Time has finally permitted and it's, finally, ready.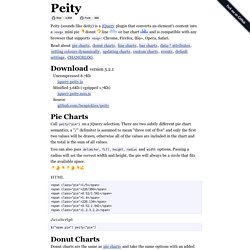 Peity (sounds like deity) is a simple jQuery plugin that converts an element's content into a simple <svg> mini pie 2/5 line 5,3,9,6,5,9,7,3,5,2 or bar chart 5,3,9,6,5,9,7,3,5,2 and is compatible with any browser that supports <svg>: Chrome, Firefox, IE9+, Opera, Safari. Download version 2.0.0 Uncompressed 7.1Kb jquery.peity.js Minified 3.3Kb (+gzipped 1.5Kb) jquery.peity.min.js