Thinking
International Conference on Thinking
Critical thinking is reflective reasoning about beliefs and actions. [ 1 ] [ 2 ] It is a way of deciding whether a claim is always true, sometimes true, partly true, or false. Critical thinking can be traced in Western thought to the Socratic method of Ancient Greece and in the East, to the Buddhist kalama sutta and Abhidharma . Critical thinking is an important component of most professions .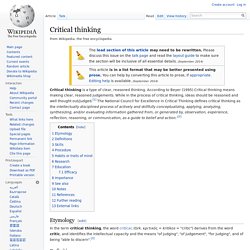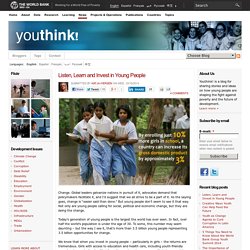 Youthink!
Students from the Afghanistan National Institute of Music (ANIM) play in the Wolfensohn Atrium.
EDUCERI › Centre for Educational Research and Innovation (CERI) - Brain and Learning Is the current classroom model of learning "brain-unfriendly"? Why are students failing to master numeracy and literacy skills efficiently enough to be employable? Why are one out of six students disruptive and school-haters? Since 1999, CERI's "Brain and Learning" project has been working towards a better understanding of the learning processes of an individual's lifecycle. The first phase of the project (1999 – 2002) brought together an international group of researchers in several fora to review potential implications of recent research findings in brain and learning sciences for policy-makers.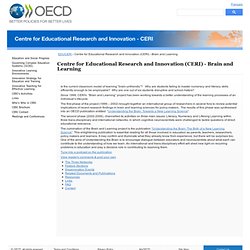 OECD: Brain & Learning
Encouraging Critical Thinking Online is a set of free teaching resources designed to develop students' analytic abilities, using the Web as source material. Two units are currently available, each consisting of a series of exercises for classroom or seminar use. Students are invited to explore the Web and find a number of sites which address the selected topic, and then, in a teacher-led group discussion, to share and discuss their findings. The exercises are designed so that they may be used either consecutively to form a short course, or individually.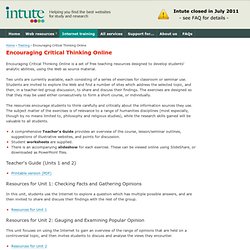 Organization makes a system of many appear fewer. The home is usually the first battleground that comes to mind when facing the daily challenge of managing complexity. Stuff just seems to multiply.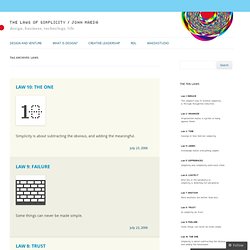 Art, research & theory / exploring the art & mind connection Extending the Synesthetic Code: connecting synesthesia, memory and art lecture by Dr. Hugo Heyrman, March 2007. Art and Synesthesia: in search of the synesthetic experience lecture by Dr.