Social progress
http://www.edouardstenger.com/2011/03/14/generating-electricity-40-to-50-more-efficiently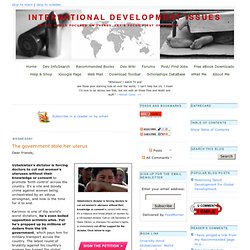 International Development Issues
Dear friends, Uzbekistan's dictator is forcing doctors to cut out women's uteruses without their knowledge or consent to promote 'birth control' across the country. It's a vile and bloody crime against women being orchestrated by an odious strongman, and now is the time for it to end. Karimov is one of the world's worst dictators, he's even boiled opposition activists alive. Yet he's propped up by millions of dollars from the US government, which pays him for military transport across the country. The latest round of brutality against his country's women has turned the global spotlight on this monster.
Sustainable House Design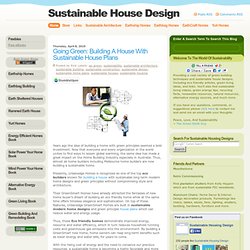 With energy efficiency and green technologies at the forefront of everyone's minds we're all thinking about how we can improve the green performance of our homes. The usual methods of improving heat retention with double glazing and insulation as well as the possibility of utilising some green technologies such as boilers are something we can all do. However when it comes to building a new home, take a look at these magnificent green design masterpieces.
Home - Territorial Intelligence Portal. Knowledge, Methods, Governance and tools for action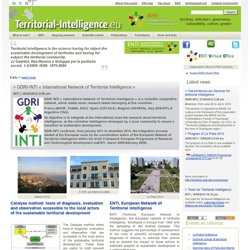 Stéphane Hessel has died at the age of 95. Grand resistant, escaped from Nazi extermination camps, co-editor of the Universal Declaration of Human Rights in 1948, he wrote in 2010 the manifesto "Indignez you !" which has been published worldwide with the movement of the "Indignés ". As a tribute, I offer the following excerpt from the book "Le chemin de l'espérance (The Way of Hope)", which he published in 2011 with E.
A walkshed (also known as apedshed) is the walkable area around a particular point of interest. The term is frequently used in the context of transit-oriented development, often to predict the patronage of a new or modified transit route. Generally, planners use a distance of one-quarter to one-half mile as an estimate of how far most people are willing to walk, whether to a transit hub or another destination. Research from a variety of sources suggests people will walk farther to heavy rail and trolley stops than to a bus stop, a store, park, or to visit friends. Thus the walkshed is actually quite variable, depending on the trip purpose.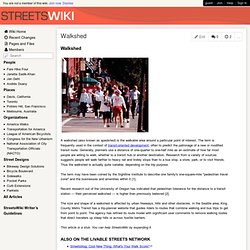 streetswiki - Walkshed