Social progress
International Development Issues. Sustainable House Design. Worldchanging: Bright Green. Home - Territorial Intelligence Portal. Knowledge, Methods, Governance and tools for action. Stéphane Hessel has died at the age of 95.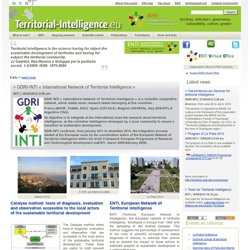 Grand resistant, escaped from Nazi extermination camps, co-editor of the Universal Declaration of Human Rights in 1948, he wrote in 2010 the manifesto "Indignez you ! " which has been published worldwide with the movement of the "Indignés ". As a tribute, I offer the following excerpt from the book "Le chemin de l'espérance (The Way of Hope)", which he published in 2011 with E. Streetswiki - Walkshed. A walkshed (also known as apedshed) is the walkable area around a particular point of interest.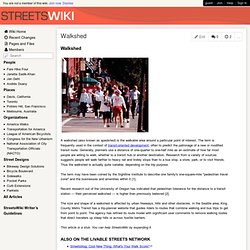 The term is frequently used in the context of transit-oriented development, often to predict the patronage of a new or modified transit route. Generally, planners use a distance of one-quarter to one-half mile as an estimate of how far most people are willing to walk, whether to a transit hub or another destination. Research from a variety of sources suggests people will walk farther to heavy rail and trolley stops than to a bus stop, a store, park, or to visit friends.
Thus the walkshed is actually quite variable, depending on the trip purpose.
---