PFE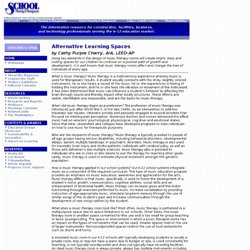 School Planning & Management — ARTICLE ARCHIVE
What is music therapy? Music therapy is a multi-sensory experience whereby music is used for therapeutic results. A student visually connects with the shiny, brightly colored instruments; he or she hears a sound of the music; he or she experiences a feeling of holding the instrument; and he or she feels the vibration or movement of the instrument. It has been determined that music can influence a student's behavior by affecting the brain through sound and thereby impact other bodily structures. These effects are visible, identifiable and measurable, and are the basis for music therapy. When did music therapy begin as a profession?
School Designs Home Page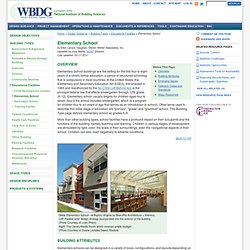 Elementary School
by Ellen Larson Vaughan, Steven Winter Associates, Inc.Updated by Judy Marks, NCEF Director Last updated: 03-17-2011 Overview Elementary School buildings are the setting for the first four to eight years of a child's formal education, a period of structured schooling that is compulsory in most countries.
Designing For All Children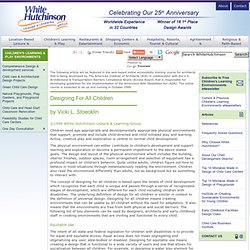 The following article will be featured in the web-based online accessibility training course for architects that is being developed by The American Institute of Architects (AIA) in collaboration with the U.S. Architectural & Transportation Barriers Compliance Board (Access Board) that is responsible for developing guidelines for the implementation of the Americans With Disabilities Act (ADA). The online course is expected to be up and running in October 1999. by Vicki L.
La notion de "scolarisation des élèves à besoins éducatifs spécifiques" est récente. Elle recouvre une population d'élèves très diversifiée : handicaps physiques, sensoriels, mentaux ; grandes difficultés d'apprentissage ou d'adaptation ; enfants intellectuellement précoces ; enfants malades ; enfants en situation familiale ou sociale difficile ; mineurs en milieu carcéral ; élèves nouvellement arrivés en France ; enfants du voyage… Les prises en charge par l'institution scolaire sont elles-mêmes diverses et évolutives. Certains thèmes et structures sont développés dans des fiches spécifiques. 1 – Adapter l'offre éducative à la diversité des élèves et individualiser leur parcours scolaire C'est le défi pour réussir la scolarisation du maximum d'élèves en établissement public local d'enseignement (EPLE), conformément à la loi.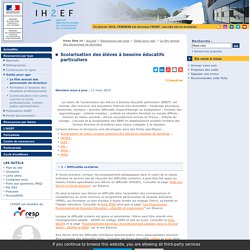 Child with Asperger's syndrome 'flourishes' at Town and Country School, mom says - BALedger.com: Education
Of the seven kids in the classroom that day, only two sat at their desks. Another two stood at their desks, one was in the back of the room with the teacher's aide and one walked around the classroom as he talked to his teacher. And the seventh student? He sat under a desk, talking himself into coming out for "the interview." "I'm just a little nervous," said Trent Kimery, 8, whose mother and teachers had prepared him ahead of time that he would be interviewed that day. The preparation helped, but didn't eliminate all his apprehension.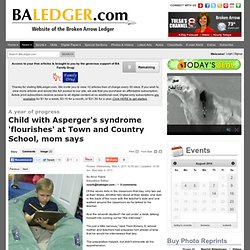 Our Analysis
This policy is set out in accordance with the provisions of the Education Act 1998. The Board of Management trusts that by so doing parents will be assisted in relation to enrolment matters and that the principal teacher will be happy to clarify any matters arising from the policy.The policy was developed at a school planning day in November 2000 with the help of a facilitator. All the partners were involved in formulating the policy in consultation with the chairperson of the Board of Management.The policy was re-evaluated by a committee nominated by the principal and staff at a staff meeting in September 2004 in the light of our application to the D.E.S. for a change of status to coeducational. We wish to:
Enrolment policy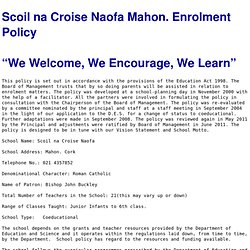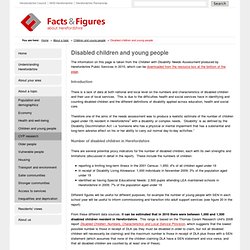 The information on this page is taken from the Children with Disability Needs Assessment produced by Herefordshire Public Services in 2010, which can be downloaded from the resource box at the bottom of the page. Introduction There is a lack of data at both national and local level on the numbers and characteristics of disabled children and their use of local services.
Disabled children and young people - Facts and Figures
Education Act 1996
Une école évolutive invite la nature en milieu urbain (diaporama)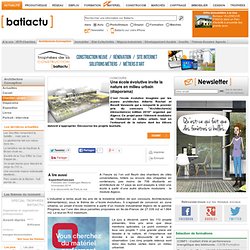 A l'heure où l'on voit fleurir des chantiers de cités universitaires, hôtels ou encore des chapelles en conteneurs, pas moins de 706 étudiants en architecture de 17 pays se sont essayés à créer une école à partir d'une autre structure modulaire : le module Algeco. L'industriel a remis jeudi les prix de la troisième édition de son concours, Architecture(s) élémentaire(s), sous le thème de «l'école évolutive». Il s'agissait de concevoir, en zone urbaine, un projet d'école moderne à partir d'un module industrialisé Algeco de la gamme Progress, sur l'une des deux parcelles proposées en Ile-de-France, de 27.339 m2 et 1.864 m2.
Designing for disabled children and children with special educational needs means putting these children at the very heart of the design and build process, right from inception. This will help ensure not only access and participation but also inspirational school environments. A recent publication from the Department for Children, Schools and Families (DCSF) draws together guidance on designing 'inclusive' school environments. It stresses that there is a wide range of special educational need and no one design solution to support these children. So it's vital that approaches are developed carefully, in close consultation with stakeholders from the word go. Only by talking to teachers, specialists, parents, carers and the children themselves – and incorporating their expertise and experience - can a good quality, detailed brief be developed, which will help turn bricks and mortar into an inspiring, 'inclusive' school environment that matches the needs of the communities it serves.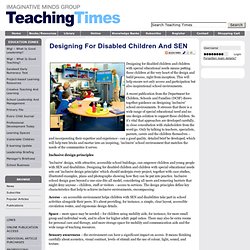 Designing for disabled children and SEN
Click here for information on perceiving speech under classroom listening conditions. Classroom Acoustics and ANSI Standard S12.60:Every day, thousands of students across the country are unable to understand 25 to 30 percent of what's said in their classroom. Excessive noise and reverberation in a classroom interferes with a student's ability to clearly hear their teacher. Before reviewing the new standard, it's important to be familiar with the attributes of sound found in the classroom that affect a student's ability to hear and learn.
Success For Kids With Hearing Loss » Classroom Acoustics – Design Requirements for Schools
DOMUS Matériaux écologiques | fiches techniques
Existing research on SNschooling
At a glance: Mauritius - Real lives
Real lives Education for Development… A Primary Teacher's Experience The Education for Development project has made a significant difference in my way of teaching and in my relationship with my pupils.
Search Results
Ministry of Gender Equality, Child Development and Family Welfare
Social benefits granted to disabled persons
Ile Maurice Lux* Belle Mare (ex Hotel Beau Rivage Naiade) 5* - Cote Est - hotel 5 étoiles - Reservation Lux* Belle Mare ( ex Naiade Beau Rivage) 5* Ile Maurice
Custom Search
The Plowden Report (1967) Children and their Primary Schools A Report of the Central Advisory Council for Education (England) London: Her Majesty's Stationery Office 1967 © Crown copyright material is reproduced with the permission of the Controller of HMSO and the Queen's Printer for Scotland. [page 296] Handicapped Children in Ordinary Schools 834.
Plowden Report 1967 - Volume 1 Part 5 Chapter 21
Complex Child Magazine
Afasic England | Unlocking Speech and Language
Deafness and the User Experience
Learning Disability Wales - Creating a Wales that values and includes every child and adult with a learning disability.
Especially for Parents
Parenting is no easy feat. When you parent a child with special challenges, such as ADHD, the odds can at times seem insurmountable.
For Parents - Learning Disabilities Association of America
Students with Intellectual Disabilities: A Resource Guide for Teachers - BC Ministry of Education - Special Education
The goal of all education is to prepare students to participate in society, and for most people, vision is fundamental to learning. But what happens when a child has a visual impairment? Limitations on the ability to receive information from the world around us can have far-reaching effects, including an impact on a child's ability to understand concepts, learn language, move about freely with confidence, and develop in a variety of ways. For this reason, the families and teachers of children with visual impairments use alternative means and strategies for teaching them to read, write, interact socially, and perform various daily tasks. Currently, nearly 94,000 children in the United States who are blind or visually impaired are being helped by some form of special education. These students are an extremely diverse group ranging from infants to young adults through age 21.
Education
Le développement de l'enfant ...
Teasing, People Say the Craziest Things, BandAides and Blackboards
"I have cystic fibrosis, and sometimes I cough a lot. Here's what happens when I get in line at school. the kids in front of me walk real fast, and the kids behind me walk real slow. So it's sort of like I'm all alone." "This kid called me the human bowling ball when I came back to school without hair. I just told her that I sold my hair for a million dollars.
PLAYSKOOL Play Skills Slide Show - Demos
Child Care, Head Start & Children's Learning Facility Experience
How A Child Develops - Develop Skills
Child development stages
5, 6, 7, 8, 9, 10 Year Old Child Development - Developmental Stages - Parenting
Child Development Milestone Chart: What To Expect From Birth To 6 Years | ChildDevelopmentGuide
Autism Speaks, Video Glossary
Learn the Signs. Act Early. Milestones - NCBDDD
Disability.gov: 100 Days to the ADA Series
Benefits For Children With Disabilities
U.S. Education : Disabilities
A Guide to Disability Rights Laws
Drasspaca - Les établissements et services spécialisés pour enfants et adolescents handicapés
Results for 'special needs'
Special educational needs (SEN) - The Department for Education
Special Educational Needs and Disability Act 2001