Architecture
Maharishi Sthapatya Veda - Fundamental Principles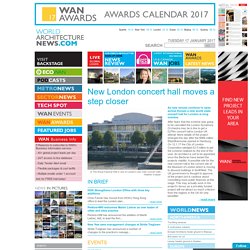 The Silk Road provides inspiration for winning competition entry to Ningbo Yinzhou Southern CBD Portal Project Competition amphibianArc has been awarded first prize in the Ningbo Yinzhou Southern CBD Portal Project Planning Design Competition. The competition was commissioned by Ningbo Yinzhou Urban Construction Investment and Development Corporation, who is responsible for successfully implementing the Ningbo Museum project designed by Wang Shu. The subject of the competition was the fourth phase of the Ningbo Yinzhou Southern CBD, the Portal Project. The winning plan is not only a successful summary of the first three developing phases of the CBD, but a driving force for the area's future dynamic urban life. Six international design firms from China, U.S. and France participated in the competition.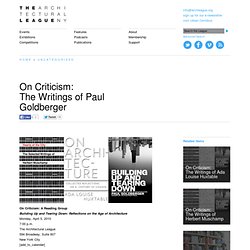 The Architectural League of New York | On Criticism:The Writings of Paul Goldberger
On Criticism: A Reading GroupBuilding Up and Tearing Down: Reflections on the Age of Architecture Monday, April 5, 2010 7:00 p.m. The Architectural League 594 Broadway, Suite 607 New York City [add_to_calendar] This reading group is currently at capacity. If you would like to be added to the wait list, please email Nick Anderson at anderson@archleague.org.
Member Groups and Communities Home Page, Member Groups & Communities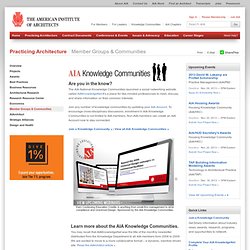 Learn more about the AIA Knowledge Communities. You may recall that AIAKnowledgeNet was the title of the monthly newsletter distributed from the Knowledge Department to all AIA members from 2006 to 2009. We are excited to move to a more collaborative format – a dynamic, member-driven site. Read the AIArchitect article »
Architecture,World Architecture Community-Architects,World Architects,Building Database
Urbanisme
Dodge Helps Contractors Find Projects. Click Here or Call 877-903-1907 to Learn About Our Products. Construction Market Research & Intelligence Get Smarter with trusted, actionable intelligence that will help you reduce risk and make the right business decisions.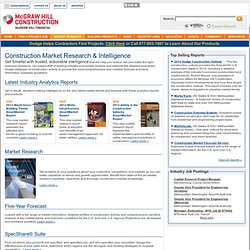 market research – Industry intelligence and analysis for construction professionals. McGraw-Hill Construction
In this space last year we said a lot more jobsites could be going paperless in the future—or at least be incorporating more mobile computing devices. Judging by this year's results of the 2013 Top Products, we officially know we're not going (too) crazy. It's glaringly obvious that the market for accessing important information on the go has rapidly evolved in just one year and will continue to change. We wonder what's in store for 2014, but for now enjoy the products that interested you—the reader of EDC's print, digital, eNewsletter and, of course, mobile content—most in 2013.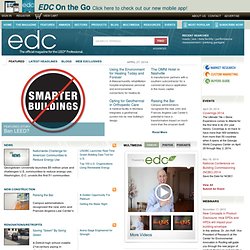 Accueil "Toute l'info" en collaboration avec Mise à jour 24/01/2014 : 18:07 « left Feu vert du Conseil constitutionnel pour la loi sur les métropoles Principal sujet de contentieux, la nouvelle métropole du Grand Paris entrera en vigueur... 24/01/14 - 11:19 - Urbanisme et aménagement Travailleurs détachés : Bruxelles accélère Une véritable course contre la montre s'est engagée à Bruxelles sur le projet... 24/01/14 - 17:45 - Emploi / Formation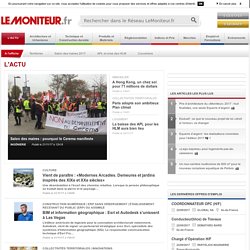 A la une BTP-Chantiers Architecture-Conception Immobilier Etat-Collectivités
Actualités, Emploi, Moteur de recherche BTP & Immobilier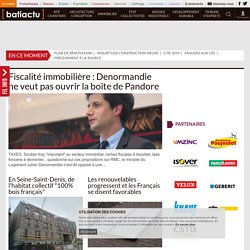 Discussion Groups
The Good Oil All occupations, of course, should be gender-neutral. Much as we hate to say it, we are led to conclude that women often get a raw deal in their education in architecture school, and in their careers in architectural practice. You should also take a look at Part 2 of this article, in which we come to a very, very reluctant conclusion. Don't send us a nasty email about how we discourage women from entering architecture. We have no intention of doing so.
Women in Architecture | archsoc.com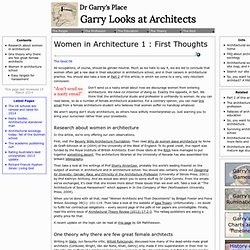 We live in a time of information abundance, which far too many of us see as information overload. With the sum total of human knowledge, past and present, at our fingertips, we're faced with a crisis of attention: which ideas should we engage with, and why? Big Think is an evolving roadmap to the best thinking on the planet — the ideas that can help you think flexibly and act decisively in a multivariate world. A word about Big Ideas and Themes — The architecture of Big Think
Paul Goldberger | Architecture Critic, The New Yorker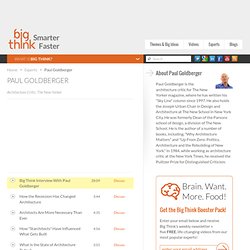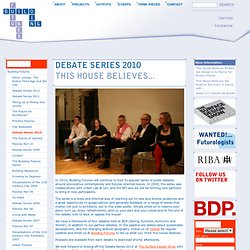 Debate Series 2010 - Building Futures
In 2010, Building Futures will continue to host its popular series of public debates around provocative contemporary and futures oriented issues. In 2009, the series saw collaborations with Urban Lab at UCL and the BFI and we will be forming new partners to bring in new participants. The series is a lively and informal way of reaching out to new and diverse audiences and a great opportunity to guage opinion and generate feedback on a range of issues that matter not just to architects, but to the wider public.
CGarchitect.com Forums
Products and Materials
Traditional Product Galleries
Looking for ideas to help make your traditional plan come to life? Organized in easy-to-search categories, Traditional Product Galleries features thousands of items tailored to the requirements of restoration and renovation projects and new designs done in a period style--both residential and commercial. Just click on one, and scroll through a gallery of photographs.
Whether you know it not, you have already used templates to begin a new drawing. AutoCAD uses a template every time it starts up. If you do not designate your own template, AutoCAD will use a default one. A template is a drawing file that includes some of the following settings: Unit type and precision (DDRMODES) Drawing limits (LIMITS) Snap, Grid, and Ortho settings (Status Bar) Layer organization (LA) Title blocks (Tutorial) Dimension and text styles (DDIM, ST) Linetypes (LT) Common blocks (Tutorial) In most cases, you do not want to set these things every time you begin a drawing.
Free AutoCAD Tutorials : Template Files in AutoCAD 2010
© 2009 Autodesk, Inc. All Rights Reserved. Except as otherwise permitted by Autodesk, Inc., this publication, or parts thereof, may not be reproduced in any form, by any method, for any purpose.
Manuel d'Utilisation Autocad 2010
mirage.studio.7: Downloads
Azimuth and Altitude Calculator
Animal Architecture, founded in 2009 by Jonathan LaRocca and Ned Dodington, is currently on the hunt for "exciting projects that engage the lives, minds and behaviors of our alternate, sometimes familiar companion species—insects, birds, mammals, fish and microorganisms—each one with unique ways of world-making." [Images: The "Bee Station" by Jamie Hutchison]. Animal Architecture thus "invites your critical and unpublished essays and projects to address how architecture can mediate and encourage multiple new ways of species learning and benefiting from each other—or as we say it here: to illustrate cospecies coshaping." [Images: The "Bat Billboard" by Chris Woebken and Natalie Jeremijenko].
Animal Architecture