Python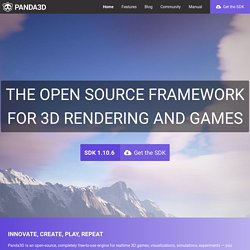 Panda3D is a game engine, a framework for 3D rendering and game development for Python and C++ programs. Panda3D is Open Source and free for any purpose, including commercial ventures, thanks to its liberal license. Go ahead and grab it here. To learn more about Panda3D's capabilities, visit the gallery and the feature list.
evennia - An innovative MUD server based on Python and Twisted + Django.
Evennia is an open-source Python-based MUD/MU`*` server/codebase using modern technologies. Evennia allows creators to design and flesh out text-based massively-multiplayer online games with great freedom. You have reached the code site of the project. It holds the server source repository and documentation. http://www.evennia.com is the main hub tracking all things Evennia. Evennia aims to supply a bare-bones MU* codebase that allows vast flexibility for game designers while taking care of all the gritty networking and database-handling behind the scenes.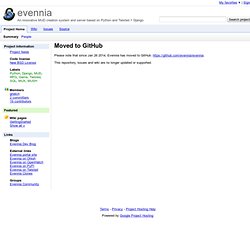 US 2012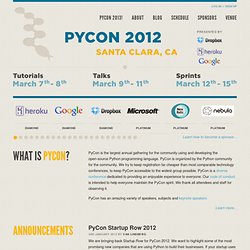 PyCon Startup Row 2012 3rd January 2012 by Van Lindberg We are bringing back Startup Row for PyCon 2012. We want to highlight some of the most promising new companies that are using Python to build their businesses.
Kicking Ass and Taking Names "I wanted to do in boxing what Bruce Lee was able to do in karate. Lee was an artist, and, like him, I try to get beyond the fundamentals of my sport. I want my fights to be seen as plays." - Sugar Ray Leonard Enough farting around.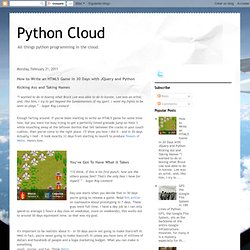 How to Write an HTML5 Game in 30 Days with JQuery and Python
Hola. ¡Buenos días a todos! En esta oportunidad les vengo a dejar algo básico para empezar la programación de aplicaciones para Android en lenguaje Python, si bien no les explicaré cómo funciona ni mucho menos, les dejaré algunas funciones para que ustedes quizás puedan expandir y desarrollar algo.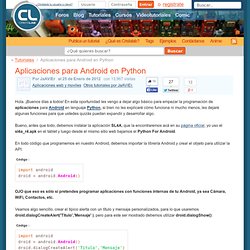 Aplicaciones para Android en Python