Python
Panda3D - Free 3D Game Engine. Evennia - An innovative MUD server based on Python and Twisted + Django. Heroku | Cloud Application Platform. US 2012. How to Write an HTML5 Game in 30 Days with JQuery and Python. Kicking Ass and Taking Names "I wanted to do in boxing what Bruce Lee was able to do in karate.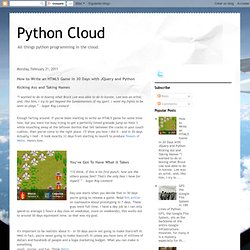 Lee was an artist, and, like him, I try to get beyond the fundamentals of my sport. I want my fights to be seen as plays." - Sugar Ray Leonard Enough farting around. Aplicaciones para Android en Python. Hola.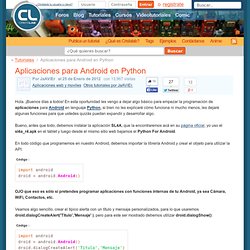 ¡Buenos días a todos! En esta oportunidad les vengo a dejar algo básico para empezar la programación de aplicaciones para Android en lenguaje Python, si bien no les explicaré cómo funciona ni mucho menos, les dejaré algunas funciones para que ustedes quizás puedan expandir y desarrollar algo.
---