Juegos
Terraria. Magicka. Gameplay[edit] Magicka is an action-adventure game played in a 3D environment from an isometric perspective.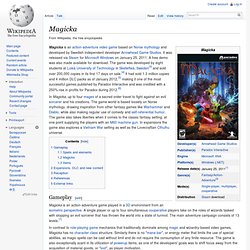 A single player or up to four simultaneous cooperative players take on the roles of wizards tasked with stopping an evil sorcerer that has thrown the world into a state of turmoil. The main adventure campaign consists of 13 levels.[7] Spells and elements[edit] EVE Online is a Massive Multiplayer Online Roleplaying Space Game - EVE Online. Top 10 pixel-art iPhone games | iPhone. Pixel-art, sprite work, and hand-placed coloured dots used to be the best that a game could achieve.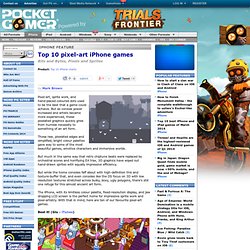 But as console power increased and artists became more experienced, these pixelated graphics quickly grew from humble necessity to something of an art form. Those raw, pixelated edges and simplified, bright colour palettes gave way to some of the most beautiful games, emotive characters and immersive worlds. But much in the same way that retro chiptune beats were replaced by orchestral scores and horrfiying EA trax, 3D graphics have wiped out hand-drawn sprites with equally impressive efficiency. But while the home consoles faff about with high-definition this and texture-buffer that, and even consoles like the DS focus on 3D with low resolution textures stretched across bulky, boxy, ugly polygons, there's still one refuge for this almost ancient art form.
Computer Games. I don't have any decent recent photo so I'll just go with this one, a few years ago Today I'm 40, and it has been more or less 10 years since I'm doing indie games!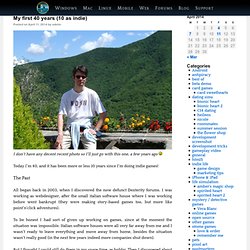 The Past All began back in 2003, when I discovered the now defunct Dexterity forums. Making and selling visual novels and dating sims - indiePub Games. Although both visual novels (VNs) and dating sims have been gaining popularity in western markets, many people still don't know exactly what they are or, more likely, have the wrong idea about them.
Visual novels are a graphic novel of sorts with flat or basically animated tableaus and a story with optional paths the reader can follow. Dating sims are very similar in that the reader chooses from on-screen options but the purpose is to develop personal relationships with in-game characters. These games can have rather complex paths with multiple endings. Welcome to indiePub Games. Ren'Py. El motor de novela visual Ren'Py es un motor de juego libre que permite crear novelas visuales, un tipo de historia interactiva a través de ordenador.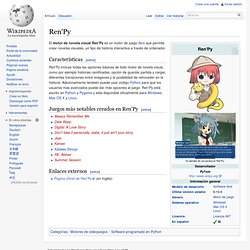 Características[editar] Ren'Py incluye todas las opciones básicas de todo motor de novela visual, como por ejemplo historias ramificadas, opción de guardar partida y cargar, diferentes transiciones entre imágenes y la posibilidad de retroceder en la historia. Adicionalmente también puede usar código Python para que los usuarios más avanzados puede dar más opciones al juego.
Ren'Py está escrito en Python y Pygame y esta disponible oficialmente para Windows, Mac OS X y Linux, Yume nikki. Katawa Shoujo: Review y OST | Magapad. Como quizás ya sabéis Katawa Shoujo significa literalmente "Adolescente Discapacitada" y trata de la vida de un adolescente(Hisao Nakai) que, tras recibir el infarto más cruel existente, es diagnosticado con arritmia y trasladado a un instituto para personas discapacitadas (Yamaku).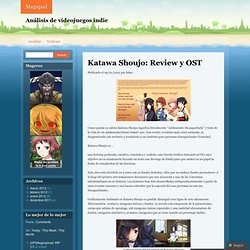 Katawa Shoujo es … una historia profunda, emotiva, romántica y realista; una Novela Gráfica Interactiva(VN) cuyo objetivo no es mantenerte leyendo un texto con cleveage de fondo para que anotes en un papel la fecha de cumpleaños de las heroínas. Esta obra esta dividida en 4 actos con 10 finales distintos, cifra que no incluye finales prematuros. TIGSource. The Weblog. Adam Atomic. Tecnogaming Games. Shadow Era Trading Card Game - Free TCG for iPhone, Android and Web. Combate de preparación. The Humble Bundle for Android (pay what you want and help charity) Humble Indie Bundle ¡para Android!
El Humble Indie Bundle está de vuelta esta vez en Android, junto con su dinámica de pagar lo que quieras por un montón de juegos de desarrolladores independientes.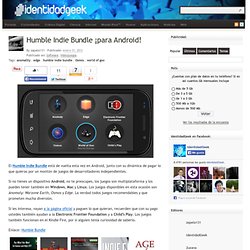 Si no tienes un dispositivo Android, no te preocupes, los juegos son multiplataforma y los puedes tener también en Windows, Mac y Linux. Los juegos disponibles en esta ocasión son Anomaly: Warzone Earth, Osmos y Edge. La verdad todos juegos recomendables y que prometen mucha diversión. Si les interesa, vayan a la página oficial y paguen lo que quieran, recuerden que con su pago ustedes también ayudan a la Electronic Frontier Foundation y a Child's Play. Los juegos también funcionan en el Kindle Fire, por si alguien tenía curiosidad de saberlo. Mundo Retro: Lo Super Super de Super Nintendo | BeeGamer. "Uno de los grandes placeres de la vida es poder mirar atrás y disfrutar del recuerdo de una vida vivida.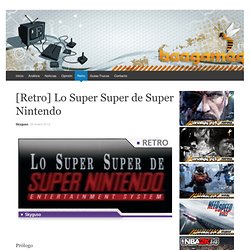 De las experiencias acumuladas durante el devenir de una larga e intensa vida. Sin más, puedes pararte en aquellos páramos donde empezaste a comprender que el placer de la vida está en saber disfrutar de nuestro tiempo. Un tiempo finito, marchito, que puede con todas las resistencias. Un tiempo que queda atrapado en una telaraña de ambar, una red neuronal, un archivo recuperable que por un instante nos trasporta a otra época vivida.Los videojuegos beben mucho de la experiencia, de la retórica del "cualquier tiempo pasado siempre fue mejor". Mighty Monsters. Kongregate: Play free games online. Zona Arcade. Construye, Restaura y Decora tu Máquina Arcade y Pinball.
---