HTML5
Money. Como diseñar mi primera playera en Serigrafia. (Parte 1 de 3) « Durabite. CSS. Tutorial. Tools. 33 Anime Torrent Tracker's - Torrentking.org. Engines. C++ Blogs. Libraries. Level Editors. Cool Indie Level Editors | Rocket 5 Studios. I have a confession to make: I love level editors!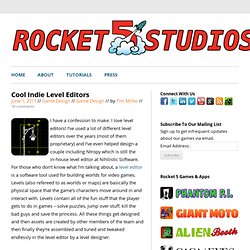 I've used a lot of different level editors over the years (most of them proprietary) and I've even helped design a couple including Ntropy which is still the in-house level editor at Nihilistic Software. For those who don't know what I'm talking about, a level editor is a software tool used for building worlds for video games. Levels (also refereed to as worlds or maps) are basically the physical space that the game's characters move around in and interact with. Levels contain all of the fun stuff that the player gets to do in games – solve puzzles, jump over stuff, kill the bad guys and save the princess.
All these things get designed and then assets are created by other members of the team and then finally they're assembled and tuned and tweaked endlessly in the level editor by a level designer. EaselJS | A Javascript library that makes working with the HTML5 Canvas element easy. Recent Updates Follow @CreateJS January 2014 WebGL beta added to EaselJS December 2013.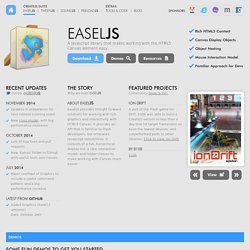 Iphone - 2D non-tile based map editor.
---