HTML5 Game Development
Overview This is a port of Box2DFlash 2.1a to JavaScript. I developed an ActionScript 3 -to- JavaScript compiler to generate the code. There already exists a port to JavaScript called Box2dJs, but it's not up-to-date and you have to import a big amount of JavaScript files in every project, whereas my version is stored in a single file. The Box2D physics engine was developed by Erin Catto (visit http://www.gphysics.com for further information) Live Demo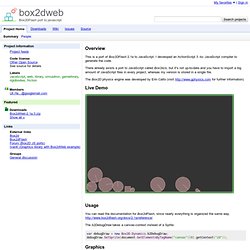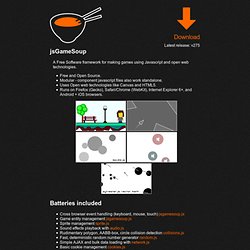 Latest release: v275 jsGameSoup A Free Software framework for making games using Javascript and open web technologies. Free and Open Source.Modular - component javascript files also work standalone.Uses Open web technologies like Canvas and HTML5.Runs on Firefox (Gecko), Safari/Chrome (WebKit), Internet Explorer 6+, and Android + iOS browsers.
jsGameSoup: A Free Software framework for making games using Javascript and open web technologies.
GameJs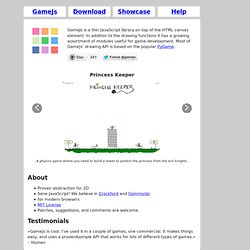 GameJs is a thin JavaScript library on top of the HTML canvas element. In addition to the drawing functions it has a growing assortment of modules useful for game development. Most of GameJs' drawing API is based on the popular PyGame . Starforks A simple space battleship game where you can collect powerups that somehow resemble git verbs, and use them to fight your enemies!
A Developer's Guide to HTML5 Canvas | the HTML5 Center
Indie Game Developer McFunkypants
HTML5 Multiplayer with Node.js and Socket.IO
Chilly Framework | Open Source multiplayer platform for HTML5 based games Chilly Framework is a platform for HTML5 game development. We provide the developers with a ready-made multiplayer server and game engine that make game development easier and faster. Seamlessly integrated to provide all the features one needs for adding multiplayer capabilities to a browser game. Ideal for developing new games or porting existing single player games to multiplayer.
Nowadays web applications have greatly increased and they make extensive use of icons for their user interfaces. Thanks to @font-face rule we should include icons within our web pages using icon web fonts instead of single images. In this post we have collected 15 sets of icon web fonts that you can use to design your user interfaces.
15 Icon (@font-face) Web Fonts to Improve your User Interfaces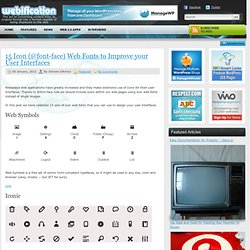 I'm not really sure this question is approprate here, but you can add a new "Build System" under Tools -> Build System -> New Build System... As with all configuration in Sublime Text its just JSON, so it should be pretty straight forward. The main thing you are going to want to configure is the "cmd" key/val. Here is the build config for launching chrome on my mac. Save that as Chrome.sublime-build, relaunch Sublime Text and you should see a new Chrome option in the build list. Select it, and then you should be able to launch chrome with Cmd-B on a mac (or whatever hotkey you have configured for build, maybe its F7 or Ctrl-B on a windows machine)
html - Sublime Text 2 Keyboard shortcut to open file in Chrome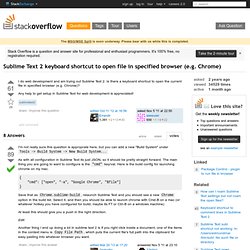 Canvas From Scratch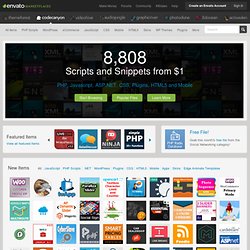 Happy Dream-Theme Day! Newest Marketplace Author to Sell $1,000,000+! Close 7,827 Scripts and Snippets from $1 PHP, Javascript, ASP.NET, CSS, Plugins, HTML5 and Mobile
PHP Scripts, WordPress Plugins, HTML5, jQuery, and CSS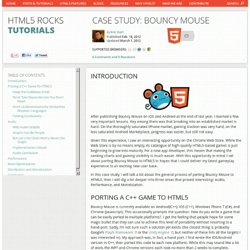 Case Study: Bouncy Mouse
Introduction After publishing Bouncy Mouse on iOS and Android at the end of last year, I learned a few very important lessons. Key among them was that breaking into an established market is hard.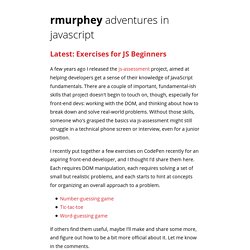 I wrote a README the other day for a project that I'm hoping other developers will look at and learn from, and as I was writing it, I realized that it was the sort of thing that might have intimidated the hell out of me a couple of years ago, what with its casual mentions of Node, npm, Homebrew, git, tests, and development and production builds. Once upon a time, editing files, testing them locally (as best as we could, anyway), and then FTPing them to the server was the essential workflow of a front-end dev. We measured our mettle based on our ability to wrangle IE6 into submission or achieve pixel perfection across browsers. Many members of the community – myself included – lacked traditional programming experience. HTML, CSS, and JavaScript – usually in the form of jQuery – were self-taught skills.
Adventures in JavaScript Development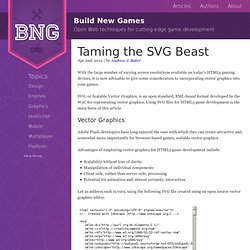 <title>Inkscape Output</title> var ctx = document.getElementById("canvas").getContext("2d"); // #layer1 ctx.save();
Taming the SVG Beast - Build New Games
Until recently, performance of browser-based games for mobile devices has lagged significantly behind desktop performance. If you wanted to create a Canvas-based mobile game, performance was terrible and you needed to build your game around the limitations of the platform. Developing a usable game meant using tricks like scaling up from very low resolutions or doing partial screen updates instead of full refreshes, meaning your game design was limited by the platform's weaknesses rather than your creativity.
Mobile Game Primer - Build New Games
SXSW 2012 - Do Gamers Dream of HTML5 Sheep? - Game Developers on Vimeo
Creating a 3D game with Three.js and WebGL Jul 24th, 2013 | Nikhil Suresh In order to learn the basics of Three.js and its use in 3D games, we will be creating a simple Pong clone with basic materials, lights and shadows. This will also cover some of the basic logic code required for a functional Pong game. Simulating Natural Systems in a Web Browser Jul 16th, 2013 | Vince Allen My feline QA team was hard at work batting down digital fireflies while I thought about the threshold of belief. What were the compelling qualities of the system I created that convinced her these targets were real enough to attack?
2D Game art for HTML5 Game Programmers
Posted 16:16PM on March 17 2012 by Pascal Rettig Chris Hildenbrand has a great blog called 2D Game Art for Programmers targeted at programmers designing art for 2D games, focusing on using open-source tools such as Inkscape. Also check out Chris' introductory post on GamaSutra which covers a lot of the basics and is a huge boom to indie-developers without design skills.
Fast online code editing Cloud9 IDE provides a super fast, home grown code editor that beats the speed and scalability of most editors out there (yes even native ones). Go and give it a try! Test and Debug your Code Cloud9 IDE lets you build, debug, and run your Node.js applications within the browser.