General
Great collaboration starts with communication. Review changes, comment on lines of code, report issues, and plan the future of your project with discussion tools. Friction-less development across teams. Work with project collaborators or teams of people in organization accounts to communicate with ease. World's largest open source community. Share your projects with the world, get feedback, and contribute to millions of repositories hosted on GitHub.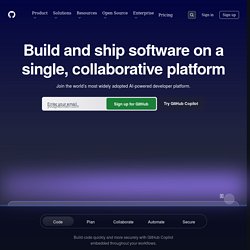 Tutorials | mybringback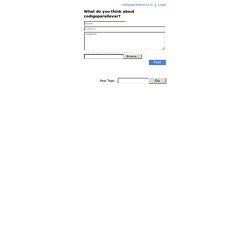 Hoy, hace escasos 10 minutos estaba limpiando el disco, así que me dirijí a la carpeta de vídeos y… ¡raaaaca!, 20 archivos a alimentar la bestia del espacio libre. Pero al ver los archivos que habían sobrevivído a la limpieza sobrevino la preocupación sobre el paradero de uno de ellos, y es que quizá al fin y al cabo saltarse el paso de la papelera de reciclaje no fuera buena idea. El problema era que me había cargado una película que tenía pensado compartir y con más bien pocos seeders, así que tocaba recuperarlo. Por suerte el transmission seguía abierto y seedeando, así que aún había esperanza, al fin y al cabo aún contaría con la información del archivo.
Código para llevar - Recién salido de /dev/random