Native Languages
Nez Perce Tribal Executive Committee. Kiowakids. Native American SuperSite! Casinos, powwows, places to visit, tribes, videos, ... Blog Posts Related to the Native American Community. Posted by Jodi Gillette and Roberto Rodriguez on October 5, 2012 at 5:13 PM EDT Today, the Obama Administration announced nearly $2 million in competitive grants to Tribal Education Agencies (TEAs) under the State-Tribal Education Partnership – or STEP – program.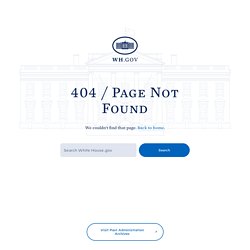 During the Department of Education's 2010 regional tribal consultations, tribal officials consistently expressed concerns about the lack of opportunities for Tribes to meaningfully participate in the education of their own children. The STEP Program is, in part, a response to those concerns, and provides funding intended to elevate the role of Tribal Education Agencies in providing a complete and competitive education to Native American students – in tribal schools as well as in public schools. President Obama and the Native American Community. Since taking office, President Obama and his Administration have made tremendous progress on the major issues of concern to Indian Country.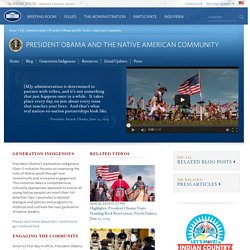 Underlying this progress is President Obama's belief that tribal leaders must be part of the solution to problems and have a seat at the table. Please read about it here. Where Are Your Keys. Makepeace Productions - We Still Live Here - Film Information. Language Revitalization                  in the 21st Century |                  GOING GLOBAL, STAYING LOCAL   •  May 31st – June 1st 2012. The CUNY Graduate Center and the International Centre for Language Revitalisation of the Auckland University of Technology will hold a two-day symposium on language revitalization in New York City May 31st – June 1st 2012.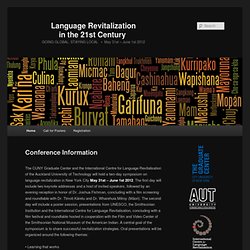 The first day will include two keynote addresses and a host of invited speakers, followed by an evening reception in honor of Dr. Joshua Fishman, concluding with a film screening and roundtable with Dr. Tīmoti Kāretu and Dr. AAIA Native Language Program. Endangered Languages Program Update: July 2011. Last month's Endangered Languages Program event at the Library of Congress, "Celebrating Native American Language Revitalization in Film," drew nearly 100 participants throughout the course of the day who enthusiastically participated in post-film panel discussions with Native American language apprentices, teachers, and film production professionals from a half-dozen tribal communities across the U.S.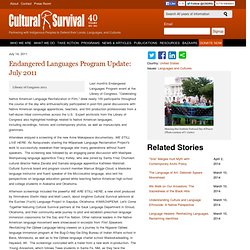 Expert archivists from the Library of Congress also highlighted holdings related to Native American languages, including recordings, historic and contemporary photos, as well as manuscripts and grammars. Attendees enjoyed a screening of the new Anne Makepeace documentary, WE STILL LIVE HERE: Âs Nutayuneân, starring the Wôpanaak Language Reclamation Project's work to successfully reawaken their language afer many generations without fluent speakers. Let's Move! in Indian Country Grants. The Administration for Native Americans (ANA) awards funds through grants to American Indians, Native Americans, Native Alaskans, Native Hawaiians and Pacific Islanders.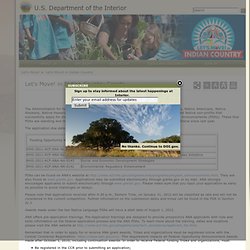 These grants are awarded to eligible Tribes and Native non-profits that successfully apply for discretionary funds. ANA updated and published four Funding Opportunity Announcements (FOAs). These four FOAs are standing and therefore no changes were made to policies, procedures, or evaluation criteria since last year. The application due date for all four is January 31, 2012 FOAs can be found on ANA's website at. William T. Grant Foundation. Enduring Voices Project, Endangered Languages, Map, Facts, Photos, Videos. New Talking Dictionaries The Enduring Voices team is pleased to announce the launch of Talking Dictionaries, giving listeners around the world a chance to hear some of the most little-known sounds of human speech.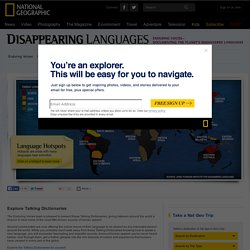 Several communities are now offering the online record of their language to be shared by any interested person around the world. While you probably won't walk away from these Talking Dictionaries knowing how to speak a new language, you will encounter fascinating and beautiful sounds--forms of human speech you've never heard before--and through them, get a further glimpse into the rich diversity of culture and experience that humans have created in every part of the globe. Explore the Talking Dictionaries for yourself.
---