BasicosPermacultura
Permaculture Research Institute of Australia » A Refrigerator th. Sometimes there are simple solutions to universal needs that don't require coal fired electricity, fossil fuels, or even solar panels or wind turbines.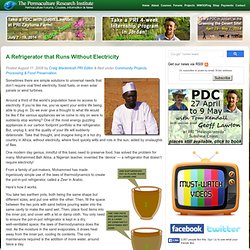 Around a third of the world's population have no access to electricity. If you're like me, you've spent your entire life being able to plug in. Permaculture Pros site. YouTube channel. Sustainability Store. Free range. Commercial free range hens A small flock of mixed free-range chickens being fed outdoors.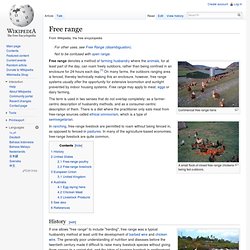 Free range denotes a method of farming husbandry where the animals, for at least part of the day, can roam freely outdoors, rather than being confined in an enclosure for 24-hours each day.[1] On many farms, the outdoors ranging area is fenced, thereby technically making this an enclosure, however, free range systems usually offer the opportunity for extensive locomotion and sunlight prevented by indoor housing systems. Permaculture. Permaculture is a branch of ecological design, ecological engineering, and environmental design that develops sustainable architecture and self-maintained agricultural systems modeled from natural ecosystems.[1][2] The term permaculture (as a systematic method) was first coined by Australians Bill Mollison and David Holmgren in 1978.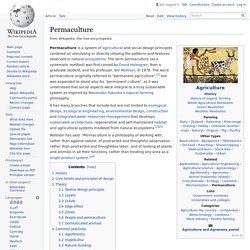 The word permaculture originally referred to "permanent agriculture" [3] but was expanded to stand also for "permanent culture," as it was seen that social aspects were integral to a truly sustainable system as inspired by Masanobu Fukuoka's natural farming philosophy. "Permaculture is a philosophy of working with, rather than against nature; of protracted and thoughtful observation rather than protracted and thoughtless labor; and of looking at plants and animals in all their functions, rather than treating any area as a single product system. " - Bill Mollison [4] History[edit]
SimplicidadeVoluntario
Eventos em Brasil.
---