Minecraft
Il vous est surement arrivé de voir des œuvres incroyables réalisées sur Minecraft, des tours Eiffel, des statues de la liberté, toutes sortes de monuments incroyables ou objets complètement tordus. Les constructions les plus basiques peuvent se faire au jaugé directement dans le jeu, en revanche quand on souhaite s'attaquer à un très gros projet, il est intéressant d'avoir un plan des différentes tranches constituant votre projet, cela permet également de travailler à plusieurs plus efficacement ! Introduction Il existe une quantité incroyable d'outils disponibles sur internet permettant d'avoir une vue "par tranches" d'un objet en 3 dimension, citons par exemple les logiciels d'architecture, qui peuvent vous donner une vue "étage par étage" d'un bâtiment.
Minecraft - JeuxOnLine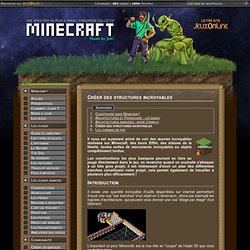 Installer un Mod sous Craftbukkit [Tuto Minecraft]
Minecraft is a game about breaking and placing blocks. At first, people built structures to protect against nocturnal monsters, but as the game grew players worked together to create wonderful, imaginative things. It can also be about adventuring with friends or watching the sun rise over a blocky ocean.
Home - MCModCenter