Social Democracy
PERI: Home
Why Wisconsin is the Battleground State
Allen Ruff: If the "Wisconsin Idea" can be killed, the Right hopes so goes the nation - Bio Allen Ruff is the host of "A Public Affair" on WORT 89.9 FM in Madison, Wisconsin.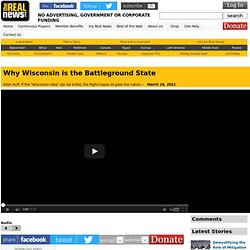 Power Concedes Nothing Without a Demand
Allen Ruff: Farmers and workers from private sector join protest in Madison - Bio Allen Ruff is the host of "A Public Affair" on WORT 89.9 FM in Madison, Wisconsin.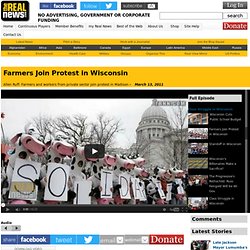 Farmers Join Protest in Wisconsin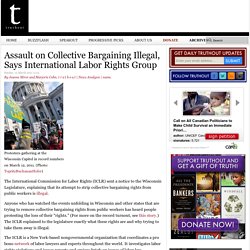 Assault on Collective Bargaining Illegal, Says International Labor Rights Group
Protesters gathering at the Wisconsin Capitol in record numbers on March 12, 2011. (Photo: TopritzBuchananHofer ) The International Commission for Labor Rights (ICLR) sent a notice to the Wisconsin Legislature, explaining that its attempt to strip collective bargaining rights from public workers is illegal.
Part of Wisconsin Gov. Scott Walker's union-busting agenda is including a "right to work" rule for public-sector employees. Several other Republican governors are considering similar measures for both the public and private sectors. Insofar as they succeed, these right-to-work measures will seriously weaken the bargaining power of workers. "Right to work" is a great name from the standpoint of proponents, just like the term "death tax" is effective for opponents of the estate tax, but it has nothing to do with the issue at hand.
Right to Work: Representation Without Taxation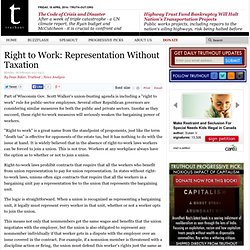 Frank Hammer: Right-wing encourages jealousy among different sectors of the workers - Bio Frank Hammer is a retired General Motors employee and former President and Chairman of Local 909 in Warren, Michigan. He now organizes with the Auto Worker Caravan, an association of active and retired auto workers who advocate for workers demands in Washington.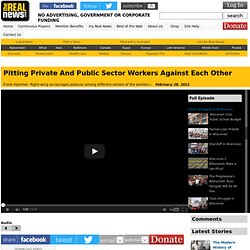 Pitting Private And Public Sector Workers Against Each Other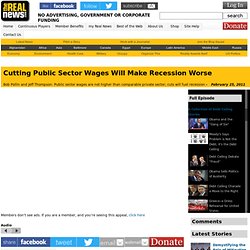 Cutting Public Sector Wages Will Make Recession Worse
Bob Pollin and Jeff Thompson: Public sector wages are not higher than comparable private sector; cuts will fuel recession - Transcript PAUL JAY, SENIOR EDITOR, TRNN: Welcome to The Real News Network. I'm Paul Jay in Washington.
Wisconsin's Billionaires Make a Sacrifice?
Paul Jay: Here's an alternative "something has to give" plan for Wisconsin - Bio Paul Jay, is CEO and Senior Editor of The Real News Network. Prior to TRNN, Jay was for ten seasons the creator and Executive Producer of CBC Newsworld's flagship debate programs, counterSpin and FaceOff.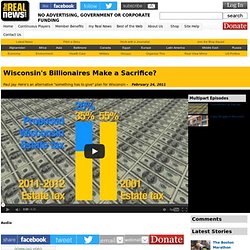 Bruce Fein: Patriot Act does not defend national security, it defends a military empire - Bio Bruce Fein is the founder of the American Freedom Agenda. He served in the US Justice Department under President Reagan and has been an adjunct scholar with the American Enterprise Institute, a resident scholar at the Heritage Foundation, a lecturer at the Brookings Institute, and an adjunct professor at George Washington University.
Patriot Act Serves Empire Not A Republic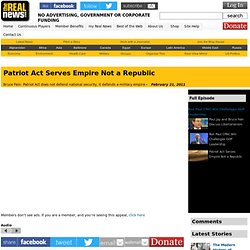 Class Struggle in Wisconsin
Damon Silvers: Governor of Wisconsin tries to eliminate basic union rights for public sector workers in Wisconsin - Bio Damon A.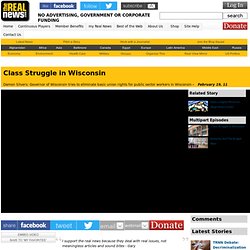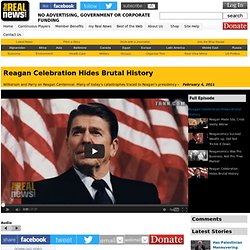 Reagan Celebration Hides Brutal History
Wilkerson and Parry on Reagan Centennial: Many of today's catastrophes traced to Reagan's presidency - Bio Lawrence Wilkerson is a retired United States Army soldier and former chief of staff to United States Secretary of State Colin Powell. Wilkerson is an adjunct professor at the College of William & Mary where he teaches courses on US national security. He also instructs a senior seminar in the Honors Department at the George Washington University entitled "National Security Decision Making." Robert Parry is an American investigative journalist.
The Revolutionary MLK
TRNN REPLAY: Jared Ball: Martin Luther King Jr. stood for revolutionary transformation; he is used today to support policies that he fought against - Bio Jared Ball is an assistant professor of communication studies at Morgan State University where his research interests include the interaction between colonialism, mass media theory and history, as well as, the development of alternative/underground journalism and cultural expression as mechanisms of social movements and political organization. Ball is a columnist with, and produces a weekly radio column for, BlackAgendaReport.com.
How Juarez became murder city | Marketplace From American Public Media
Honor Societies
Watch this moving speech by retired Kootenay MLA Corky Evans at The Common Sense Canadian's "Take Back Our BC" townhall tour event in Nelson, BC. The inimitable Evans discusses globalization, the loss of our social democracy, and the need for citizens to become engaged in the political process to reclaim their environment and public resources.
New Must-See Video: Corky Evans on Social Democracy
This Means War! Campbell's New Ministry Final Straw for Environmentalists
What has raged as an undeclared war between conservationists and the Campbell government starting in 2001 became a declared war when Gordon (Pinocchio) Campbell trotted out a new cabinet. For those of us dedicated to preserving our birthright, this war was formally declared when Campbell created an entirely new ministry called Natural Resource Operations as a one-stop-shop for permits in B.C., covering everything from large independent power projects to one-day hunting licences. Campbell said the aim is to "streamline access to B.C.'s natural resources …The drive has always been to try and increase more investment in the province, to increase our export opportunities."