Ressources
Free Flash Templates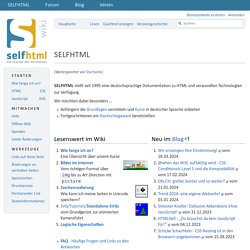 Nous regrettons de devoir vous informer que le projet "SELFHTML en français" ne peut pas être maintenu. Les sites Web sont restés longtemps sans entretien et les responsables du projet doivent s'engager en priorité dans la continuation de la version allemande. Wir bedauern mitteilen zu müssen, dass wir das Projekt "SELFHTML auf Französisch" vorerst eingestellt haben. Das Projekt ist vor einer ganzen Weile zum Stillstand gekommen und das Redaktionsteam konzentriert sich aktuell auf die Weiterentwicklung der deutschen Version.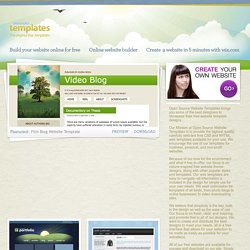 Open Source Website Templates brings you some of the best designers to showcase their free website template designs. Our Mission at Open Source Website Templates is to provide the highest quality, carefully selected free CSS and XHTML web templates available for your use. We encourage the use of our templates for business, personal, and non-profit websites. Because of our love for the environment and what it has to offer, our focus is on nature-inspired free website theme designs, along with other popular styles and templates. Our web templates are easy to navigate--all information is included in the design for simple use for your own needs. We seek submission for templates of all kinds, from photo blogs to online businesses to video downloading sites.
Freelancer - facturation pensée pour freelance pressé
www.post-prod-fr.net :: Index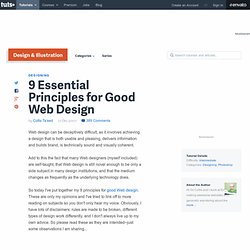 Web design can be deceptively difficult, as it involves achieving a design that is both usable and pleasing, delivers information and builds brand, is technically sound and visually coherent. Add to this the fact that many Web designers (myself included) are self-taught, that Web design is still novel enough to be only a side subject in many design institutions, and that the medium changes as frequently as the underlying technology does. So today I've put together my 9 principles for good Web design. These are only my opinions and I've tried to link off to more reading on subjects so you don't only hear my voice. Obviously, I have lots of disclaimers: rules are made to be broken, different types of design work differently, and I don't always live up to my own advice. So please read these as they are intended--just some observations I am sharing...
Download Flowplayer - Flash Video Player for the Web
I recently started playing with shaders in three.js and I wanted to share some of what I've discovered so far. Shaders are the 'secret sauce' of modern graphics programming and understanding them gives you a lot of extra graphical fire-power. For me the big obstacle to learning shaders was the lack of documentation or simple examples, so hopefully this post will be useful to others starting out. This post will focus on using pixel shaders to add post-processing effects to Three.js scenes.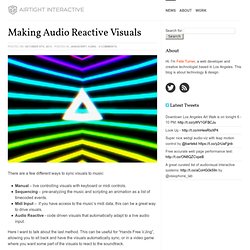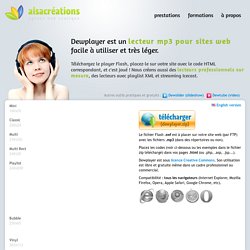 Instructions et exemples de code HTML 1 Téléchargez l'archive zip tout-en-un2 Transférez le fichier .swf du lecteur que vous désirez utiliser sur votre site3 Copiez-collez le code HTML sur votre page web, en indiquant la bonne adresse de fichier MP3 à lire. Si vous en avez la possibilité, l'idéal est d'utiliser swfobject pour toutes les animations Flash (exemple fourni).Utilisez des noms de fichier (URL du mp3) sans espace ni caractère accentué.
jQuery for Designers Here are 10 visual exmples to demonstrate on how to use jQuery to enchance user experience and semantic web design (view original jQuery Tutorials). Another awesome tutorial by Web Designer Wall. 1.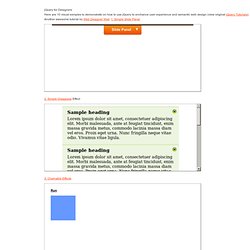 www.post-prod-fr.net :: Index
BLUE VERTIGO | Web Design Resources Links | Last update DEC.12.2 The Email Standards Project works with email client developers and the design community to improve web standards support and accessibility in email. Our goal is to help designers understand why web standards are so important for email, while working with email client developers to ensure that emails render consistently. This is a community effort to improve the email experience for both designers and readers alike.