Ressources
Free Flash Templates
Freelancer - facturation pensée pour freelance pressé
www.post-prod-fr.net :: Index
Download Flowplayer - Flash Video Player for the Web
I recently started playing with shaders in three.js and I wanted to share some of what I've discovered so far. Shaders are the 'secret sauce' of modern graphics programming and understanding them gives you a lot of extra graphical fire-power. For me the big obstacle to learning shaders was the lack of documentation or simple examples, so hopefully this post will be useful to others starting out. This post will focus on using pixel shaders to add post-processing effects to Three.js scenes.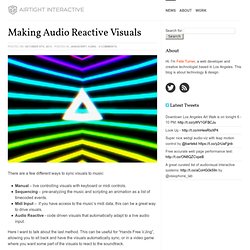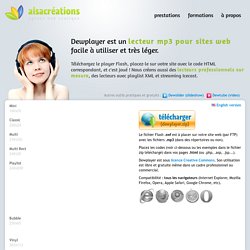 Instructions et exemples de code HTML 1 Téléchargez l'archive zip tout-en-un2 Transférez le fichier .swf du lecteur que vous désirez utiliser sur votre site3 Copiez-collez le code HTML sur votre page web, en indiquant la bonne adresse de fichier MP3 à lire. Si vous en avez la possibilité, l'idéal est d'utiliser swfobject pour toutes les animations Flash (exemple fourni).Utilisez des noms de fichier (URL du mp3) sans espace ni caractère accentué.
jQuery for Designers Here are 10 visual exmples to demonstrate on how to use jQuery to enchance user experience and semantic web design (view original jQuery Tutorials). Another awesome tutorial by Web Designer Wall. 1.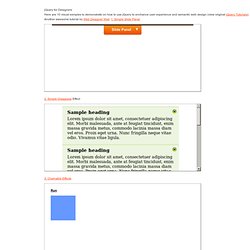 www.post-prod-fr.net :: Index
BLUE VERTIGO | Web Design Resources Links | Last update DEC.12.2