Games
CANABALT: Buy it with your moneys!! Final Fantasy III. For the game once released as Final Fantasy III in North America, see: Final Fantasy VI.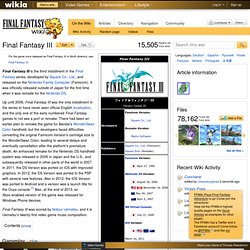 Up until 2006, Final Fantasy III was the only installment in the series to have never seen official English localization, and the only one of the early numbered Final Fantasy games to not see a port or remake. There had been an earlier plan to remake the game for Bandai's WonderSwan Color handheld, but the developers faced difficulties converting the original Famicom Version's cartridge size to the WonderSwan Color, leading to several delays and eventually cancellation after the platform's premature death. An enhanced remake for the Nintendo DS handheld system was released in 2006 in Japan and the U.S., and subsequently released in other parts of the world in 2007. In 2011, the DS Version was ported on iOS with improved graphics.
Cargo Bridge - Physics Games - Games Physics .com. QUAKE LIVE. DOS Games - Free Downloads of classic DOS Games &Emulators on... Another 20 games that make you think about life. First we gave you five.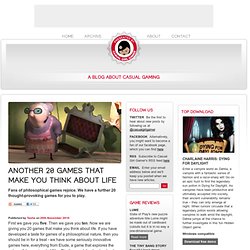 Then we gave you ten. Now we are giving you 20 games that make you think about life. If you have developed a taste for games of a philosophical nature, then you should be in for a treat - we have some seriously innovative games here, everything from Elude, a game that explores the nature of depression, to Ulitsa Dimitrova, a tale about a street-urchin in Russia. Online physics-based games.
Load Game: Elude. Whiteboard Tower Defense.
---