Learning
Open-Channel Flow
ArcGIS -- Getting Started at the GSD
Manning's Equations
LAS-ADAPS Information Page
Insight Assessment | California Academic Press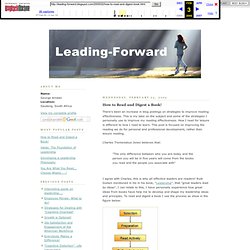 There's been an increase in blog postings on strategies to improve reading effectiveness. This is my take on the subject and some of the strategies I personally use to improve my reading effectiveness. How I read for leisure is different to how I read to learn. This post is focused on improving the reading we do for personal and professional development, rather than leisure reading. Charles Tremendous Jones believes that:
How to Read and Digest a Book!
No more pencils, no more books: With PopSci 's guide to the best continuing-ed programs on the Web, you can lose the paper and still gain a grade-A education By Christine Cyr Posted 08.15.2007 at 2:00 am virtphd_485.jpg Want to master a new computer language? Brush up on your calculus? Learn how to fix your car?
Your Virtual Ph.D. - Popular Science