E-learning
Last week Phil Hill wrote a blog post about four types of students in MOOCs. He identified four types: Personnally I recognise these types and I think it is useful to keep these types in mind when you are developing a MOOC. I also see that people can be one type in a certain MOOC and another type in another.
A Graphical View of Student Patterns in MOOCs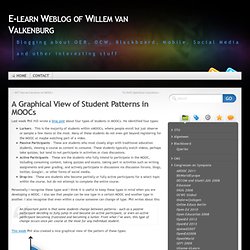 By: Dan Ariely Dan Ariely is not just a great and funny teacher, but he's dedicated his life to making the world a somewhat better place. To that end, he's produced an online course on behavioral economics that already has attracted 140,000 students. Ilustration of Dan Ariely by Coursera. A Note from Paul Solman: Behavioral psychologist and good friend of Making Sense Dan Ariely has written today's post, introducing his new free online course on behavioral economics. Dan was featured on The Business Desk most recently when he explained "Why Our Brains Might Not Be Able to Resist Black Friday" -- that is, why some of us can't stop shopping.
The Plusses and Pitfalls of Teaching Online | PBS NewsHour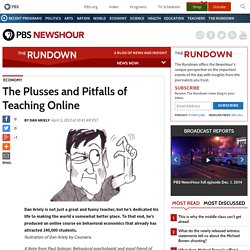 Atomic Training: BYOD By The Numbers
Infographic: How Has the Internet Changed Education?
Email Share December 23, 2011 - by Sarah Cargill 0 Email Share At Getting Smart, we discuss often how the Internet, personal digital learning, social media and other technology tools are changing the face of education.
MIT Now Granting Official Certificates For Their Free Online Courses
This is big.
Effective Online Teaching & Training | Where Online Trainers Increase Connection, Engagement and Enjoyment
co-ordinator. But a round of budget cuts forced him to take on extra duties – and a few weeks ago, he returned to the classroom to teach an algebra course to 9th and 10th graders (14 and 15 year-olds). However, instead of lecturing about polynomials and exponents during class time – and then giving his young charges 30 problems to work on at home – Fisch has flipped the sequence. He's recorded his lectures on video and uploaded them to YouTube for his 28 students to watch at home. Then, in class, he works with students as they solve problems and experiment with the concepts.
Daniel Pink's Think Tank: Flip-thinking – the new buzz word sweeping the US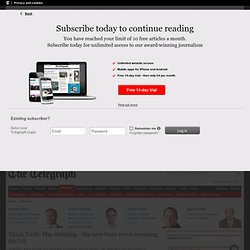 How did academic publishers acquire these feudal powers?
The Lairds of Learning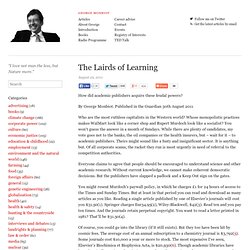 Social websites are latest sources for plagiarized material
Evidence of Learning Online: Assessment Beyond The Paper
Assessment | Viewpoint Evidence of Learning Online: Assessment Beyond The Paper Discussions of technology strategy and planning for new media at colleges and universities are informed by many factors of higher education culture and the way its core constituents--faculty and students--work and learn.
Getty Kids between the ages of 8 and 18 spend 11.5 hours a day using technology — whether that's computers, television, mobile phones, or video games – and usually more than one at a time. That's a big chunk of their 15 or 16 waking hours. But does that spell doom for the next generation?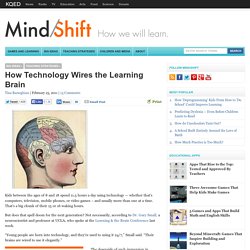 Technology has many benefits , one of which is to make us more efficient workers. And throughout the 20th and 21st centuries, productivity has increased as technology has made it easier for us to work faster and connect with our fellow workers. This is a look at the United States's labor force's productivity—as expressed by a measurement of the output of workers as determined the U.S. government—and the technological advancements that have occurred during its growth. View the infographic here and keep an eye out tomorrow for a GOOD video accompanying this piece. SOURCES: Bureau of Labor Statistics ; National Academy of Engineering A collaboration between GOOD and Oliver Munday , in partnership with IBM.
Does Technology Make Us More Productive Workers? - Technology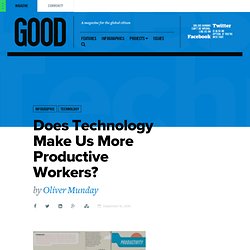 Student Research: Can Googling Replace $168 Intro to Psych Textbook?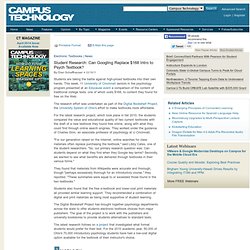 Electronic Textbooks | News Student Research: Can Googling Replace $168 Intro to Psych Textbook?
"This is not to say that Facebook is the end-all and that you should abandon your LMS.
App Fusion: Learning Face-off with Facebook by Terrence Wing
Biology | 7.012 Introduction to Biology, Fall 2