E-learning
Last week Phil Hill wrote a blog post about four types of students in MOOCs. He identified four types: Lurkers – This is the majority of students within xMOOCs, where people enroll but just observe or sample a few items at the most. Many of these students do not even get beyond registering for the MOOC or maybe watching part of a video.Passive Participants – These are students who most closely align with traditional education students, viewing a course as content to consume.
A Graphical View of Student Patterns in MOOCs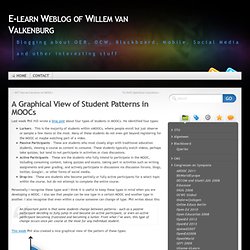 By: Dan Ariely Dan Ariely is not just a great and funny teacher, but he's dedicated his life to making the world a somewhat better place. To that end, he's produced an online course on behavioral economics that already has attracted 140,000 students. Ilustration of Dan Ariely by Coursera. A Note from Paul Solman: Behavioral psychologist and good friend of Making Sense Dan Ariely has written today's post, introducing his new free online course on behavioral economics. Dan was featured on The Business Desk most recently when he explained "Why Our Brains Might Not Be Able to Resist Black Friday" -- that is, why some of us can't stop shopping.
The Plusses and Pitfalls of Teaching Online | PBS NewsHour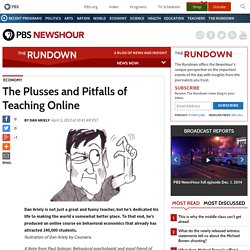 Atomic Training: BYOD By The Numbers
Infographic: How Has the Internet Changed Education?
Email Share December 23, 2011 - by Sarah Cargill 0 Email Share At Getting Smart, we discuss often how the Internet, personal digital learning, social media and other technology tools are changing the face of education.
MIT Now Granting Official Certificates For Their Free Online Courses
This is big. M.I.T., the hub of education and technology where innovations seem to happen on an hourly basis… has just unveiled the future of online education. Basically, you can now earn official credits toward an M.I.T. certificate by taking their free and online courses. The school is calling the program "MITx" reminiscent of TEDx.
How did academic publishers acquire these feudal powers? By George Monbiot. Published in the Guardian 30th August 2011 Who are the most ruthless capitalists in the Western world?
The Lairds of Learning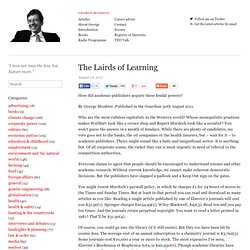 Evidence of Learning Online: Assessment Beyond The Paper
Assessment | Viewpoint Evidence of Learning Online: Assessment Beyond The Paper Discussions of technology strategy and planning for new media at colleges and universities are informed by many factors of higher education culture and the way its core constituents--faculty and students--work and learn.
Big Ideas Teaching Strategies Getty Kids between the ages of 8 and 18 spend 11.5 hours a day using technology — whether that's computers, television, mobile phones, or video games – and usually more than one at a time. That's a big chunk of their 15 or 16 waking hours.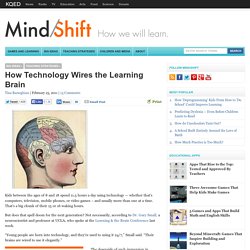 Technology has many benefits, one of which is to make us more efficient workers. And throughout the 20th and 21st centuries, productivity has increased as technology has made it easier for us to work faster and connect with our fellow workers. This is a look at the United States's labor force's productivity—as expressed by a measurement of the output of workers as determined the U.S. government—and the technological advancements that have occurred during its growth. View the infographic here and keep an eye out tomorrow for a GOOD video accompanying this piece. SOURCES: Bureau of Labor Statistics; National Academy of Engineering
Does Technology Make Us More Productive Workers? - Technology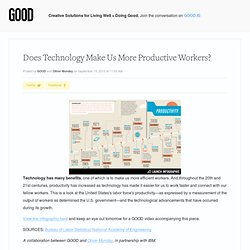 Student Research: Can Googling Replace $168 Intro to Psych Textbook?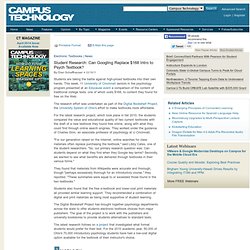 Electronic Textbooks | News Student Research: Can Googling Replace $168 Intro to Psych Textbook? By Dian Schaffhauser02/16/11 Students are taking the battle against high-priced textbooks into their own hands. This week, 11 University of Cincinnati seniors in the psychology program presented at an Educause event a comparison of the content of traditional college texts, one of which costs $168, to content they found for free on the Web. The research effort was undertaken as part of the Digital Bookshelf Project, the University System of Ohio's effort to make textbooks more affordable.
"This is not to say that Facebook is the end-all and that you should abandon your LMS. There are privacy concerns with proprietary information that you need to consider. This learning option should not be considered in every situation. However, there are great opportunities for Facebook to be a great learning catalyst that keeps everyone from the learner to the bean counter happy."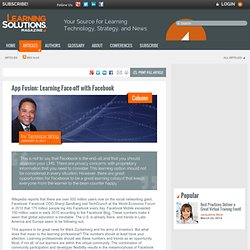 App Fusion: Learning Face-off with Facebook by Terrence Wing
Course Features Course Highlights This course features a complete set of video lectures by Professor Eric Lander, Director of the Broad Institute at MIT and a principal leader of the Human Genome Project and Professor Robert A. Weinberg, winner of the 1997 National Medal of Science. Education development efforts for these introductory biology courses are one of many activities conducted by the HHMI Education Group at MIT.
Biology | 7.012 Introduction to Biology, Fall 2