Board Games
The Settlers of Catan. In The Settlers of Catan, players try to be the dominant force on the island of Catan by building settlements, cities, and roads.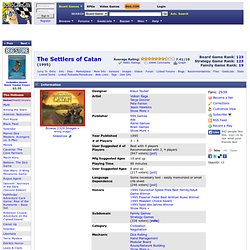 On each turn dice are rolled to determine what resources the island produces. Players collect these resources (cards) - wood, grain, brick, sheep, or stone - to build up their civilizations to get to 10 victory points and win the game. Setup includes randomly placing large hexagonal tiles (each showing a resource or the desert) in a honeycomb shape and surrounding them with water tiles, some of which contain ports of exchange. Number disks, which will correspond to die rolls (two 6-sided dice are used), are placed on each resource tile. Each player is given two settlements (think, houses) and roads (sticks) which are, in turn, placed on intersections and borders of the resource tiles. Ticket to Ride | Board Game. With elegantly simple gameplay, Ticket to Ride can be learned in under 15 minutes, while providing players with intense strategic and tactical decisions every turn.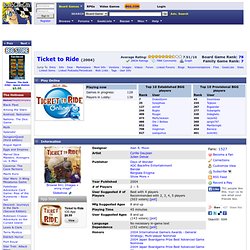 Players collect cards of various types of train cars they then use to claim railway routes in North America. The longer the routes, the more points they earn. Additional points come to those who fulfill Destination Tickets – goal cards that connect distant cities; and to the player who builds the longest continuous route. "The rules are simple enough to write on a train ticket – each turn you either draw more cards, claim a route, or get additional Destination Tickets," says Ticket to Ride author, Alan R.
Moon. Carcassonne. Boardgamegeek. In Puerto Rico players assume the roles of colonial governors on the island of Puerto Rico.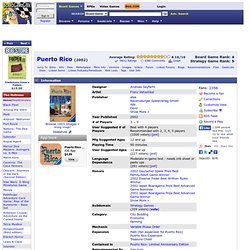 The aim of the game is to amass victory points by shipping goods to Europe or by constructing buildings. Each player uses a separate small board with spaces for city buildings, plantations, and resources. Shared between the players are three ships, a trading house, and a supply of resources and doubloons. Agricola. Description from BoardgameNews In Agricola, you're a farmer in a wooden shack with your spouse and little else.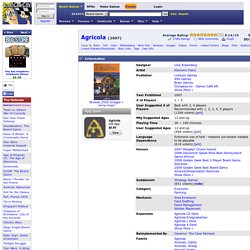 On a turn, you get to take only two actions, one for you and one for the spouse, from all the possibilities you'll find on a farm: collecting clay, wood, or stone; building fences; and so on. You might think about having kids in order to get more work accomplished, but first you need to expand your house. And what are you going to feed all the little rugrats?
BoardGameGeek | Gaming Unplugged Since 2000.
---