Web design
Jquery. Web Design Resources I Use. Web design utilities. Web readers and viewers. Modx CMS. Web design templates. Typography for Headlines Design Showcase. They say that content is king.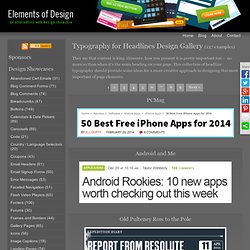 However, how you present it is pretty important too — no more so than when it's the main heading on your page. This collection of headline typography should provide some ideas for a more creative approach to designing this most important of page elements. 1 2 3 4 5 6 7 8 9 Next » PCMag. Designing Headlines Tips and Tricks Tutorial. How to design headlines... or Fred Showker's tried and proven tips for designing good visual headlines...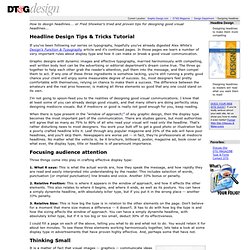 Headline Design Tips & Tricks Tutorial If you've been following our series on typography, hopefully you've already digested Alex White's Design's Function & Typography article and it's continued pages. Cufón - fonts for the people. UPDATE Oct 24: We have released version 1.09i, which is the same as 1.09 but IE9-compatible. 1.10 is on its way as well.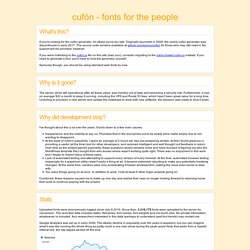 Keep in mind that you do not need to convert your font files again, just replace your old cufon-yui.js with a new one and you're good to go. As it currently stands, version 1.09 does not work in IE9 beta which was just released. Just in case it doesn't work in the final version either, we've implemented a fix in the latest development version.
---