System
SB Wallpaper Changer - Indie app of the day. SB Wallpaper Changer is a live wallpaper application that changes your wallpaper periodically.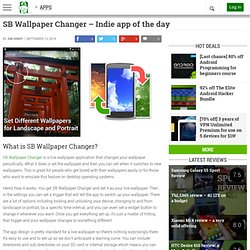 What it does is set the wallpaper and then you can set when it switches to new wallpapers. This is great for people who get bored with their wallpapers easily or for those who want to emulate this feature on desktop operating systems. Flippr: Access Widgets From Any Screen, Any App On Your Phone [Android] What can a floating button on your screen do?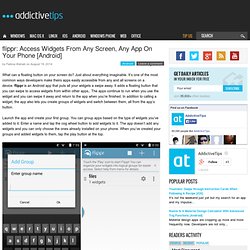 Just about everything imaginable. It's one of the most common ways developers make theirs apps easily accessible from any and all screens on a device. flippr is an Android app that puts all your widgets a swipe away. It adds a floating button that you can swipe to access widgets from within other apps,. The apps continue to run when you use the widget and you can swipe it away and return to the app when you're finished. In addition to calling a widget, the app also lets you create groups of widgets and switch between them, all from the app's button. LAS: Last App Switcher will change the way you multitask on Android.
There hasn't been too many changes in the way Android fundamentally behaves since Donut.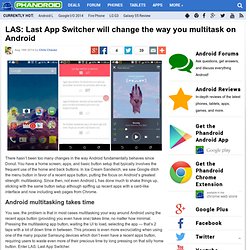 You have a home screen, apps, and basic button setup that typically involves the frequent use of the home and back buttons. In Ice Cream Sandwich, we saw Google ditch the menu button in favor of a recent apps button, putting the focus on Android's greatest strength: multitasking. Hanger Smart app shortcuts - Indie app of the day. Hangar Smart app shortcuts is a fairly simple application but one that can be pretty useful too.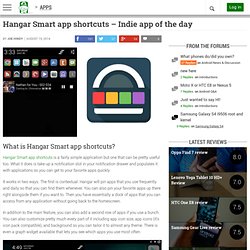 What it does is take up a notification slot in your notification drawer and populates it with applications so you can get to your favorite apps quickly. It works in two ways. Hanger Smart app shortcuts - Indie app of the day. Wanam Kit | Xposed Module Repository. Complete Action Plus | Xposed Module Repository. What is Xposed framework and how do Xposed modules work?
Xposed is a tiny bit like Google's modular smartphone Project Ara but on a software level.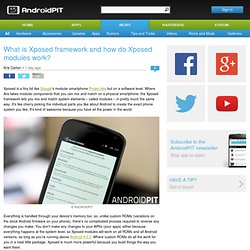 Where Ara takes modular components that you can mix and match on a physical smartphone, the Xposed framework lets you mix and match system elements – called modules – in pretty much the same way. It's like cherry picking the individual parts you like about Android to create the exact phone system you like. How to root your device without voiding the warranty. If you've been a rather constant reader of AndroidPIT, you most likely have come across more than your fair share of guides on how exactly you can root your device.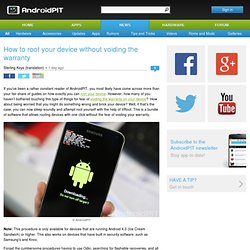 However, how many of you haven't bothered touching this type of things for fear of voiding the warranty on your device? How about being worried that you might do something wrong and brick your device? Well, if that's the case, you can now sleep soundly and attempt root yourself with the help of VRoot. This is a bundle of software that allows rooting devices with one click without the fear of voiding your warranty.
Note: This procedure is only available for devices that are running Android 4.0 (Ice Cream Sandwich) or higher. Copy Bubble: A Floating Clipboard Manager That Saves Multiple Snippets [Android] For PC users, the clipboard feature is as natural as anything else.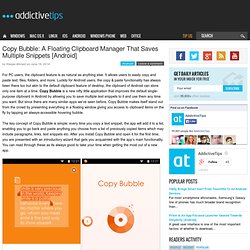 It allows users to easily copy and paste text, files, folders, and more. Luckily for Android users, the copy & paste functionality has always been there too but akin to the default clipboard feature of desktop, the clipboard of Android can store only one item at a time. Copy Bubble is a new nifty little application that improves the default single-purpose clipboard in Android by allowing you to save multiple text snippets to it and use them any time you want. Vibify Brings Smart Alert From TouchWiz To All Android Devices. For most smartphone aficionados, Samsung's Galaxy line of phones has much broader brand recognition than all other Android devices combine.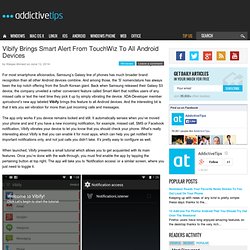 And among those, the 'S' nomenclature has always been the top notch offering from the South Korean giant. Back when Samsung released their Galaxy S3 device, the company unveiled a rather convenient feature called Smart Alert that notifies users of any missed calls or text the next time they pick it up by simply vibrating the device. Identify & Batch-Remove Unwanted Android Apps With AVG Uninstaller.
When was the last time you wanted to uninstall an app from your Android device?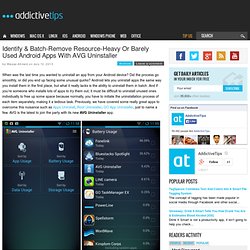 Did the process go smoothly, or did you end up facing some unusual quirks? Android lets you uninstall apps the same way you install them in the first place, but what it really lacks is the ability to uninstall them in batch. And if you're someone who installs lots of apps to try them out, it must be difficult to uninstall unused ones individually to free up some space because normally, you have to initiate the uninstallation process of each item separately, making it a tedious task. Previously, we have covered some really great apps to overcome this nuisance such as Apps Uninstall, Root Uninstaller, GO App Uninstaller, just to name a few. Per-App Modes lets you control the CPU usage for each app. Want to throttle down your device CPU?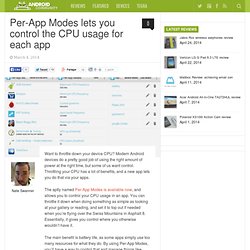 Modern Android devices do a pretty good job of using the right amount of power at the right time, but some of us want control. Throttling your CPU has a lot of benefits, and a new app lets you do that via your apps. Persist Improves Volume Control On Android Through Custom Profiles. Do you turn your smartphone to silent mode each time you get to work? Don't want to disturb your sleeping roommate with your phone's loud ringtone in the middle of the night? If I have one real gripe with Android, it's the operating system's poor implementation of volume management. TimePIN For Android Auto-Changes The Lock Screen PIN According To Current Time. Phones are more than just communication devices. To some, they are a safe haven for personal moments and memories, and one does what one can to protect them from unwanted eyes.
There are solutions to secure certain features within the phone such as AppLock or to restrict connectivity through Internet Lock, the list goes on. New to this list is TimePIN, a free device security app that employs PIN lock in a unique manner. Access Android Notifications From Locksreen With Notification Mod. Texts we receive, emails by the boss, replies to our tweets, likes on our Facebook posts – these are just a few of the countless notifications we constantly deal with on our smartphones.
If the device's screen is locked, Android doesn't let you pull down the notification shade to view your notifications, for security reasons, requiring you to unlock the device in order to view or dismiss them. If you don't really care about your notifications being accessible from the lock screen and want to skip the hassle of having to unlock your screen each time you get a notification that you needn't exactly respond to, there's now an easy solution for that in form of Notification Mod for the excellent Xposed framework.
The only caveat is that your device needs to be rooted in order to use any Xposed framework mod. Read on for details. Toggle Individual Android System Sounds With Ultimate Sound Control. Ultimate Sound Control for Android makes up for what the Android OS otherwise lacks in: sound customization and detailed settings. At times, you have to wait for the appropriate sound to play so that you can adjust its volume with the volume rocker, and even then, you can only tweak it for a group of similar sounds. Maybe I don't want my phone to sound off when the battery is low, but why should enabling silent mode be the answer? Ultimate Sound Control gives you the option to turn off most sounds used throughout your device, which is otherwise quite a tedious task, only manageable through the editing of system files, where there is always the risk of breaking sounds if you made even the slightest of mistakes.
It goes without saying, a novice user wouldn't even dare venture into these parts of the OS. RepetiTouch: Record & Repeat Touch Events To Automate Android Tasks. Back in July, I covered an open-source desktop application for Windows called MouseController that allows users to record their mouse movements and clicks, and playback the exact same recorded sequence at a later time. If you're looking for a similar tool for Android devices that lets you record all your taps and swipes, and playback the entire sequence in a similar fashion to automatically perform recurring tasks, give RepetiTouch a shot. It's a free app that can record any on-screen touch events and replay them whenever you want, as many times as you want. It can come handy to automate certain tasks that require swiping between a few screens, touching a few buttons here and there, or typing stuff using the on-screen keyboard.
Mini Tasker Is A Free Yet Robust Tasker Alternative For Android. Set Custom Brightness & Screen Timeout For Individual Android Apps. Set Individual Android Settings On Per-App Basis With App Override. Helium is an extremely handy app backup solution for Android. Android Soft Keyboard Alternatives: Comparing 47 different (free) input methods from ABC Keyboard to ZetaType for Droid. How-to: Keyboard Shortcuts in Android-x86 4.0.4 ICS. Remap And Reassign Keys With Button Remapper. GO Backup: Sauvegarde totale et réinstallation AUTOMATIQUE du contenu de votre téléphone ! (Root nécessaire pour sauvegarder les données d'applications) Ultimate backup tool - no root. [ROM+Guide]Official i9100 Firmwares KG, KH1/2/3/4, KI1/2/3/4/8, KJ1/2 Download. [KERNEL][UNIFIED] SiyahKernel v2.0 - "One kernel to rule them all"
Assistant(17 features) - Android Market. Android App Review: Impel. What Is Bootloader And How To Unlock Bootloader On Android Phones [Complete Guide] Know Your Android Bootloader—What it is and Why it Matters. MinFreeManager: improving multitasking. How to configure Android's *internal* taskkiller. Use Google Contacts as a Unified Address Book. Y5 Battery Saver: Home. Greenify puts unused apps into hibernation to save battery juice - SyncMyPix pulls Facebook contact photos to Android – Android and Me. MultiPicture Live Wallpaper. The Ultimate Guide To Android Wallpapers. Android Live Wallpapers. Android Quick App: Earth Live Wallpaper. PowerTutor. Light Flow - Phone compatibility. Light Flow - Features.
---