Educational
Printable Books & Emergent Readers. The Greek Alphabet -=- InTheBeginning.org. NTGreek Lessons > Phonology > Lesson 1 > Study Aids > Level One: Animated Greek Alphabet Tutorial Animated Greek Alphabet Tutorial Instructions Choose an alphabetical letter from the list at the bottom of this page that you wish to see animatedly written.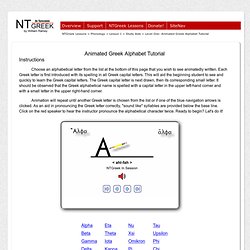 Each Greek letter is first introduced with its spelling in all Greek capital letters. Ancient Greek & Roman Gods for Kids. The Truth About Ancient Greek Myths Many Greek Myths!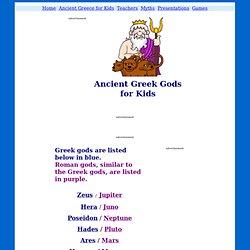 Greek God Games Greek God Family Tree. Greek gods - Greek Mythology for Kids! Greek gods on the Siphnian Treasury, Delphi, ca. 530 BC The Greeks believed in many gods: they were polytheistic (PA-lee-thee-ISS-tick).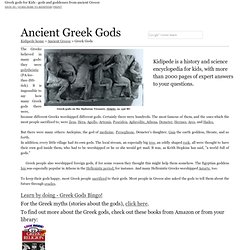 It is impossible to say how many Greek gods there were, because different Greeks worshipped different gods. Certainly there were hundreds. The most famous of them, and the ones which the most people sacrificed to, were Zeus, Hera, Apollo, Artemis, Poseidon, Aphrodite, Athena, Demeter, Hermes, Ares, and Hades. But there were many others: Asclepius, the god of medicine, Persephone, Demeter's daughter, Gaia the earth goddess, Hecate, and so forth.
Welcome to Illuminations. Interactives. Science News for Kids | Publication of the Society for Science & the Public. E is for Explore! Detective Games & Activities for Kids - Solve CSI Mysteries Using Science. Enjoy detective games and activities for kids that challenge you to solve a range of interesting CSI mysteries using science.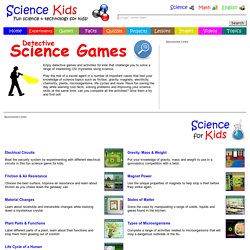 Play the role of a secret agent in a number of important cases that test your knowledge of science topics such as friction, gravity, magnets, electricity, chemistry, plants, microorganisms, life cycles and more. Have fun saving the day while learning cool facts, solving problems and improving your science skills at the same time, can you complete all the activities? Give them a try and find out! Exploring Number Patterns You Make. If you're a teacher read the notes here first.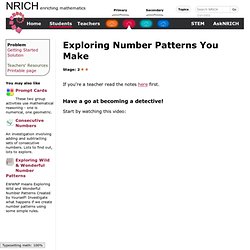 Have a go at becoming a detective! Start by watching this video: You can now explore this further. Click on the picture to get started. When you've explored what you can do with 3 \times 4 - 5 then it's time to explore further. Ten Steps to Better Web Research. In June 2013, Dulcinea Media will release Teaching Web Research Skills, a research-based multimedia experience that greatly expands upon these Ten Steps.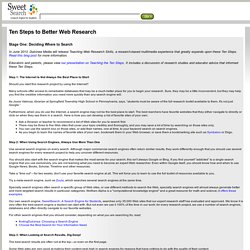 Read this blog post for more information. Educators and parents, please view our presentation on Teaching the Ten Steps. Internet Catalogue. Teacher Notes I used to enjoy taking my classes on Field Trips.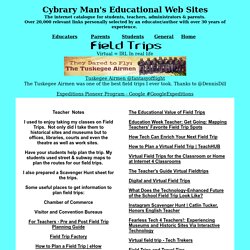 Not only did I take them to historical sites and museums but to offices and other work sites. Have your students help plan the trip. EyeWitness to History - history through the eyes of those who lived it. Hillsboro R-3 e3: Enrich. Extend. Expand. Kid-Friendly Standards. Teachers with Apps | Because Not All Apps are Created Equal. The Ultimate Guide To Using iPads In The Classroom. How Students Benefit From Using Social Media 14.60K Views 0 Likes A lot of criticism has been leveled at social media and the effect it has on the way students process and retain information, as well as how distracting it can be.
However, social media offers plenty of opportunities for learning and interactivity, and if you take a moment to think about it, it's not too hard to see how students benefit from using social media. 100 Web 2.0 Tools Every Teacher Should Know About. Weekend Website #91: 16 Word Study Websites for 2nd Grade. Every Friday, I'll send you a wonderful website (or more) that my classes and my parents love.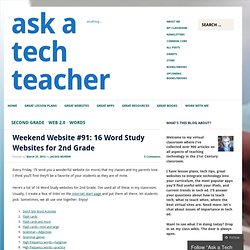 I think you'll find they'll be a favorite of your students as they are of mine. Here's a list of 16 Word Study websites for 2nd Grade. I've used all of these in my classroom. Usually, I create a 'box of links' on the internet start page and put them all there, let students pick. Sometimes, we all use one together. Elementary Tech Teachers - A place for elementary tech teachers to share. 12 Dozen Places To Educate Yourself Online For Free. Post written by: Marc Chernoff Email All education is self-education.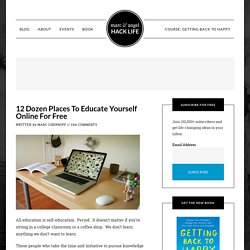 Period. It doesn't matter if you're sitting in a college classroom or a coffee shop. We don't learn anything we don't want to learn. Multi curriculum sites for e learning. Free Learning Materials - Multiple Subjects. Free Stuff for Teachers, Free Kindergarten, Preschool, and Elementary / Primary Teacher Resources. Learn How To Integrate Technology into The Classroom on the Educational CyberPlayGround. AT&TSeeing the Digital Future (1961) 1966 prediction of the home computer for 1999 2013 Pew survey of 2,462 teachers says 73% of students use mobile devices to complete assignments, 45% use e-readers, and 43% use tablets.
SMARTBoard Activities. Elementary Technology Lessons. 100 Inspiring Ways to Use Social Media In the Classroom. Social media may have started out as a fun way to connect with friends, but it has evolved to become a powerful tool for education and business. Sites such as Facebook and Twitter and tools such as Skype are connecting students to learning opportunities in new and exciting ways.
Whether you teach an elementary class, a traditional college class, or at an online university, you will find inspirational ways to incorporate social media in your classroom with this list. Ideas for K-12 Classrooms. Education technology. Technology Tips for Classroom Teachers. 60 Educational Game Sites That You've Probably Never Seen « Tech:-)Happy.
The World of Miamiopia - An Educational Virtual World For Kids. 5 Websites Where Kids Get Free Homework Help. When this happens, panic sets in. Usually both parent and child can get frustrated. The child because they feel helpless and without any options to get a good grade, and parents because they feel as though they are inadequate for not having the ability to help. Thankfully, there are organizations out there that view it as a public service to offer kids homework help for free. Usually they don't offer the service for completely free - it's either offered with advertising or by offering premium, paid homework help services.
However, the free services that are available could be all the child needs to get through that especially difficult homework problem. ABCya.com | Kids Educational Computer Games & Activities. Math Playground - Online Math Games that Give your Brain a Workout.
---